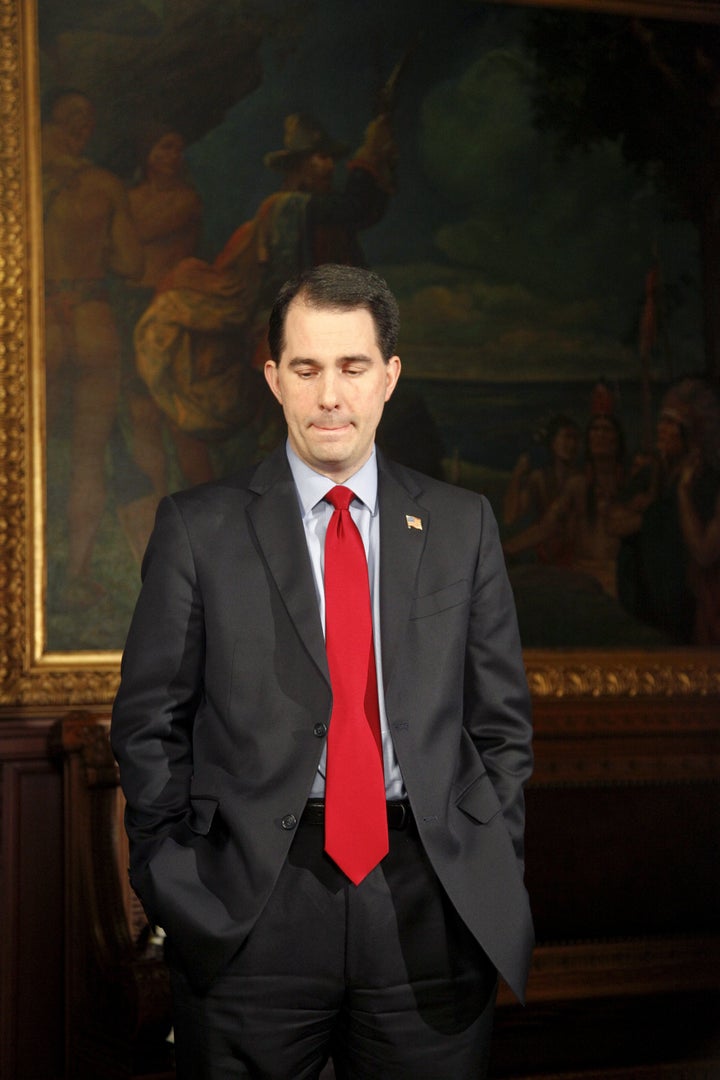 MADISON, WIS -- During a 20 minute press conference in the governor's office, Gov. Scott Walker (R) addressed the prank call he received Tuesday from a man impersonating billionaire oil tycoon David Koch.
"I take phone calls all the time," Walker said in response to a reporter's question about whether Democrats could trust him to negotiate with them in good faith. "The bottom line is, the things I said are things I said publicly all along."
During the prank call, Walker discussed the possibility of tricking Senate Democrats into returning to the capitol for talks during a recess, then sneakily passing his budget measure, which they'd skipped town to block because it would gut union workers' collective bargaining rights. "If you heard that I was going to talk to them, that would be the only reason why."
David Koch and his brother Charles are big backers of Walker and his anti-union efforts.
On Wednesday, Walker said he wasn't plotting to trick Democrats. "In terms of other ways to come on in, it's not a trick. We said it point blank: Come on in and talk about it. I'm willing to talk about it but I ultimately believe it needs to lead to a vote. I don't think that's a trick, I think that's something I said time and time again in front of all you here," Walker said. "I'm not going to allow one prank phone call to be a distraction from the fact that we have a job to do."
After Walker finished talking, State Rep. Brett Hulsey (D-Madison) attempted to take the podium, but the doors to the governor's press room had swung open and banging drums from the capitol rotunda drowned him out. Hulsey continued to speak to a small group of reporters, however.
Hulsey said the prank showed "absolute crassness" and "disrespect for the working families of Wisconsin" on Walker's part. "He's in the pocket of big oil tycoons," Hulsey said.
Popular in the Community