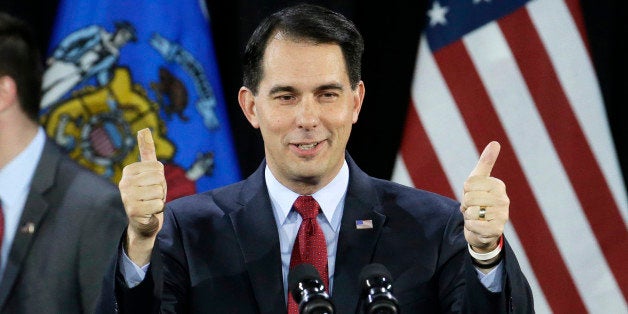 Just weeks ago, the Washington Post described Scott Walker as the first "It" candidate of the 2016 presidential races, but after stumbling over "truth," evolution, and whether or not the President is a Christian or loves America, Walker is getting ready to change the topic.
On Friday, Wisconsin GOP leaders announced they would have an "extraordinary session" to ram through union-busting "right to work" legislation. CMD/PRwatch quickly noted that the bill is taken almost word-for-word from the Koch corporate bill mill known as the American Legislative Exchange Council known as "ALEC." (See CMD's side-by side-here.)
Walker's new-found enthusiasm for a decades-old effort to crush the wages of working families reminds us a few things the public needs to know about Scott Kevin Walker.
1. Walker Gets His "Fresh" Ideas, And His Money, From Hard-Line Ideologues and Special Interests
Governor Walker's relationship with the billionaire Koch industrialists and one of the organizations they bankroll -- ALEC -- dates back to the 1990s. As a state legislator from 1993-2002, Walker rubbed shoulders with Koch Industries lobbyists who serve on ALEC's; corporate board and its task forces. In his first year in legislative office, Walker sponsored "Right to Work" legislation (1993 SB 459), followed by "Paycheck Protection" (1997 AB 624), and "Truth in Sentencing" (1997 AB 351), all parts of the ALEC lobbying agenda. He also pushed ALEC bills to privatize the state's prison system (1997 AB 634, 1999 AB 176 and AB 519); ALEC was funded by the for-profit prison industry, of course. He co-sponsored an ALEC bill (1997 AB 745) that would have prohibited all state agencies -- including universities -- from providing goods and services that could be procured from the private-sector, with rare exceptions.
Then, as Milwaukee County Executive, Walker pursued an aggressive privatization agenda, another part of the ALEC wish list. In 2009, he even manufactured a budget crisis to fire the unionized county courthouse security workers and hire the scandal-plagued British corporation Wackenhut, which was also a funder of ALEC. After this move was reversed by a court arbitrator, the county had to rehire the workers and foot the bill for back pay, costing taxpayers a small fortune.
After becoming Governor, Walker declared the state was "broke" and eviscerated public-sector unions with his Act 10 legislation. A key aspect of Act 10 Act, which prohibits the state from collecting union dues, reflects ALEC's Public Employer Payroll Deduction Policy Act. As Governor, Walker has signed a flood of ALEC bills into law (19 in his first two years alone), including anti-consumer "tort reform" provisions, restrictive voter ID, the Castle Doctrine more widely known as "Stand Your Ground," voucher and virtual school expansions, telecom deregulation, concealed carry, the privatization of the state's economic development functions, and much more. This agenda was not indigenous to the state; it was imported entirely from the Koch/ALEC playbook.
And let's not forget, Walker has taken more money from out-of-state donors than any other politician in Wisconsin history, and many of his millionaire and billionaire donors are members of the Koch Network, rebranded as "Freedom Partners." In Walker's 2010 race, as CMD/PRWatch documented, the Koch PAC gave Walker $43,000 -- his largest out-of-state contribution, the maximum under state law -- and then David Koch sent another $1 million to the Republican Governors Association, which spent $3.4 million attacking his opponent. The governor raised and spent some $37 million in the 2012 recall, more than three times as much as in the record-breaking 2010 race. David Koch's Americans for Prosperity (AFP) group spent at least $10 million to defend Walker in 2012, while claiming it was not involved in the election, even though the RGA was caught on tape bragging about AFP's role in the recall.
In 2014, AFP announced it was spending another $900,000 in support of Walker, but the Koch total might be higher. Wisconsin Club for Growth -- with the long ties between its leader Eric O'Keefe and the Kochs -- has also been a big been a big backer of Walker's, funneling at least $9 million to affect the 2012 recall races, some of it from Koch-tied groups.
2. Walker Is Duplicitous and Governs by Sneak Attack
Walker has been a career politician his entire adult life. He is ceaselessly in campaign mode.
He lies by omission and governs by sneak attack.
This is not an accident; it is his M.O.
When Walker introduced his 2015-17 budget, he gave a long speech packed with detail. He neglected to mention that his bill slashed the "the search for truth" and the statutory language enshrining the Wisconsin Idea -- the guiding principle of the state's public university system for more than a century -- from the mission of the University of Wisconsin (UW) system (a story CMD/PRwatch broke).
After the public uproar Walker first defended the language, and then said it was "a drafting error," that had been overlooked by UW officials. A review of the drafting file determined that the provisions were requested by Walker aides and emails revealed that UW officials has strenuously objected to the language but were told it was a "done deal." Walker's "drafting error" excuse was given a "pants on fire" by Politifact.
Walker also campaigned for Governor in 2010 on a promise to create 250,000 new jobs using a brown bag lunch as a prop. One of his first acts in Feb. 2011 was to crush public-sector unions, which were born in Wisconsin fifty years previously. Walker never once publicly mentioned his plans to go after public-sector workers during his entire election campaign and in fact told editorial boards, like the Oshkosh Northwestern, that he would bargain with public-sector unions.
But Walker was accidentally caught on tape behind closed doors, with billionaire donor Diane Hendricks (part of the Koch network) in Jan. 2011 admitting that he was pursuing a "divide and conquer," strategy to make Wisconsin a Republican stronghold by first going after the public-sector unions, then going after private-sector ones.
Walker's union-busting Act 10 makes it prohibitively difficult for unions to re-certify and has cut public-sector union membership in half in the county surrounding the Capitol. Now Walker is going after private-sector unions. Notably, the Koch-funded Americans for Prosperity group is pushing for right to work and connected to a new front group popping up in the state.
3. Walker's Been under Criminal Investigation Since His First Day in the Governor's Mansion
In his first run for Governor, when Walker served as the Milwaukee County Executive, her was caught up in a headline-grabbing elections scandal. The Milwaukee District Attorney, a Democrat who has been aggressive in pursuing Democratic Milwaukee officials for corruption, established that Walker's top aide Tim Russell had set up a secret Wi-Fi system in the County Executive's office which allowed an array of staff to secretly conduct campaign work and avoid open records laws, while being paid by taxpayers to conduct their official duties. Six Walker staffers and associates were eventually charged and convicted on a variety of crimes uncovered during the course of the investigation, including public corruption and embezzlement.
Emails in the case indicate Walker had full knowledge of the secret Wi-Fi system, operating feet from his office. "We cannot afford another story like this one. No one can give them any reason to do another story. That means no laptops, no websites, no time away during the work day, etc." wrote Walker to Russell when the news first broke. Russell was released from jail just weeks ago, after serving two years for embezzling funds from the state's veterans. Learn more about this case in CMD's Sourcewatch.org.
A second investigation of the Walker campaign was launched in Aug. 2012.
This time, a special state prosecutor with Republican credentials was chosen to lead the complex five-county investigation concerning allegations that Walker's campaign illegally coordinated with "independent" electoral groups, particularly Wisconsin Club for Growth (WiCFG). The nonpartisan Government Accountability Board also supported the "John Doe" investigation, which is similar to a grand jury, with Board Chair Gerald Nichol, a former Republican elected official, recently noting the Board was presented with "credible, hard evidence" that the law had been violated.
Walker raised millions for WiCFG, which was being run at the time by his top campaign aide R.J. Johnson and long-term ally and friend of the Koch's, Eric O'Keefe. WiCFG funneled that money to numerous groups including Wisconsin Manufacturers and Commerce, which cut ads for Walker and others up for recall. WiCFG has filed multiple lawsuits at the state and federal level to stymie prosecutors and run out the clock on this investigation. See a timeline here.
The investigation is now before the Wisconsin Supreme, Court which is hearing four challenges to the investigation in April. However, the court's conservative majority was elected with huge financial help from the exact same big money groups under investigation. Prosecutors have asked a number of justices to recuse themselves from the case, but the matter has not yet been decided. See CMD's reporting on this important case here.
Many in Wisconsin feel their state has been hijacked by an out-of-state special interest agenda that gets more extreme every year. Now that Walker's allies in the Wisconsin legislature are considering stripping Wisconsin's liberal chief justice of her seniority right before the court hears the Walker dark money case and targeting her in other ways, the Republican legislature is working on legal changes to the "John Doe" investigation rules to protect politicians from prosecution, and are actively discussing dismantle the state's nonpartisan Government Accountability Board.
I can almost hear the applause from the ghost Joe McCarthy, as of yet perhaps, Wisconsin's most infamous politician.
Popular in the Community