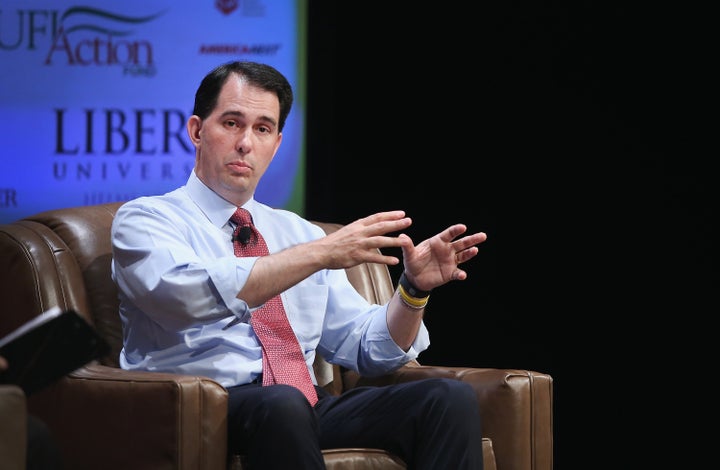 WASHINGTON -- Wisconsin Gov. Scott Walker (R) says the proper way to address racial issues in America is by concentrating on what brings people together rather than focusing on "racial discord." Doing the latter, the presidential candidate argued Sunday, could risk generating even more unrest.
Walker was campaigning outside a restaurant in Spartanburg, South Carolina, when a reporter asked him about the anniversary of the death of teenager Michael Brown in Ferguson, Missouri, and what it portends for race relations in South Carolina. The governor answered that Americans should emulate the families of the victims of the Charleston church shooting.
"One, I think in general if anyone focuses on racial discord we're going to get more," Walker said in a video posted by Democratic opposition research firm American Bridge. "If we focus on unity we're going to get more of that. The families of the massacre in Charleston showed us the way."
"Even days after the horrific shooting, the emotion they showed, the willingness to try and bring Charleston, this state, this country together. I think it's a prime example if we focus on things that unite us, ways to share the American dream," he said.
"We got to do more to strengthen families in this country," he added. "We got to do more to make sure everyone can get access to great education. We gotta do more to make sure that once people have a good education, that we do more for the private sector, to create jobs, so people have more opportunities."
Other presidential candidates -- Republican and Democrat -- have called for a broader conversation about systemic racism in the nation's justice system in the wake of high-profile shootings of unarmed black men across the country. Bipartisan calls for criminal justice reform have also grown in and out of Washington, with House Speaker John Boehner (R-Ohio) and the conservative billionaires David and Charles Koch joining in.
While many Republican presidential contenders have dismissed the Black Lives Matter movement outright, calling it too politically correct, the group has ruffled feathers in the Democratic nomination race, protesting at rallies for Sen. Bernie Sanders (I-Vt.) and former Maryland Gov. Martin O'Malley.
During the first Republican presidential debate last week, Walker dodged a question asking him about the Black Lives Matter movement and the "biggest civil rights issue of our time." He argued that, for the most part, issues with the policing of minority communities would be solved by better training.
Popular in the Community