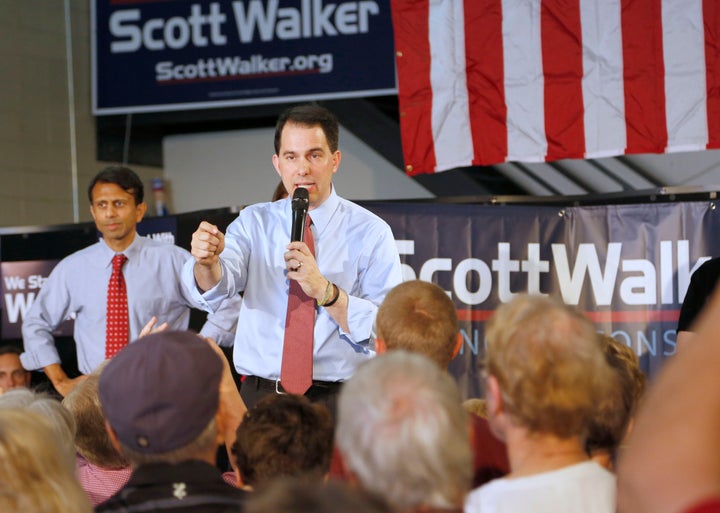 WASHINGTON -- With less than a week until Wisconsin voters decide the fate of Gov. Scott Walker (R), the national parties are stepping up their involvement in the state's recall battles.
On Thursday, Maryland Gov. Martin O'Malley (D), chair of the Democratic Governors Association, is headed to Wisconsin to campaign with Walker's challenger, Milwaukee Mayor Tom Barrett (D), in Milwaukee and Madison. They will appear at public events and a pre-debate watch party/fundraiser.
The DGA sent $1 million last week to the Democratic-allied groups Greater Wisconsin and We Are Wisconsin to support their ads and get-out-the vote efforts. The DGA has invested more than $3.2 million in the state so far, more than in both the 2006 and 2010 election cycles.
Reince Priebus, chairman of the Republican National Committee, told reporters on Wednesday that he was heading to Wisconsin, his home state, this weekend. The RNC has also launched a digital effort to help Walker, with geotargeted search ads and Facebook ads, as well as "promoted tweets" tagged to various search terms.
"We've already made over 2 million volunteer voter contacts, identifying nearly every Wisconsin voter," said Priebus about the RNC's grassroots outreach.
Rep. Debbie Wasserman Schultz (D-Fla.), chair of the Democratic National Committee, is in Wisconsin on Wednesday for events with Barrett and the Wisconsin Democratic Party. The national party recently sent out a fundraising request on behalf of the state party. Former Democratic Wisconsin Sen. Russ Feingold has also been campaigning with Barrett.
Some of his fellow Republican governors are stepping up for Walker. South Carolina Gov. Nikki Haley will be in Madison for a Friday event with Walker. Louisiana Gov. Bobby Jindal and former Minnesota Gov. Tim Pawlenty have also made appearances.
Although both parties are sending people and spending money on Wisconsin, they have given different answers when asked what the recall elections mean for November.
In an MSNBC interview on Wednesday morning, President Barack Obama's deputy campaign manager, Stephanie Cutter, said the recall outcome will have no bearing on the presidential election.
"This is a gubernatorial race with a guy who was recalled and a challenger trying to get him out of office," Cutter said. "It has nothing to do with President Obama at the top of the ticket, and it certainly doesn't have anything to do with Mitt Romney at the top of the Republican ticket. So, no, I don't think -- you know, there may be some that will predict that it means doom for us in Wisconsin in the fall elections, but I think they'll be proven wrong."
In his call with reporters later that day, Priebus sounded significantly more confident.
"If Walker wins next Tuesday -- which we're very confident he will -- Obama will have a much tougher road in Wisconsin this fall," Priebus said, adding, "If Wisconsin goes red, it's lights out for Barack Obama. Putting Wisconsin in the red column for the first time since 1984 is a pretty big deal, obviously."
This story has been updated.

Popular in the Community