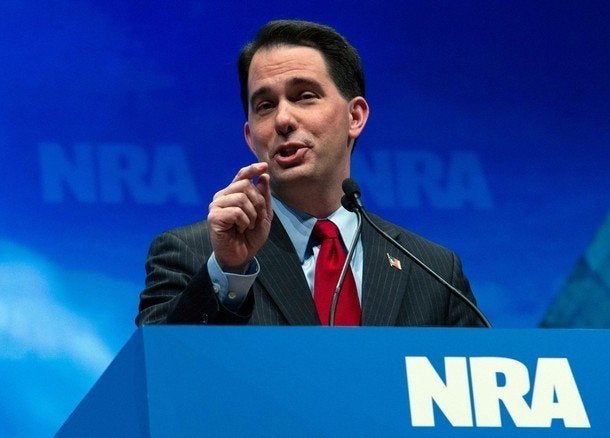 WASHINGTON -- Wisconsin Gov. Scott Walker (R) pulled in $13 million in the most recent three-month reporting period to fight off a Democratic attempt to recall him from office, an unprecedented sum of money for a gubernatorial race in the state.
"We continue to see strong grassroots support for Governor Walker, his bold reforms, and his plans for moving Wisconsin forward," said Walker spokeswoman Ciara Matthews. "Because of the overwhelming support for the Governor, we can continue to speak to voters about how Governor Walker plans to move Wisconsin forward while his Democrat opponents plan to take Wisconsin backwards to higher taxes, record job loss, and massive deficits."
Walker's campaign added that it received 125,926 donations during the most recent fundraising period, which lasted from mid-January to April 23, 2012. Of those contributions, 76.4 percent received, or 96,292, totaled $50 or less.
The Wisconsin recall race is a top priority for both Democrats and Republicans, and the money is flowing in at a historic rate. As a comparison, Walker raised just $11 million for his gubernatorial run during the entire 2010 election cycle.
Four Democrats are vying for their party's bid to face off against Walker. The Democratic primary is on May 8, and the general election is on June 5.
They were, however, playing by stricter rules than Walker was.
A big part of the reason that Walker raised such a huge sum is that he was able to raise unlimited contributions while Democrats were gathering and processing signatures to trigger the recall. That whole phase ended March 30. Money raised in excess of normal limits during that period also had to be spent, which is why Walker went through $10 million in that window.
"While Wisconsin loses more jobs than any other state, Gov. Walker has spent his time trying to save his own job," said Falk in a statement, responding to the news of Walker's fundraising. "He raised $13 million from across the country because he's delivered an extreme agenda that isn't our Wisconsin values, and I'm proud to stand with the nearly one million people who have signed a recall petition to remove him from office."
This story has been updated.
Below, more on the history of the Walker recall effort:
PHOTO GALLERY
Scott Walker Timeline
Calling all HuffPost superfans!
Sign up for membership to become a founding member and help shape HuffPost's next chapter
BEFORE YOU GO