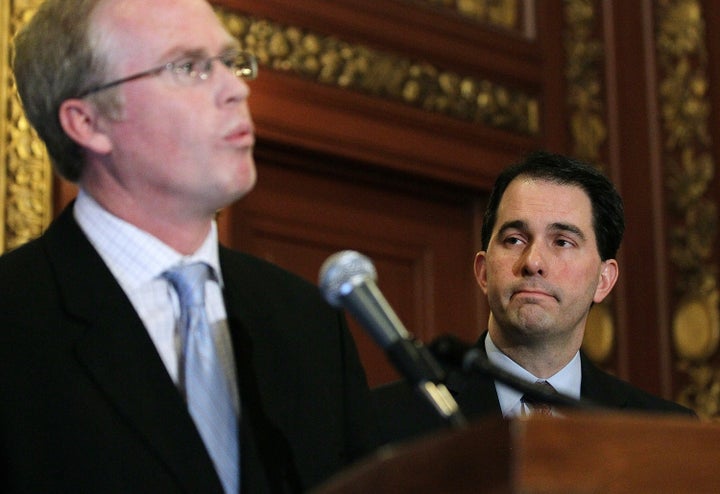 The Four Winds Motel north of Baraboo, Wis., is creating a stir with its decision to show support for the recall effort against Gov. Scott Walker (R) with a controversial sign.
"RECALL THE KOCHSUCKER NOW!" it reads in block letters, likely a reference to reports that the billionaire oil magnate Koch Brothers provided funding to Walker through their PAC, or perhaps to the ensuing prank call made to Walker by a Buffalo journalist pretending to be David Koch. During that call, the fake Koch -- pronounced "kohk," like a certain famous brand of cola -- talked with Walker about his effort to strip unions of their collective bargaining rights and about the standoff between Democratic and Republican legislators playing out at the time in Wisconsin.
Some Wisconsinites have found the language on the sign objectionable and offensively close to another sexual insult, regardless of the reasoning behind it.
"You know, people with kids are driving by. And you know there are little kids who are 8, 9, 10 years old who are old enough to be able to read that and might say, 'Mommy, what does that mean?'" Andrea Lombard, first vice chairwoman of the Sauk County Wisconsin Republican Party, told the Baraboo News Republic. "Well, how does Mommy explain that? I'm not sure."
Marcie Dachik, co-owner of the Four Winds Motel, is standing by her decision to display the sign, however, and doesn't seem to care much for her detractors' concerns.
"By and large, people have said, 'If I ever have a reason to, I will go out of my way to stay here' because of the sign," Dachik told the News Republic. "It's not like I didn't know it would be controversial when I put it up."
Dachik also told the News Republic that it's not the first time she's used the sign to promote a political message. She said she's put up text related to gay rights and an earlier statewide referendum on gay marriage.
In just a month, volunteers have already collected more than 500,000 signatures from Wisconsinites hoping to force a Walker recall election in 2012. They'll need to reach a total of 540,208 valid signatures before the Jan. 17.
And while supporters of the Walker recall effort continue to near their target, reports of their opposition getting in trouble for alleged actions against volunteers continue to pop up around the state.
The St. Paul Pioneer Press reported Tuesday that a 32-year-old River Falls woman was arrested over the weekend after workers collecting recall petitions claimed that she had screamed profanity at them, then thrown their table toward the street and spat at them.
Calling all HuffPost superfans!
Sign up for membership to become a founding member and help shape HuffPost's next chapter