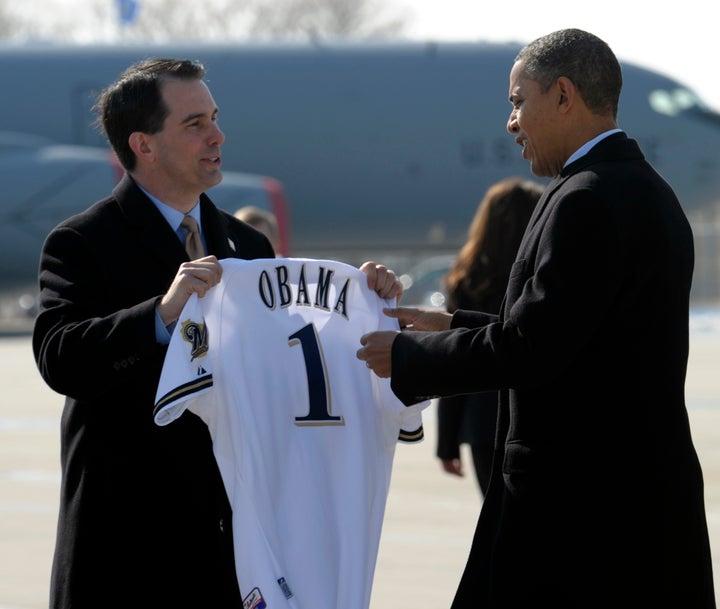 WASHINGTON -- President Barack Obama's re-election campaign is jumping into the Wisconsin recall, focusing on educating and registering voters in advance of the June 5 election.
Tripp Wellde, the Wisconsin state director for the Obama campaign, sent an email to supporters on Thursday night to get them fired up to support Milwaukee Mayor Tom Barrett, the Democratic nominee looking to unseat Gov. Scott Walker (R). From Wellde's email:
The next election here in Wisconsin is coming up on June 5th -- and it's important to make sure your voice is heard.

For the last year and a half, Governor Walker has divided Wisconsin -- siding with big corporations and the super-rich at the expense of working, middle-class families. He's broken our trust in state government: Too many Wisconsin families are out of work, students face crowded classrooms, and working men and women will be hurt by cuts to health care funding.

We can do better. Together, we'll work to elect Tom Barrett, who will stand up for all Wisconsinites as governor -- and that starts with getting the word out now about what's at stake on June 5th.
Wellde also issued a statement on Tuesday, after Barrett's victory in the Democratic primary, saying, "President Obama is proud to stand with Tom Barrett and the hundreds of thousands of Wisconsin families who are coming together to move Wisconsin forward."
On Saturday, the Obama campaign will be hosting "Own Your Vote" events around the state, described as "organizing phone banks and knocking on doors to make sure Wisconsinites are registered and ready to own their vote on Election Day."
An Obama campaign official said the presidential campaign's involvement in the state will focus on voter education: making sure people know who is eligible to vote, when to vote and where.
The effort is a result of changes to the voting rules in Wisconsin. While a rule requiring voters to show photo ID at the polls was suspended for the recall pending court challenges, there are four other changes to electoral access, including those that relate to residency requirements and registration periods.
"Something we've been working on, almost since the beginning of the year, is making sure that people understand what is required of them," said the Obama campaign official, who requested anonymity to speak openly. "If they decide to register the same day, [we'll] just go through that education process with voters."
In February 2011, Organizing for America (which became Obama for America in the presidential election) also jumped into Wisconsin, helping promote rallies and protests against Walker's attempts to strip collective bargaining rights from public employees. The group helped get out the vote in the state senate recalls last summer.
Popular in the Community