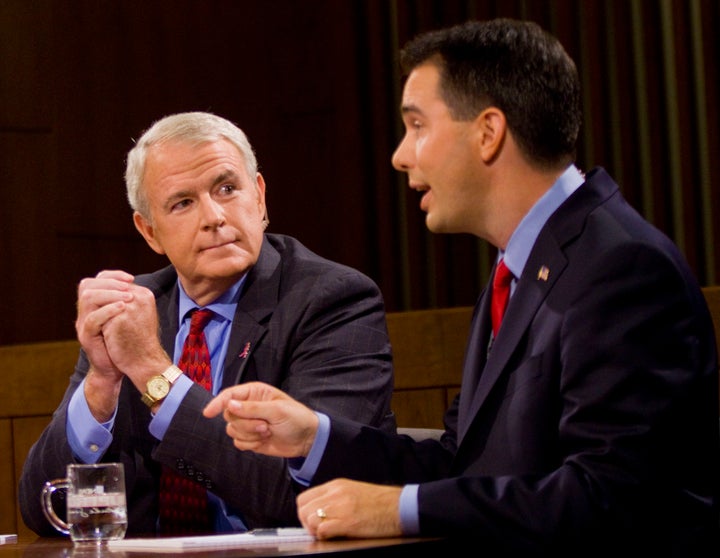 WASHINGTON -- The Wisconsin gubernatorial recall race is now a dead heat as voters have learned more about the corruption probe surrounding Gov. Scott Walker (R), according to a new internal poll for the campaign of Milwaukee Mayor Tom Barrett (D).
In a survey of 935 likely recall voters, conducted by the Garin Hart Yang Research Group from May 22 to 24, Walker led Barrett by 49.89 to 48.62 percent. With the poll's margin of error at plus or minus 3.3 percent, that means the race is essentially tied.
Wisconsin Democrats have been hammering Walker in recent days over the "John Doe" investigation of his time as Milwaukee county executive, which has already ensnared several former staffers. The probe by the Milwaukee County district attorney's office is reportedly focusing on whether staffers who worked for Walker did political work on the taxpayers' dime. In March, Walker set up a legal defense fund.
Likely voters in the Yang survey were asked, "Have you heard or read anything about the John Doe investigation that has led to charges against several former aides or associates of Scott Walker, while he was Milwaukee county executive?" This question came well after the question about which candidate they preferred.
Voters who had heard about the John Doe probe preferred Barrett by 52 to 46 percent. Public awareness of the criminal investigation is also increasing: 25 percent of respondents on Wednesday night said they had heard "a lot" about it, while 37 percent said the same on Thursday night.
The poll's results are in line with a recent survey done for the labor-backed group We Are Wisconsin. In that poll, conducted from May 19 to 21, Walker led Barrett 50 to 47 percent -- a result within the poll's four-point margin of error.
Yet other recent surveys, done independently, still show Walker with a clear lead. One conducted from May 11 to 13 by the Democratic firm Public Policy Polling gave Walker a five-point lead.
Yang told The Huffington Post that part of the reason for the disparity in results is that the earlier surveys were done before the Barrett campaign had a chance to run ads against Walker.
"One of the reasons why the race is tightening is Walker's negatives are increasing," Yang said. "I think the thing that everyone forgets -- because this is such a weird election and everything has been so truncated -- is that Tom only got nominated May 8. So we thought we were going to win, but we were all focused on the primary. Two things about that: Walker and the Republicans were running negative ads against Tom before the primary. And we didn't go on the air with our ads attacking Walker until Monday the 14th."
"So what some of these public polls that polled earlier than us failed to show is -- look, we've been on TV against Walker on 'John Doe' and other stuff for a week and a half now. So it's having a cumulative impact," Yang added.
HuffPost Pollster's analysis of the polling in the Wisconsin gubernatorial recall:
UPDATE: 2:51 p.m. -- The Democratic Governors Association also released an internal poll on Friday, showing Walker leading Barrett 49 to 46 percent. In the group's survey last week, Walker led by 7 points. The poll of 600 likely voters was conducted by The Mellman Group from May 22-24.

Popular in the Community