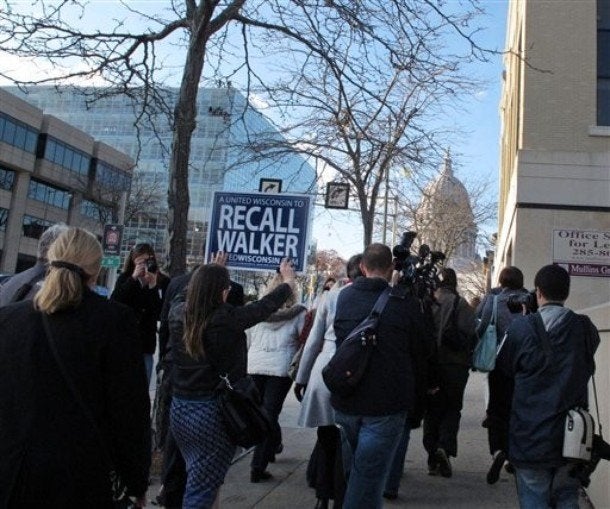 WASHINGTON -- Activists pushing to recall Wisconsin Gov. Scott Walker (R) announced on Monday evening that they have collected more than 300,000 signatures for the effort in just 12 days.
"Scott Walker has taken to the airwaves, supported by millions in corporate cash, to defend his record of job loss and full-scale assault on Wisconsin's institutions and values," United Wisconsin Executive Director Meagan Mahaffey said in a statement. "But all over Wisconsin, the people are seeing through Walker's deceptions and are moving to take our state back."
In the first 96 hours of the recall effort, United Wisconsin and its supporters collected more than 105,000 signatures from all 72 counties in the state.
An election could occur as early as March 27, although it will likely be later if Republicans challenge the petition signatures or file lawsuits.
There have been only two successful recall elections in history, one against California Gov. Gray Davis in 2003 and one against North Dakota Gov. Lynn Frazier in 1921.
No Democrat has stepped forward yet to announce a challenge to Walker in a potential recall race. Wisconsin Democratic Party Chairman Mike Tate said the party won't put a candidate forward until early 2012 in order to keep the fight focused as a referendum on Walker.
In addition to the Walker recall petition, there are petition drives underway to recall four GOP state senators who supported the legislation going after public employees.
Popular in the Community