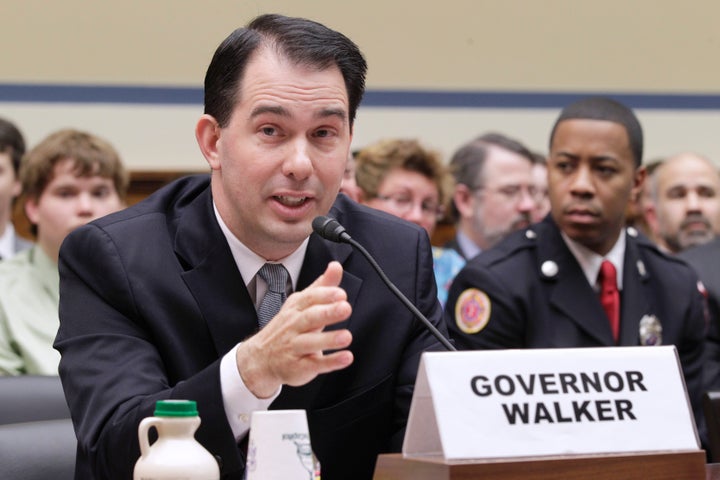 The fight over a potential recall of Wisconsin Gov. Scott Walker (R) took a dark twist over the past week, as anti-Walker activists reported receiving death threats and having items stolen from their properties.
At least two volunteers working for the campaign to recall Walker in the wake of his passage of a controversial anti-collective bargaining law reported getting anonymous, early-morning phone calls last week.
"They said, 'If you don't stop circulating recall petitions, we will kill you,'" Tom Peer, a volunteer for the recall campaign, told Wisconsin's WISC news of a call he received at 2 a.m. Thursday.
Heather DuBois Bourenane, another recall petition drive volunteer with the group United Wisconsin, told WISC that she received a similar call around 4 a.m. that same morning.
"He said I had attracted the attention of some very bad people, and my life and the lives of my family were in danger," DuBois Bourenane said.
Police have been notified of the incidents and are conducting an investigation, officials told WISC. The caller's number is from the Minneapolis area and doesn't have an activated voicemail system, they said.
A number of other supporters of the Walker recall effort contacted police to report having political signs stolen from their lawns.
It's not the first evidence of actions to counter the recall drive. Last week, a man showed up at a site where signatures were being collected and ripped up a petition that had already been signed. According to WISC, this action is a Class I felony that carries a fine not to exceed $10,000 or imprisonment not to exceed three years and six months, or both.
On Sunday, nearly 30,000 people gathered outside the Wisconsin State Capitol in Madison in support of the Walker recall drive. Activists will have to collect a total of 540,208 signed petitions by Jan. 17 in order to force a recall election. They'd apparently gathered more than 105,000 as of the end of last week, Patch reports. According to Patch, Rep. Jim Sensenbrenner (R-Wisc.) predicted Sunday that they'd get the requisite signatures to go forward with the recall campaign.

REAL LIFE. REAL NEWS. REAL VOICES.
Help us tell more of the stories that matter from voices that too often remain unheard.