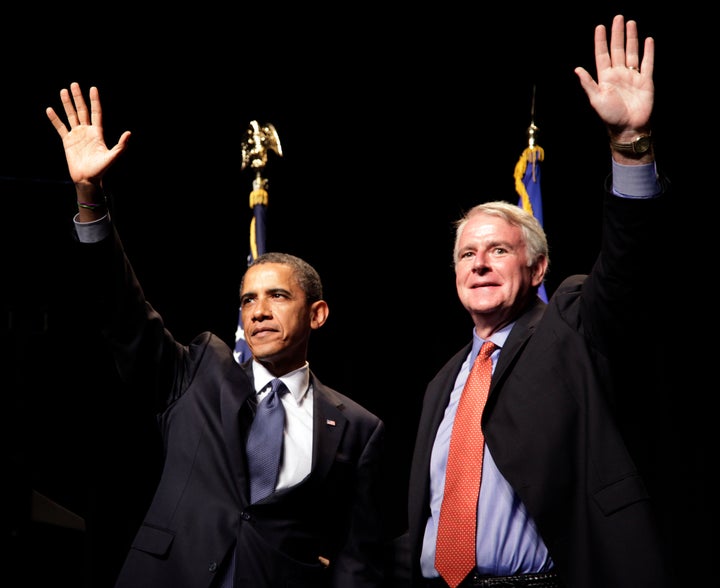 WASHINGTON -- White House Press Secretary Jay Carney told reporters on Wednesday that he did not believe President Barack Obama had made an endorsement in the Wisconsin gubernatorial race -- even though he did, on May 8.
At the White House press briefing, a reporter asked Carney whether Obama had endorsed Milwaukee Mayor Tom Barrett (D), who is vying to unseat Gov. Scott Walker (R) in a recall election on June 5.
"You might ask the campaign," Carney said. "Not that I'm aware of, but I'll take the question."
But as the Obama campaign clarified, Obama actually has endorsed Barrett.
"President Obama is proud to stand with Tom Barrett and the hundreds of thousands of Wisconsin families who are coming together to move Wisconsin forward," read a May 8 statement issued by Tripp Wellde, the Wisconsin state director for the Obama campaign, after Barrett won the Democratic primary.
On May 10, the Obama campaign also sent out an email to its Wisconsin supporters encouraging them to back Barrett. An Obama campaign official told The Huffington Post at the time that the presidential campaign's involvement in the state would focus on voter education: making sure people know who is eligible to vote, when to vote and where.
Shortly after the briefing, Carney corrected his remarks, tweeting that Obama is supporting Barrett.
In an MSNBC interview on Wednesday morning, Obama's deputy campaign manager, Stephanie Cutter, distanced the president from the recall election, saying its outcome will have no bearing on the presidential race.
"This is a gubernatorial race with a guy who was recalled and a challenger trying to get him out of office," Cutter said. "It has nothing to do with President Obama at the top of the ticket, and it certainly doesn't have anything to do with Mitt Romney at the top of the Republican ticket. So, no, I don't think -- you know, there may be some that will predict that it means doom for us in Wisconsin in the fall elections, but I think they'll be proven wrong."
In a call with reporters later in the day, however, Republican National Committee Chair Reince Priebus sought to tie the Wisconsin recall election to Obama's prospects in the state.
"If Walker wins next Tuesday -- which we're very confident he will -- Obama will have a much tougher road in Wisconsin this fall," Priebus said, adding, "If Wisconsin goes red, it's lights out for Barack Obama. Putting Wisconsin in the red column for the first time since 1984 is a pretty big deal, obviously."
Popular in the Community