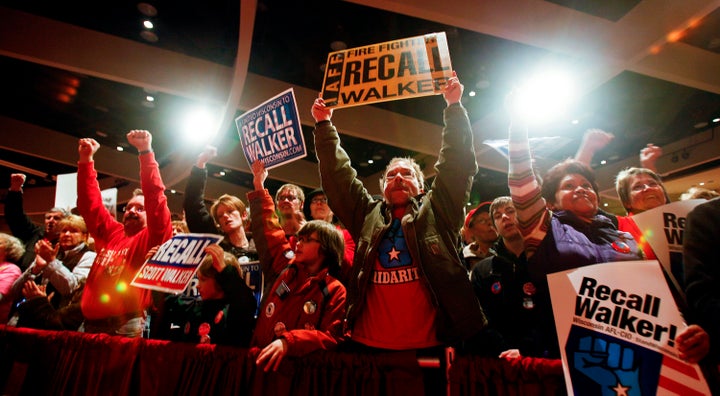 WASHINGTON -- Wisconsin's Government Accountability Board, which oversees elections in the state, recommended on Thursday that recall elections for Gov. Scott Walker (R) and Lt. Gov. Rebecca Kleefisch (R) move forward.
Of the total number of signatures submitted, 97 percent were valid in the governor's race, and 96 percent valid in the lieutenant governor's race.
On Friday, the Government Accountability Board will be voting on whether to officially order the recall elections. If the board says yes, the primary election will be held on May 8 and the general election on June 5.
"This was the greatest petition campaign in American history for a reason: Scott Walker's radical overreach and abuse of power," said Graeme Zielinski, spokesman for the Wisconsin Democratic Party. "Tomorrow will be a day for sober reflection on the work done and the great work left to do to restore Wisconsin's values."
Ciara Matthews, communications director for Friends of Scott Walker, said they had long anticipated the recall process would move ahead.
"Governor Walker looks forward to contrasting his record of laying the foundation for a more successful Wisconsin while moving the state forward against the Democrats' failed policies that would take Wisconsin back to the days of a $3.6 billion budget deficit," she said.
Democrats had initially said they submitted more than 1 million signatures to recall Walker, although the board's official count found a total of 931,053.
When asked about the difference, Zielinski said, "We definitely turned in more than a million. You'd have to ask GAB about the discrepancy. We're not too worried about it since it did not affect the outcome. But we absolutely stand by our claim that we turned in more than a million."
Democrats are also trying to recall four Republican state senators. The accountability board had already said that there were enough signatures for those elections to proceed.
Former Dane County Executive Kathleen Falk (D) has already announced that she will be challenging Walker for the governorship, and she has the strong backing of labor unions. Milwaukee Mayor Tom Barrett (D) -- who lost to Walker in the governor's race in 2010 -- is expected to announce in the coming days whether he will also be jumping in.
There have been only two successful gubernatorial recall elections in U.S. history, one removing California Gov. Gray Davis in 2003 and one ousting North Dakota Gov. Lynn Frazier in 1921.
Popular in the Community