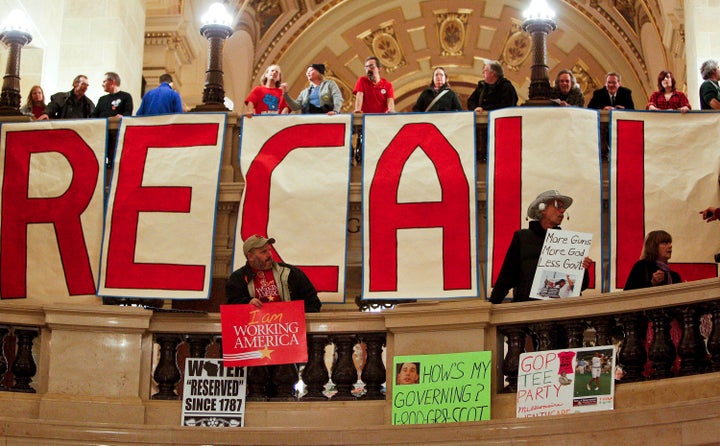 WASHINGTON -- Wisconsin's labor solidarity showed a crack on Friday, when the state's largest police union criticized another public employee union's attacks on Milwaukee Mayor Tom Barrett (D) in the gubernatorial recall race.
Wisconsin leaders of the American Federation of State County and Municipal Employees (AFSCME) sent an email this week criticizing Barrett's record on labor, just a couple of days after the mayor announced he was running in the Democratic primary to unseat Gov. Scott Walker (R). The email linked to a video that purportedly showed Barrett's support for Walker's attacks on unions. But as the Associated Press noted, the video did not include other comments Barrett had made from the same event, in which he criticized Walker's tactics.
AFSCME has endorsed former Dane County executive Kathleen Falk in the Democratic primary. AFSCME and several other unions jumped in and backed Falk before Barrett had announced whether he was going to run.
In a statement on Friday, the head of the Wisconsin Professional Police Association (WPPA) criticized AFSCME, warning that its attacks on Barrett "may serve to sabotage the recall of Governor Scott Walker."
"This recall election represents an historic opportunity for Wisconsinites to reclaim this state in favor of a leader who can create jobs, protect our local services, and restore the right to have a voice at the bargaining table," said Jim Palmer, executive director of the WPPA. "For anyone to sink to the level of distorting the information it sends to its own members is shameful, and it creates the kind of internal discord that Scott Walker will need to keep his office."
"This recall process should be one in which the candidates make the cases for themselves without having to rely on either the deceptive efforts by the groups supporting them or the special interest influences that Russ Feingold and Progressives United have worked so hard to keep from corrupting our democratic system," he added. "If we can't allow our candidates to campaign for themselves without taking pot-shots or deceiving the people we represent, we are in severe trouble."
"WPPA has every right to endorse their preferred candidate," Rick Badger, executive director of AFSCME Council 40, told HuffPost in response to the WPPA statement. "The challenge for all of us -- AFSCME members and recall supporters at large -- is to get this decision right. This is about choosing a leader who can best stand up to Scott Walker and heal the unprecedented wounds he has inflicted on our state -- meaning a candidate cannot have a muddied record of tepid support for labor. Based on her consistency and her record of leadership, Kathleen Falk is the candidate most likely to beat Scott Walker in a general election and be that true champion for Wisconsin's workers and Wisconsin values."
AFSCME spokesman Robert Allen recently told Politifact that while the union did not create the video in the earlier email, it does "comport with our criticism of Barrett's behavior during the standoff over Act 10, which is why we passed it along to members." Act 10 is the measure that stripped away the collective bargaining rights of many public employees in the state last year.
WPPA has not yet endorsed in the Democratic primary, but it plans to do so. The Milwaukee Journal-Sentinel notes that WPPA endorsed Barrett when he unsuccessfully ran against Walker in the 2010 gubernatorial race. It endorsed Falk's opponent, Republican J.B. Van Hollen, in the 2006 attorney general's race.
There are currently four Democratic candidates competing in the May primary. In addition to Falk and Barrett, who are the two frontrunners, state Sen. Kathleen Vinehout (D-Alma) and Secretary of State Doug La Follette are also running.
Labor unions have tussled with Barrett during his time as mayor and are discouraged that he has not committed to vetoing any budget submitted by the legislature that does not restore the collective bargaining rights.
Barrett told The Huffington Post that while he will "certainly fight and be successful in restoring collective bargaining rights," he doesn't want to commit to one strategy and limit his flexibility.
Popular in the Community