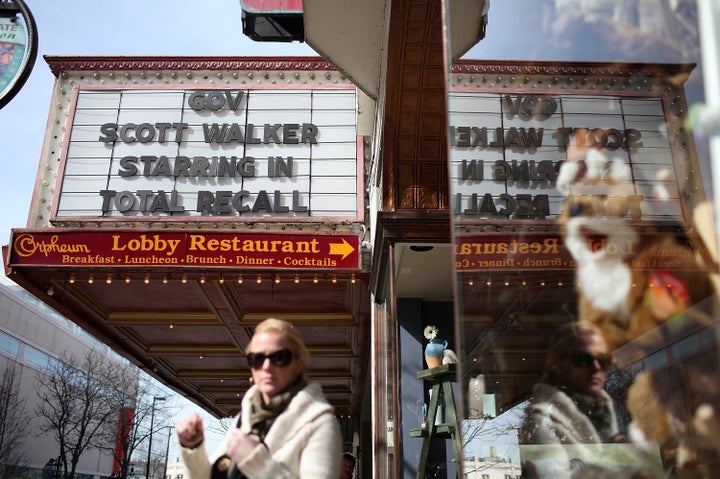 MADISON (Reuters) - Wisconsin Democrats are increasingly confident that efforts to recall the state's Republican governor in 2012 will succeed, a top official said on Wednesday, after the party scored an early win in its battle to unseat Republicans who backed a controversial anti-union law.
Mike Tate, the chair of the Democratic Party of Wisconsin, said his party's sweep of six unusual primary races on Tuesday night had energized the party's base, and he also expected to seize a majority in the state Senate in August recall elections.
Tate said Tuesday's primary races, where six real Democrats were unsuccessfully challenged by six stealth Republicans running as Democrats, had served as a dry run for the party's get-out-the-vote operation.
"What we're beginning to see is our momentum rolling downhill. Last night was a huge win for us," he said in a conference call with reporters.
He said that would pay dividends in the real recall elections, which begin next week, as well as in next year's general election, where Wisconsin is likely to be a battleground state as President Barack Obama seeks a second term in the White House.
Tate said Governor Scott Walker, who was elected last fall and can't be recalled until he has served a year in office, would likely be forced to defend his seat next fall.
"I have every reason to believe Scott Walker is going to be recalled from office," he said. "He will lose an election if it's held in November 2012, and there is no scenario in which he can be reelected in 2014. His numbers are that bad."
Asked about a potential recall, he said: "The most likely scenario, and one that the Democratic Party will support, is a recall effort of Governor Walker in November of 2012."
The fractious debate over the union measure propelled Wisconsin to the front of a wider national political battle as Republicans who took control of many statehouses in 2010 midterm elections moved aggressively to shrink government and made reining in public unions a top priority.
"The Republican Party of Wisconsin is in a weaker position electorally than anyone could have thought possible in January of this year," Tate said. "They have destroyed any independent voters that came out and gave them a chance last November."
In all, six Republican senators who supported the anti-union measure, and three Democrats who opposed it, will be forced to defend their seats this summer after recall petitions were signed by thousands of disgruntled voters.
The law, which dismantled key bargaining rights for most Wisconsin public sector employees, triggered the biggest opposition demonstrations in the state since the Vietnam War.
The Republicans said the party's unorthodox decision to run six Republicans as Democrats in Tuesday's primaries was needed to buy time for the six targeted incumbents to campaign, raise money and maintain their party's hold on the state Senate.
If Democrats gain just three of the seats at stake in the special summer elections, they will take control of the upper house and have a better chance at thwarting Walker's far-reaching legislative agenda.
Republicans will continue to have a majority in the lower house, or Assembly.
(Writing by James B. Kelleher; Editing by Cynthia Johnston)
Popular in the Community