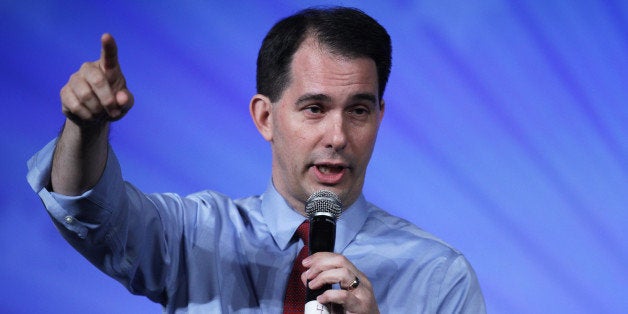 Scott Walker's rapid ascent into the top tier of 2016 Republican presidential contenders may have come as something of a surprise to those who didn't know much about him.
After all, the Wisconsin governor doesn't enjoy Jeb Bush's instant name recognition or access to the deep pockets of a family network, nor does he share Marco Rubio's compelling personal story or fluency on national and international policy.
What Walker brings to the field is subtler but perhaps no less potent: an impeccable timing and knack for pushing just enough. His facility for political gamesmanship has, against all odds, helped Walker reach the zenith of his career and has been in full effect in Madison this year, as the second-term governor has expertly managed two combustible issues that have come before the state legislature.
But once the all-but-certain White House candidate officially enters the race, his opponents are likely to work to cast his carefully cultivated image as a fearless and steadfast champion of conservative causes as nothing more than a facade.
Earlier this year, the Republican-controlled Wisconsin legislature prepared to fast-track passage of a right-to-work bill. Such laws, which are vehemently opposed by unions, forbid contracts between companies and unions that require all workers to pay the union for bargaining on their behalf. In February, Walker announced that he would sign the bill into law.
For Walker it was another notch on his belt as a union-busting champion of conservative ideals, who relished the fight now every bit as much as he had four years earlier, when he spearheaded the deeply divisive but ultimately successful effort to limit the collective bargaining rights of public employee unions.
And Walker was eager to bolster that impression.
First, his gubernatorial campaign committee released a pair of fundraising emails that took full ownership of the right-to-work triumph, saying the law's enactment showed Walker "putting his strong conservative beliefs into action" and asking potential donors to contribute to "his 'Right-to-Work' effort" (emphasis added).
Then Walker traveled to early-voting states like South Carolina and Iowa to toot his own horn, decrying the unions that had sought and failed once again to "intimidate" him over right-to-work.
Later in the spring, Walker appeared on Sean Hannity's Fox News show, where during an unrelated discussion about Iran, he boasted about how President Barack Obama "went after me not too long ago when I signed right-to-work in Wisconsin."
Meanwhile, national conservatives gushed over how Wisconsin had become the first right-to-work state in the Midwest. Breitbart News captured the consensus on the right when it wrote that this single accomplishment "could also power Wisconsin Governor Scott Walker to the Republican nomination."
But for Walker's critics, who had been engaged in the state's right-to-work debate, his curtain call seemed like a bit player with a walk-on role in the final act of a long play taking a dramatic bow at the end.
"He is very, very good at talking out of both sides of his mouth," said state Rep. Christine Sinicki, the ranking Democrat on the Wisconsin Assembly Committee on Labor. "He continued to say that he didn't want to deal with right to work -- didn't come out and say he'd veto it, but did not come out and say he'd sign it, either -- when we had the fight. Everything he does is about his possible presidential run, not about what's good for the state of Wisconsin."
During and immediately after Walker's closely contested 2014 reelection campaign, he did indeed say repeatedly that he did not want the state legislature to bring a right-to-work bill to his desk, even as members of his own party were clamoring for it.
Walker's calculus is clear: At a time when his political life was on the line, he didn't want to risk a reprisal of the messy 2011 fight that left him fending off a close recall election the following year.
As had been the case four years earlier, when he began his surprising push to limit public unions' collective bargaining rights after not campaigning on the issue, it was all about timing.
"Governor Walker has long been a supporter of Right to Work, co-sponsoring Right to Work legislation as a state legislator back to 1993," said AshLee Strong, a spokeswoman for Our American Revival, Walker's political action committee. "He said it wasn't his first priority if he was to be reelected but when the state supported it through its representatives in the Assembly and Senate, he said he would sign it if it came to his desk, which he did."
Walker's successful massaging of the right-to-work issue won him plaudits among conservatives nationally, but opened rifts with some members of his own party at home, which have grown deeper lately, as his actions on another contentious issue have taken a similar path from reticence to support.
As Republican state lawmakers have pushed in recent months to overhaul or fully repeal Wisconsin's prevailing wage law, which uses a formula to set wages for some public workers, Walker echoed his earlier stance on right-to-work, saying that the effort was not a priority for him.
Walker's caginess led frustrated state GOP legislators to openly question his leadership.
"Governor Walker, even though I think he could support repeal of prevailing wage, hasn't been out there, either," state Assembly Speaker Robin Vos said last month. "And on these topics if it's hard to explain, a lot of times you really need the governor to step out there and help us with the message. And we haven't gotten that."
Wisconsin conservative radio host Jerry Bader was even more emphatic, penning a column that accused Walker of timidity and characterized the governor as "the prevailing wage debate's invisible man."
"Pains me as it does to say this, in this term he appears to be, well, leading from behind," Bader wrote.
But on Wednesday, as a state Assembly committee approved the bill's repeal on a 5-4 vote, Walker's spokesperson announced that he would sign the legislation if it came to his desk.
"Certainly, I would be pleased if it was in," Walker said Thursday when pressed by reporters about whether he supported full repeal of the prevailing wage. "I think it makes sense for the arguments that have been made."
His potential rivals in the 2016 presidential nomination have taken notice -- and are likely to try to exploit -- the perception that Walker has sat back as state Republican lawmakers have taken the lead on controversial issues, only to swoop in at the end to lend his support.
An operative for a rival 2016 Republican campaign, who discussed campaign strategy on the condition of anonymity, offered a forecast of the kinds of attacks Walker will face in debates and other forums when he officially enters the presidential contest.
"Scott Walker ran in 2014 as a social issues 'trucer,' and then he was the last Republican in Wisconsin to come on board with right to work," the operative said. "Makes his 'fighter' pitch a tough sell in Iowa."
It remains to be seen if Walker can weather the concerted attacks he'd face in a national campaign, but the skill Walker has shown in handling the right-to-work and prevailing wage issues demonstrates the kind of political dexterity that makes him a serious contender in 2016.
Since the age of 22, Walker has won every race that he has run in left-leaning Wisconsin -- and that doesn't happen by accident.
"I think the national audience needs to understand that this guy is a fabulous politician," said University of Wisconsin-Milwaukee political science professor Mordecai Lee, who is also a former Democratic state representative. "That he's just intuitively surefooted, and that when he expresses himself with Talmudic precision, you have to parse those words very carefully to see what he's saying and not saying."
Calling all HuffPost superfans!
Sign up for membership to become a founding member and help shape HuffPost's next chapter
BEFORE YOU GO
PHOTO GALLERY
Scott Walker Pointing Fingers