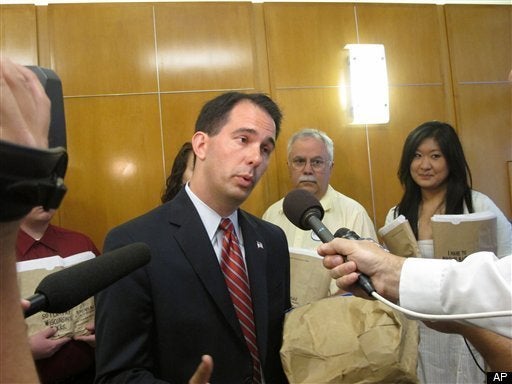 Those $2 billion are now available for other states, and Walker's hoping to get a piece of the action.
Walker said he had always supported improvements to the Hiawatha line. It's a popular and established service, without the local opposition that complicated the Milwaukee-to-Madison link that he campaigned against.

"This is not inconsistent with the position I took in the past," he said.
His position in the past was, in part, based on the concern that the state would have to shoulder too much financial burden to support the federally-backed high-speed project. BizTimes.com, a Milwaukee-area business news site, points out that the state's costs for the $810 million project would have been as low as $750,000 per year.
Walker claims that this project, a set of improvements to the Hiawatha line from Milwaukee to Chicago, would save the state money by lowering operating costs and allowing for growth in the rail line, according to an Associated Press report. But the Journal-Sentinel says that the maintenance building involved in the project will cost the state $12 million, 16 times more than the annual cost of the high-speed rail project Walker turned down.
Milwaukee Alderman Robert Bauman is less than optimistic that Walker's spiting of the last round of stimulus dollars will be so easily forgotten. From BizTimes:
"After the way they kicked dust in the face of the president of the United States and the Department of Transportation I think there is zero chance Wisconsin gets a dime," said Bauman, who represents the downtown area and is a passionate mass transit supporter. "These people are living in an altered state of reality."

Calling all HuffPost superfans!
Sign up for membership to become a founding member and help shape HuffPost's next chapter