WASHINGTON -- As Wisconsin Gov. Scott Walker (R) shifts his focus to national politics in preparation for a likely presidential run, controversy over his proposed state budget may force his attention back home.
The budget, which is scheduled to be released Tuesday evening, has already infuriated education advocates and some state lawmakers because of its planned $300 million cut to the University of Wisconsin system.
Another potential flashpoint is Walker's proposal to fund a new Milwaukee Bucks stadium, which is expected to cost $500 million, in order to prevent the basketball team from leaving the state when its contract with the current arena expires in 2017.
The team's owners are slated to provide at least $150 million, and former Sen. Herb Kohl (D-Wis.), who used to own the team, has pledged $100 million.
To make up the shortfall, Walker plans to have the state issue $220 million in bonds for the new facility. These bonds would be paid back by projected growth in income taxes from Bucks players and from visiting teams. Money from visiting players will be raised through what is known as a "jock tax," or a tax on income they earn while playing in Wisconsin. Increases in salaries and more lucrative NBA television contracts are expected to raise the amount of income tax collected from players each year.
Walker's proposal, which the governor says takes a "common-sense, fiscally conservative approach," emphasizes that no new taxes will be enacted. It also states that no revenue currently coming into the state would be used to pay for the bonds and that money from the increased income taxes would go to the state once the bonds are paid off.
State lawmakers are expected to push for the city of Milwaukee and Milwaukee County to chip in funds also.
Though Walker is a favorite of conservatives because of the steps he took to limit collective bargaining for unions -- and because he was elected statewide three times in four years in a relatively blue state -- the funding scheme has perturbed some, who worry about how it could potentially put taxpayers on the hook.
Opponents of the proposal even include the state chapter of Americans for Prosperity, the political advocacy organization founded by the billionaire conservative brothers Charles and David Koch that has given millions to Walker's gubernatorial campaigns and generally supports his policies.
"Any time the government gets involved in a deal, taxpayers are at risk in some way," David Fladeboe, AFP's Wisconsin director, told The Huffington Post Tuesday. "There are still a lot of questions to be had. From our perspective, this just isn't the role of government and we should be using our resources elsewhere."
Fladeboe said AFP would analyze "how the bill reflects our views and what we fight for" and talk with state legislators and the governor's office in the months ahead as the legislature considers the budget. Though AFP has gotten involved in hyperlocal issues, such as municipal streetcar projects, county board elections and funding for zoos, it remains unclear how much AFP will lobby against the stadium proposal.
Democrats and progressive groups, meanwhile, argue that the state shouldn't be diverting future tax revenues at the same time that Walker is calling for cuts to the state's university system.
"We want the Bucks to stay in Milwaukee, sure, but as policymakers we should be more worried about young people leaving this state because we don't invest in higher education the way we used to," state Rep. Cory Mason (D) told HuffPost.
"This governor has left us in this position where we've got a huge budget hole to fill, and he's got a lot of stuff he wants to do -- so how he does that while he gives a billionaire $220 million to build a sports center is going to be a challenge," he added, pointing to the state's anticipated budget shortfall.
"Gov. Walker may have named his newly formed Presidential fundraising committee 'Our American Revival' but based on his actions today to stick it to students and their families while giving handouts to professional sports teams you have to wonder whose revival he's talking about," Executive Director Scot Ross said in a statement Thursday.
Support HuffPost
The Stakes Have Never Been Higher
Before You Go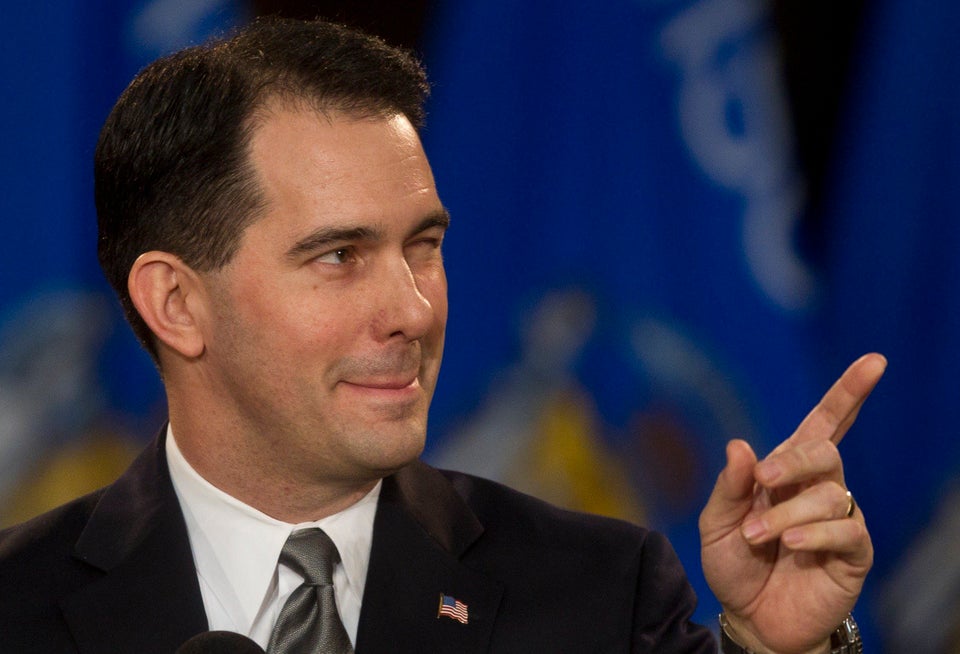 Scott Walker Pointing Fingers
Popular in the Community