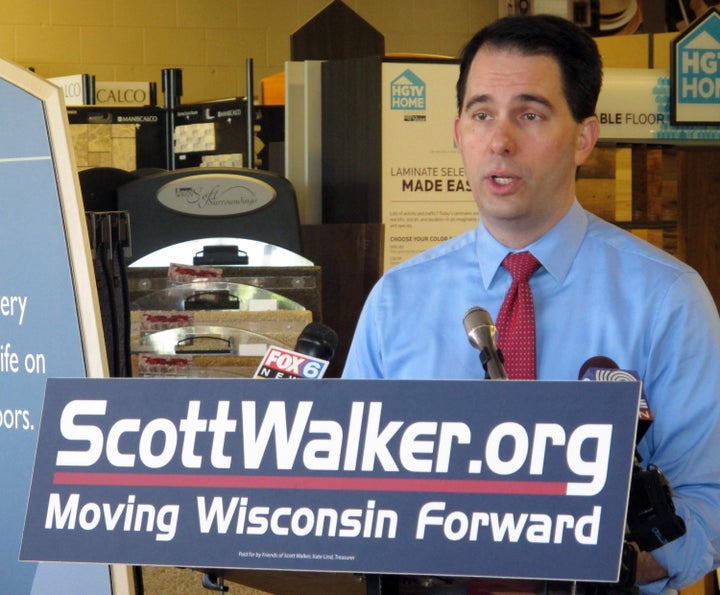 A video recently went viral of Wisconsin Gov. Scott Walker telling a billionaire donor in January 2011 that he planned to employ a "divide and conquer" strategy to take away working peoples' rights -- a move that ultimately sparked historic protests and led to the upcoming June 5 recall election that close to one million voters demanded.
It was a rare, unguarded moment of Walker coming clean to a building supply magnate about his scheme to divide the state. She later gave Walker's campaign the largest contribution to a governor in state history.
The revealing video footage of Walker and his billionaire donor was captured by a Milwaukee filmmaker working on a documentary about Janesville, a Wisconsin city still recovering after its largest employer, General Motors, shut down its sprawling factory in 2008.
Ironically, a few months ago, a Walker billboard touting his jobs record popped up briefly next to the shuttered GM factory, illustrating how Walker's rhetoric on jobs doesn't match reality. Wisconsin led the nation in job losses last year, despite Walker's frantic attempt to claim otherwise.
Of course, last week wasn't the only time the public has seen how Walker tells billionaires, or people he thinks are billionaires, one thing and voters something completely different.
A month after confiding his plan to "divide and conquer" the people he was elected to serve, Walker got caught on a prank call from a blogger he thought to be David Koch, the right-wing donor worth $25 billion who has dropped tens of thousands of dollars into Walker's campaign coffers.
During his 20-minute conversation with the fake Koch, Walker admitted that he was attacking unions as part of a larger ideological battle that had nothing to do with his publicly stated reason of balancing the state budget. Walker even said he had actually considered planting troublemakers in the crowds of teachers, families and other peaceful protesters at the State Capitol.
Sadly, Walker's "divide and conquer" strategy extends to almost everything he's done as governor.
Walker divided Wisconsin by gender, attacking women's health, inserting the government into personal reproductive right decisions and weakening equal pay protections.
Walker divided Wisconsin's school system, slashing public school revenue by a record $1.6 billion while expanding and siphoning more tax dollars to the state's unaccountable school voucher program.
Walker divided Wisconsin's health care system, trying to drop coverage for 64,000 lower income families, including 30,000 children, until the Obama administration said no.
And Walker divided Wisconsin voters, advocating for and signing one of the most restrictive voter ID laws in the country -- a law so suppressive it was ruled unconstitutional by two separate courts.
If Walker had focused on creating jobs and running the state instead of dividing and conquering his perceived enemies, Wisconsin would not be dead last in job creation and Walker would not be facing a recall.
Popular in the Community