WASHINGTON -- In April 2010, Scott Walker and his staff realized they had a potential problem on their hands that would require them to quietly fire a woman who appeared to be completely competent at her job. The issue was that she had what they perceived to be a "checkered" past: She used to be a thong model.
The revelation was contained in an email exchange between Walker, who was then Milwaukee county executive and is now Wisconsin's Republican governor, and Thomas Nardelli, who at the time was his chief of staff. On Wednesday, the Wisconsin Court of Appeals released more than 27,000 pages of documents that were part of the now-closed secret "John Doe" investigation into Walker's time as county executive. So far, six of his former aides and associates have been convicted in connection with the case.
Walker learned about the problematic former thong model on April 5, 2010, when Nardelli emailed him about a woman who was hired as a doctor at the Milwaukee County Behavioral Health Division, which provides treatment for mental illness, substance use disorders and intellectual disabilities.
Nardelli said that the medical director had "failed to Google or MySpace" her, and it was "recently discovered that she has a checkered past and has done some modeling work."
"It isn't pornographic," wrote Nardelli, "but it is quite suggestive (I'm told - I don't know her name). He [sic] apparently models thongs and wasn't forthright in sharing that with staff prior to her hire as an hourly paid MD at [Behavioral Health Division]."
He added that Behavioral Health Division leadership was looking at how to "release her without much fanfare" because John Chianelli, who was then the director of the division, was "concerned about having her on staff and subsequently having her Googled by staff only to learn of her 'other life' out side of her medical work. Apparently she's competent, but even the Medical Director is dismayed that she has a varied life style outside of her medical profession."
In response, Walker replied, "Get rid of the MD asap."
Tonya Simpson, a spokeswoman for BHD, said she was not able to confirm the woman's employment status without knowing her name. Walker's campaign did not reply when asked whether the woman was ultimately fired.
The emails released Wednesday provide more evidence that Walker's top aides were doing political work and coordinating with campaign staffers on taxpayer time. They also indicate that Walker knew of what was going on.
Walker's aides set up secret wireless router in his county executive office that they used to email from their personal accounts in order to do political work and evade scrutiny.
Walker's administration director, Cynthia Archer, at one point wrote that she uses her "private account quite a bit to communicate with SKW [Scott Walker] and Nardelli."
National Democrats have seized on the emails to compare Walker to New Jersey Gov. Chris Christie (R), who is also in hot water for his aides using their official positions for political purposes. The super PAC American Bridge has created a website called John Doe Walker, where it has posted all of the documents.
"Today's documents raise serious questions about the level of illegal coordination between Scott Walker's office and his campaign," said Democratic National Committee spokesman Michael Czin. "This wasn't the work of a few rogue staffers -- this was a coordinated effort that goes right to the top. Just like in New Jersey, top aides used taxpayer resources to push a political agenda. And just like Chris Christie, Scott Walker has a lot of questions to answer."
When asked for comment on the emails broadly, Walker campaign spokesman Jonathan Wetzel said, "The recently released communications of a county staffer from several years ago are part of a legal process that was completed early last year. Governor Walker is confident that during that legal process, these communications were thoroughly reviewed by the authorities. The focus of Governor Walker remains on moving Wisconsin forward by helping employers create more jobs and reducing the tax burden on Wisconsin families."
This piece was updated with comment from BHD.
Before You Go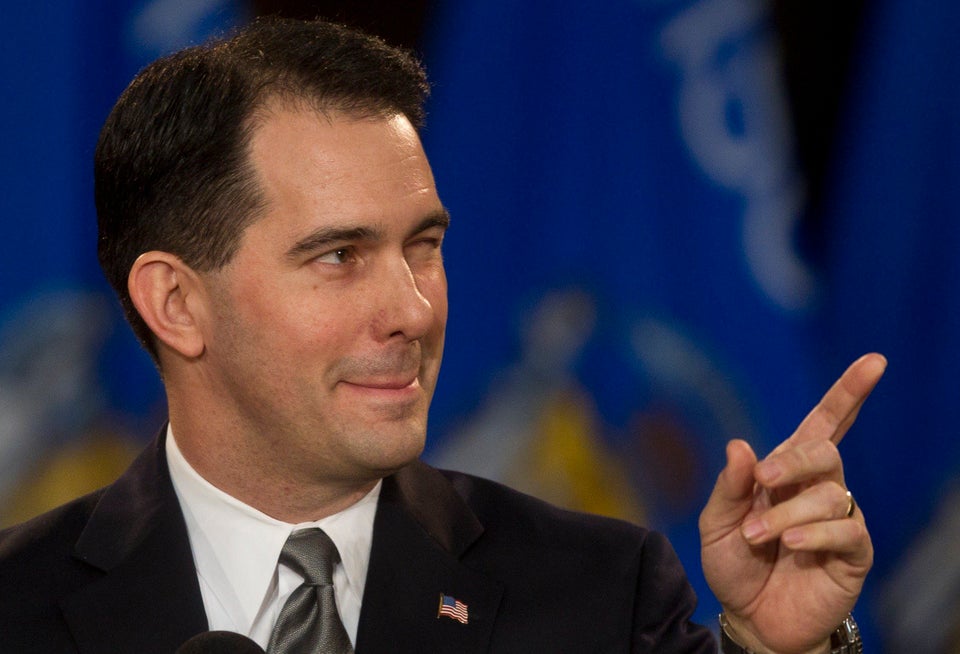 Scott Walker Pointing Fingers
Popular in the Community