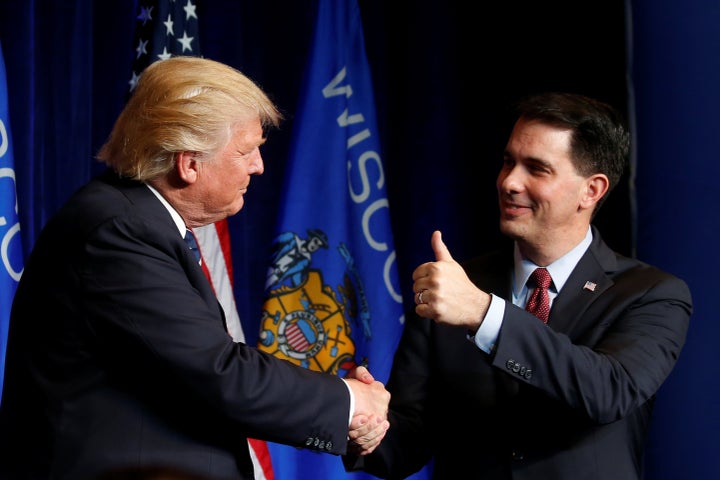 Wisconsin Gov. Scott Walker (R) is restarting his fight against accepting refugees next year ― this time with an ally in the White House.
On Tuesday, the governor sent a letter to President-elect Donald Trump that has several requests from the state of Wisconsin, including having "a broader role in determining how many refugees and from which countries until we are comfortable with the vetting process that is being utilized to screen these individuals," referring to people "from countries with terrorist ties."
The letter does not single out Syrians, although Walker has said many times before that he does not want them in his state. He sent the letter at the height of a months-long siege and bombing campaign that left thousands of civilians dead or displaced in the rebel-held city of Aleppo.
Trump initially campaigned on a promise to keep all Muslims from entering the U.S., then said he would bar people from certain countries affected by terrorism. He also said he would ban Syrian refugees from coming to the country, based on speculation that they could be terrorists and a false claim that they are barely vetted before being admitted into the U.S.
That means he could be sympathetic to Walker's plea for more power over refugee resettlement. It's not clear what "broader role" Walker was requesting, and a spokeswoman for the governor did not immediately respond to a request for comment. But Walker was one of many governors in November 2015 who called for a ban on Syrian refugees and said his state would not cooperate in accepting them.
"As far as we can tell, they're just fully integrating these individuals into the communities that they're in, which doesn't really fit with the definition of refugee."
Those efforts failed, because governors cannot dictate federal immigration policy or ban certain people from their states. Some states, not including Wisconsin, withdrew from the refugee resettlement program entirely because they couldn't block Syrians, even though doing so doesn't actually keep anyone out.
Walker told the Associated Press this week that he made his request to Trump because he believes states should get more information about refugees.
"As far as we can tell, they're just fully integrating these individuals into the communities that they're in, which doesn't really fit with the definition of refugee," Walker said. "We have no idea how many people may have ties to the Islamic State or to other forms of radical Islamic terrorism or jihadist groups, and I think it's a legitimate public safety concern."
Integration is actually a stated goal of their resettlement once the federal government places refugees in states. According to the federal Office of Refugee Resettlement, "integration is one of the key factors to refugee self-sufficiency." Organizations work to help newly arrived refugees get jobs, enroll their children in school and join community groups. Refugees who are lawfully present in the U.S. are placed within specific states, but then allowed to move wherever they want, just like anyone else.
Refugees go through extensive vetting ― far more than people coming to the U.S. through other legal means ― before being accepted into the country. Only a tiny fraction of refugees are resettled at all, and those who are can't pick whether they end up in the U.S. or somewhere else.
Federal law enforcement officials have expressed some concerns about the challenge of vetting Syrian refugees, but have not said it is impossible, as Walker, Trump and others have claimed. FBI Director James Comey is often cited as a source for those statements, although he in fact said "there is no risk-free process" but that the government had become "dramatically better" at vetting in the past eight years.
Backlash against Syrian refugees within the U.S. has often flared based on threats from people who weren't Syrian ― or weren't even refugees. The State Department said last year that only about a dozen of the nearly 785,000 refugees admitted into the U.S. since 9/11 "have been arrested or removed from the U.S. due to terrorism concerns that existed prior to their resettlement in the U.S. None of them were Syrian."
About 60 percent of the Syrians resettled in the U.S. in the 2016 fiscal year were under the age of 18, according to the State Department. Wisconsin admitted about 1,690 refugees, from about 590 families, during the same time period. Only 21 of those families ― about 100 individuals total ― were from Syria.
Popular in the Community