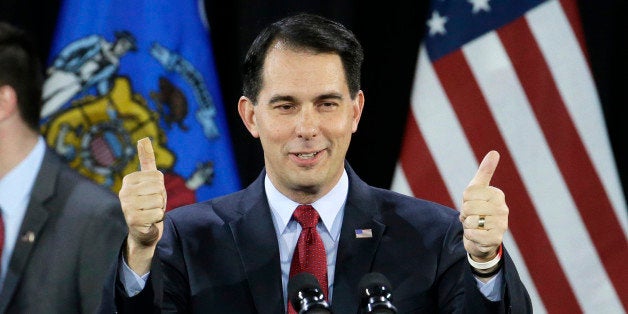 WASHINGTON -- Presidential hopefuls from both parties made their way to the Hyatt Regency hotel on Capitol Hill this week, where they spoke to thousands of firefighters at the International Association of Fire Fighters conference. Everyone from Sen. Marco Rubio (R-Fla.) to Sen. Bernie Sanders (I-Vt.) stopped by, with former Florida Gov. Jeb Bush (R) sending a short video message.
Walker was the only Republican politician invited by the International Association of Fire Fighters who declined to attend the union conference. On the Democratic side, former Secretary of State Hillary Clinton also declined due to her previously scheduled speech at the United Nations. IAFF spokesman Tim Burn declined to say why Walker couldn't attend and the governor's spokesperson did not return a request for comment.
There was little love lost Tuesday between Walker and the firefighters at the conference, in large part because of his recent comments comparing labor protesters to terrorists. At the Conservative Political Action Conference late last month, Walker responded to a question about whether he was prepared to take on the Islamic State terrorist group in the Middle East by saying, "If I can take on 100,000 protesters, I can do the same across the world."
"Last I heard, 343 of our brothers died fighting terror in the [World Trade Center] towers [after 9/11]," said Dan Colbath, a member of IAFF local 1230 in Contra Costa County, California. "So comparing firemen to the people responsible for this stuff is about the most disgusting thing I've ever heard."
"I think it was downright disrespectful to not only just union firefighters but any firefighter that's out there -- and in fact, any protester," said Seth Holzopfel, a member of the Myrtle Beach Professional Firefighters in South Carolina. He added, however, that he would have liked Walker to come to the event and tell his side of the story.
Speaking at the conference Monday, Vice President Joe Biden attacked Republicans for trying to weaken collective bargaining rights and undo union-friendly reforms by labor officials in Washington. He said the right had declared "a war on labor's house," and he urged the firefighters to be skeptical of the messages brought by Republicans seeking the White House.
"I understand you're going to hear from a bunch of candidates tomorrow," Biden said to laughter. "Ask them whether they think you're a drag on the community, whether you're an obstacle to overcome or whether you are the community ... Make a judgment. Do they understand you? Do they get who you are?"
Harold Schaitberger, the union's general president, said the bipartisan nature of the conference reflected the union's 300,000 members. He described the union's political makeup as "center-leaning-right." IAFF officials said approximately 44 percent of the union members were Republican, 42 percent Democratic and the rest independent. The group, however, has endorsed the Democratic candidate in the recent presidential elections.
As for who gets invited to speak, the national leadership tends to defer to its chapters as a matter of local autonomy, Schaitberger said. The union's Wisconsin contingent asked that Walker receive an invitation. It isn't clear what Walker possibly could have said to a massive union crowd, and many weren't surprised that he ultimately declined the invitation.
"We didn't think he would come and meet with a strong union like the IAFF," said Jay Petrillo, a member of local 2334 in North Providence, Rhode Island. "He doesn't support our causes, doesn't support any causes from labor. So I don't think it was a big surprise to anybody that he wouldn't show up here."
In explaining the decision in Wisconsin to invite Walker, Schaitberger noted that firefighter unions were carved out of the 2011 legislation, known as Act 10. And at the end of the day, the union's leadership in Wisconsin "quite frankly has to work with the governor," he said.
Nonetheless, Schaitberger described Walker's policies as anathema to organized labor.
"The fact of the matter is it appears he's made a decision from 2010 forward, and it's now part of his presidential campaign, that he's going to wear with pride his ability to destroy the labor movement that was responsible for building this great country of ours," Schaitberger said. "That's not going to sit well with us at all."
According to Schaitberger, New Jersey Gov. Chris Christie, who's battled with unions throughout his tenure, was not invited to speak at the conference, at the request of the union's New Jersey membership.
The union will probably decide on an endorsement at its June board meeting, Schaitberger said. Although the AFL-CIO labor federation asked that its member unions wait until the broader federation has gone through its endorsement process, Schaitberger said IAFF tends to issue endorsements on its own timeline.
"I made it clear we're going to continue to do our own process," he said.
Walker also took heat from a member of his own party Tuesday at the conference. Former New York Gov. George Pataki (R) said he often faced protests while in office but he completely disagreed with Walker's comparison.
"My concern is equating that with ISIS as though there is any sort of equivalency. There isn't," said Pataki. "Obviously, you have one group that is a violent terrorist group committed to killing people who don't share its views and committed to destroying our Western way of life. And they are very different from those who exercise the constitutional right to protest here."
Want more updates from Amanda? Sign up for her newsletter, Piping Hot Truth.
Calling all HuffPost superfans!
Sign up for membership to become a founding member and help shape HuffPost's next chapter
BEFORE YOU GO
PHOTO GALLERY
Scott Walker Pointing Fingers