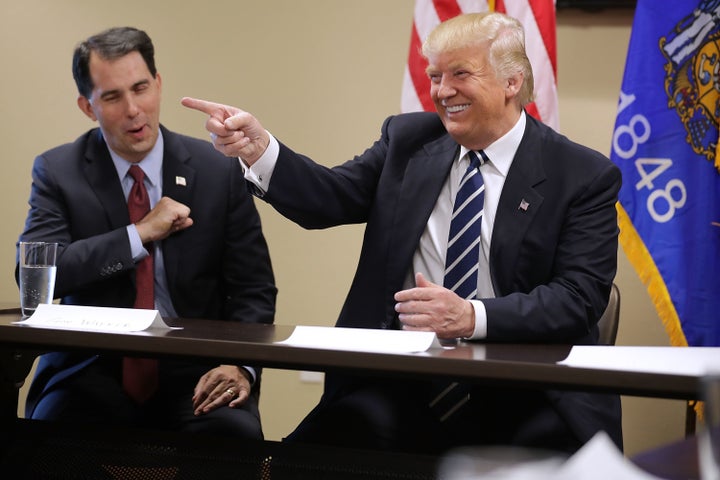 But Grover Norquist, founder of the anti-tax lobby Americans for Tax Reform, put forward a theory: Act 10, Republican Gov. Scott Walker's 2011 law stripping Wisconsin's public-sector unions of their collective bargaining rights, made the Badger State fertile ground for Trump.
It is not clear exactly what Norquist meant. He did not immediately respond to a request for comment.
The conservative kingmaker was likely arguing, however, that crushing Wisconsin's public-sector unions, many of which effectively disbanded after losing their bargaining rights, had deprived Democrats of a key source of financial and political strength. In Wisconsin, public-sector unions had been ― as they continue to be in many other states ― an essential component of Democratic fundraising and turnout efforts.
That, in turn, it stands to reason, neutralized a counterforce that might have prevented Trump's election.
Two Wisconsinites on the receiving end of Walker's controversial law agreed with Norquist's conclusion that Act 10 had played a decisive role in Trump's election ― only for a different reason.
Ed Sadlowski, a union representative with AFSCME who had to find work in Illinois after Act 10's passage, and Marty Van Haren, a retired city traffic signal electrician who lost his bargaining rights because of the law, both believe that Walker's actions primed the state's workers to seek scapegoats for their suffering.
"You wanna strip workers and families of rights and a voice in society? Fascism, racism, bigotry are what you get," Sadlowski said.
Van Haren said he believes that the public-sector union members who voted for Democrats before the law likely did not succumb to Trump's politics of scapegoating this time around.
But by encouraging private-sector workers to turn on government workers, Walker solidified a growing belief that workers ― not the wealthy class ― are to blame for other workers' troubles, he said.
That laid the groundwork for a figure like Trump to persuade workers to blame their troubles on immigrants and minorities, according to Van Haren.
"One of the goals they have is to create division," he said. "You divide everybody, you get everybody hating each other ― it's basic fascism. Donald Trump says, 'I love stupid people' ― it's the truth."
The mistake workers make when they turn to figures like Walker or Trump is that they are playing into the oligarchs' "divide and conquer" strategy that Walker outlined to a billionaire donor. Workers who turn on their peers must realize they are next in line to get steamrolled, Sadlowski and Van Haren argued.
In his second term, Walker went on to make Wisconsin a right-to-work state in 2015, weakening the private sector unions as well.
Sadlowski, who now represents public-sector workers in northwest Illinois, warns workers who were looking for answers by voting for Trump that Trump will betray the workers who trusted him as well.
"As goes Wisconsin, goes the nation. We were sayin' that shit back in 2011," he concluded.
Before You Go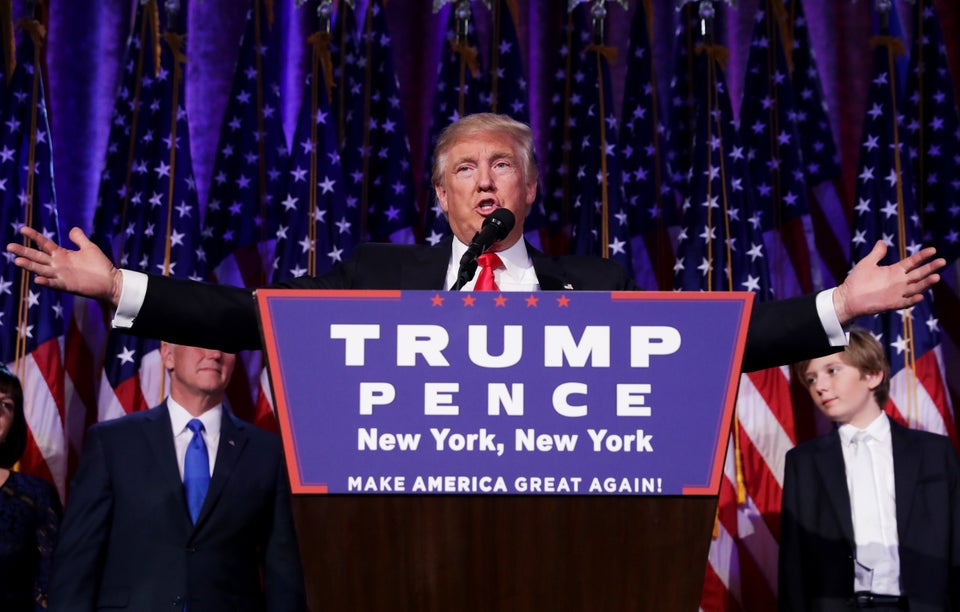 Trump Supporters React
Popular in the Community