Wisconsin's Republican Gov. Scott Walker responded Wednesday to reports that GOP legislators would pursue right-to-work legislation in the new year by saying that such a bill would be a distraction from his agenda, according to Wisconsin Public Radio.
Right-to-work legislation forbids unions and companies from making contracts that require workers to pay the union for bargaining on their behalf. Republican State Rep. Chris Kapenga told The Associated Press Tuesday that he would introduce such a bill, which unions oppose because the legislation would allow workers to benefit from collective bargaining without contributing to the union. Many workers end up opting-out of funding their unions when right-to-work is instated, thereby reducing the power of organized labor.
On Wednesday, Walker said that he understood that legislative leaders could not control what their members do, but that he hoped they could stick to his priorities.
"As I said before the election and have said repeatedly over the last few years, I just think right-to-work legislation right now ... would be a distraction from the work that we're trying to do," Walker said.
Republicans who favor right-to-work legislation say it helps states grow economically. But Walker said that states with right-to-work laws have other policies that factor into economic growth, like lower taxes and more favorable regulatory climates.
On Wednesday, Kapenga told The Huffington Post that he hadn't had any discussions with Walker about any right-to-work legislation.
"My job in the legislature is to present a strong case for the legislation. Obviously [Walker] has to make the decision if it's a good thing for the state or not," he said.
Stephanie Bloomingdale of the state's AFL-CIO chapter said in a statement Wednesday that right-to-work legislation "would be a move in the wrong direction for Wisconsin."
"So-called 'right to work' legislation is partisan distraction and a direct attack on all working families and our middle class," Bloomingdale added. "These bills have proven time and time again to decrease wages and safety standards in the workplace."

Walker and the state's unions have had an acrimonious relationship since the governor signed a law in 2011 that took collective bargaining rights away from public workers. That bill incited three weeks of massive protests, with tens of thousands of people gathering daily at the Wisconsin state capitol. Critics of Walker forced a recall election in 2012, which the governor survived, and the Wisconsin Supreme Court upheld the law earlier this year.
The governor is weighing a presidential bid in 2016, and so may hope to avoid another fight with labor as his national profile rises. In a concerning precedent for progressive and labor groups, however, Michigan's Republican Gov. Rick Snyder repeatedly stated that right-to-work legislation wouldn't be a priority of his but then signed the legislation when it reached his desk in 2012.
Support HuffPost
The Stakes Have Never Been Higher
Before You Go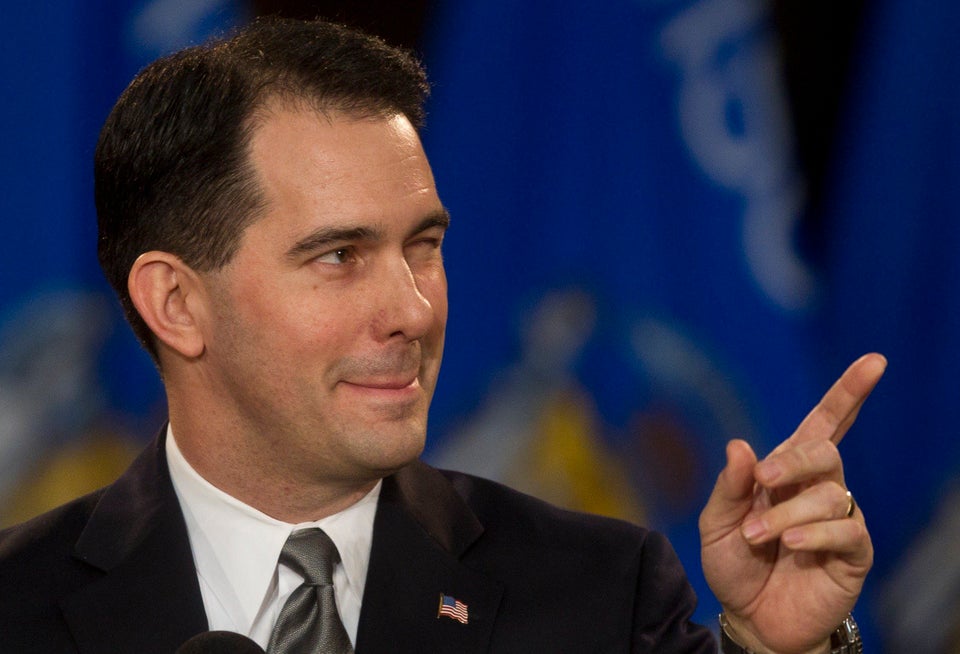 Scott Walker Pointing Fingers
Popular in the Community