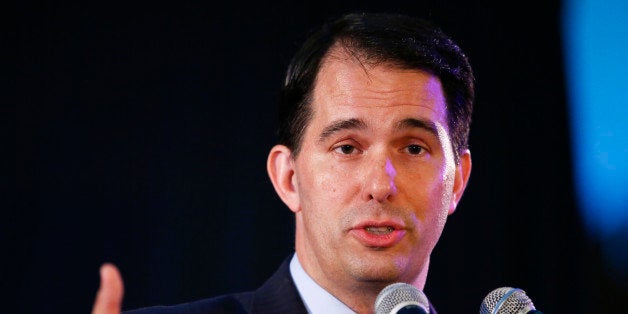 WASHINGTON -- Wisconsin Gov. Scott Walker (R) has come out in favor of making poor people prove they're not on drugs if they want food stamps or unemployment insurance -- even if it means a showdown with the federal government.
Walker's drug test pitch comes as the Wisconsin Republican is in a close campaign for re-election against Democrat Mary Burke. National polls consistently show that requiring welfare recipients to prove they're not on drugs is an overwhelmingly popular idea.
Popular as it is, federal law doesn't allow states to require drug tests for food stamps or unemployment insurance. (States have more leeway to test beneficiaries of the Temporary Assistance for Needy Families program.) Walker told the Journal Sentinel that he would welcome a fight with the feds.
"We believe that there will potentially be a fight with the federal government and in court," Walker told the paper on Sunday. A Burke spokesman derided Walker's idea as a campaign stunt, the Journal Sentinel reported.
Since federal courts killed Florida's welfare drug testing law in 2011, Republicans in other states have usually tried to craft legislation that would comply with constitutional protections and federal regulations. When the Georgia legislature passed a measure requiring drug tests for food stamps, the federal government said no, prompting the state to back away from the idea.
Last year, Republicans in the U.S. Congress unsuccessfully tried to give states the power to make food stamp applicants pee in cups. In 2012 Congress approved letting states require drug tests for some unemployment applicants, but the U.S. Labor Department has essentially stifled the law by slow-walking necessary regulations.
Walker's drug testing proposal is part of a broader campaign platform called "Continuing Wisconsin's Comeback" that outlines a host of tax cuts and other Republican-cherished policy ideas.

Calling all HuffPost superfans!
Sign up for membership to become a founding member and help shape HuffPost's next chapter
BEFORE YOU GO
PHOTO GALLERY
Scott Walker Pointing Fingers