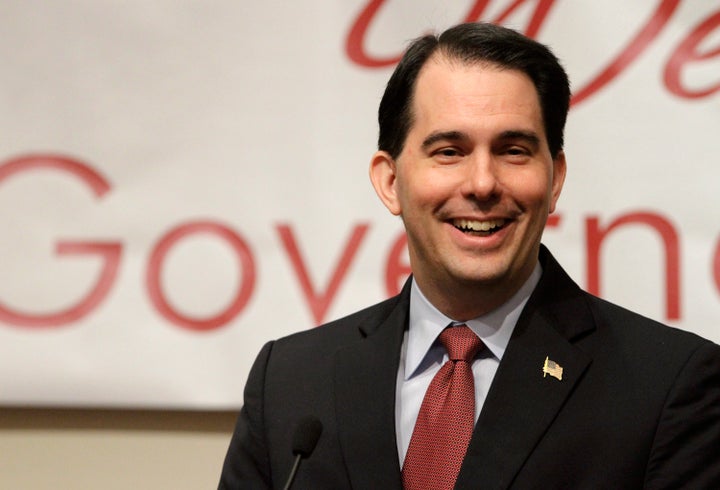 WASHINGTON -- Three female Democratic leaders in Wisconsin are demanding an explanation from Gov. Scott Walker (R) of why he repealed a law that made it easier for victims of wage discrimination to have their day in court.
"We are writing today to request a written answer to a simple question on the minds of women and men across Wisconsin: Why did you sign Senate Bill 202 to repeal the 2009 Equal Pay Enforcement Act, and it [sic] doing so remove state legal recourse for women who are victims of pay discrimination?" wrote former Dane County executive Kathleen Falk, along with state Reps. Christine Sinicki (D-Milwaukee) and Chris Taylor (D-Madison), in a letter to Walker on Monday.
Falk is running in the Democratic primary for governor, hoping to face off against Walker in the recall general election in June. Sinicki and Taylor have both endorsed Falk. Sinicki is also one of the sponsors of the 2009 law.
Walker quietly signed the repeal of the Equal Pay Enforcement Act into law on April 5. The 2009 law was meant to deter employers from discriminating against certain groups by giving workers more avenues through which to press charges. Among other provisions, it allows individuals to plead their cases in the less costly, more accessible state circuit court system, rather than solely in federal court.
"Our request is necessary because the answer you have provided to the people of Wisconsin does not appear to be honest when compared with the facts," the letter continued. "Most importantly, our request is necessary because women are being paid less than men in Wisconsin for doing the same job, and it's wrong."
Walker's office did not return a request for comment.
"In the past, lawyers could clog up the legal system," Walker said. "Instead, the state Department of Workforce Development gets to be the one that ultimately can put people back and give them up to two years back pay if there is reason to believe there was pay discrimination in the workforce."
"There has been absolutely no proof of that," replied Sinicki in a call with reporters on Monday morning. "There have been no cases decided in courts. If I recall correctly -- I don't believe there have even been any complaints filed at this point."
"Once employers understand that there are severe penalties for discrimination, they take it more seriously. It acts as a deterrent," said Taylor.
On average, women earn 77 cents for every dollar that men make nationwide. In Wisconsin, it's 75 cents, according to the Wisconsin Alliance for Women's Health (WAWH), which also estimates that families in the state "lose more than $4,000 per year due to unequal pay."
Business associations lobbied in support of SB 202, which repealed the law, according to the state's Government Accountability Board. Groups like Wisconsin Manufacturers and Commerce and the Wisconsin Restaurant Association all backed a repeal as well.
Falk, Sinicki and Taylor pointed to data by the nonpartisan Wisconsin Legislative Reference Bureau as proof that the Equal Pay Enforcement Act was having a positive effect on pay equity. Wisconsin rose 12 spots in the gender earnings parity rankings between 2009 and 2010, going from 36th place to 24th. Median female earnings as a percentage of median male earnings also rose by 3 percent.
Falk is facing Milwaukee Mayor Tom Barrett (D) and two other candidates in the May 8 Democratic gubernatorial primary election. The winner will go head-to-head with Walker in the June 5 general election.
UPDATE: 9:45 p.m. -- The Walker campaign's response to the letter:
Kathleen Falk should be ashamed of the outright, blatant lies she is telling which only serve to distort Governor Walker's record. It is still illegal in the state of Wisconsin to discriminate against women when it comes to pay, and Kathleen Falk knows this. The law Governor Walker repealed was a bill passed in 2009 that incentivized trial lawyers to sue job creators, including female business owners, in this state.
Popular in the Community