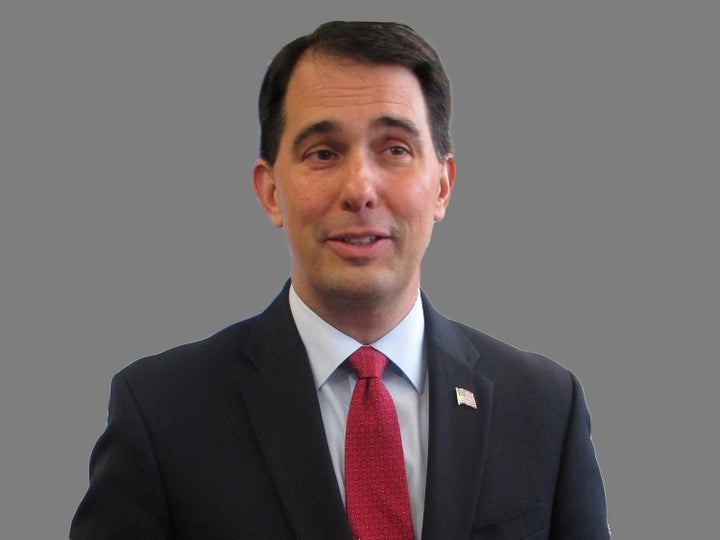 In the fall of 2011, I was an unemployed recent journalism school graduate in a country still clawing its way back from recession. At a family reunion, my grandma pulled out a piece of paper with a list of signatures — signatures required to trigger a recall election against Wisconsin Gov. Scott Walker (R), who'd just inspired massive protests by ramming through a bill that stripped public sector employees of their right to bargain collectively.
She asked me to sign the recall petition, and I did.
Three years later, while I was working for a small political magazine in D.C., I wrote an innocuous blog post about Walker. The Walker campaign called the magazine's managing editor — my boss's boss — and complained that I couldn't write about the governor because I had signed the recall petition three years earlier. The managing editor was furious with me for failing to disclose my actions as an unemployed 22-year-old. I was terrified, sure that I was going to get fired.
That's the type of guy Walker is. He governed Wisconsin with the same vindictive pettiness, transparent corruption and laser-like focus on further oppressing already marginalized people that we now see in the Trump administration (there's a word for this style of governance.) He was the sad, preservative-laced ham sandwich in the otherwise unassuming brown paper bag of Wisconsin politics. He would tell you, unconvincingly, that he needs his black and orange Harley Davidson jacket when he is about to go into a controlled slide on his hog. He is Miracle Whip personified. He's the kind of guy who'd call your boss' boss to try to get you fired.
Now he's the one out of a job.
Beneath his corn-fed, "aw shucks" facade, Walker is one of the most conniving figures to emerge from conservative politics in the past decade.
Walker's loss on Tuesday night had a sort of poetic justice: After the 2016 election, Walker and Republicans in the state legislature passed a rule tightening the state's recount law. The new law requires that candidates must lose by 1 percent or less to ask for a recount. On Tuesday, Walker lost the governorship to State Superintendent Tony Evers by 1.1 percentage points.
Walker and his allies will surely consider the devastation he brought to Wisconsin over the past eight years a success. Taken together, Walker's legacy adds up to eight years of ruin for Wisconsin's working classes, for people of color and for the environment — all in service of further enriching the already-rich.
Beneath his corn-fed, "aw shucks" facade, Walker is one of the most conniving figures to emerge from conservative politics in the past decade. It will take decades to repair the damage he and his allies did to my home state. And much of what he broke can never be made whole again.
Throughout his two terms as governor, Walker has remained consistent in his core political strategy: promising jobs that will never appear. Look at Walker's election-year gambit: to bring Taiwanese electronics manufacturer FoxConn to Wisconsin with promises of well-paying, high-tech jobs for Wisconsin workers.
Reality has not lived up to those expectations. FoxConn promised to create 13,000 jobs at its Wisconsin factory at an average salary of $53,875. In exchange, Walker's administration awarded FoxConn more than $3 billion in state tax breaks and credits — equaling more than $230,000 per job the company promised. Walker could have used that money to fund a public works program to employ more than four times as many people, at the same salary, for the same cost of the FoxConn deal.
Let's just say that, under Walker, Wisconsin underperformed its Democrat-run cousin, Minnesota, on nearly every meaningful metric: Non-farm job growth. Median income. Population growth. Median hourly wages. The share of people with health insurance.
I suspect that one reason Walker failed so badly is that although he is conniving to his core, he is not smart. Think back to when he took a prank call from someone pretending to be David Koch. Or when, as Milwaukee County executive, he signed a letter to a Jewish constituent with, "Thank you again and Molotov." Or when he claimed he got his bald spot from bumping his head on a kitchen cabinet door. Walker has a Ph.D. in power lust and an "I tried!" sticker in political acumen.
He wasn't even good at hiding his corruption. During his campaign for governor, while serving as county executive, Walker's staff set up a secret wireless router in his public office to communicate about the campaign using taxpayer resources. One of Walker's aides at the time was sentenced to six months in prison for felony misconduct.
Walker was a cheap date for corporate executives in search of friendlier laws. A John Doe investigation revealed that after a billionaire lead producer gave $750,000 to a conservative group supporting Walker and his party in the 2012 recall elections, Walker and his party passed a measure that retroactively shielded paint makers from liability.
So, on Tuesday night, Walker did what he has always done, from the moment he decided to pursue a career in politics: He failed. I hope some of his supporters, including some of my own family members, will now wake up to the fact that they were duped.
Scott Walker failed as a governor. On Tuesday, he failed as a politician. The schmuck even failed at getting me fired. Good riddance.
Calling all HuffPost superfans!
Sign up for membership to become a founding member and help shape HuffPost's next chapter