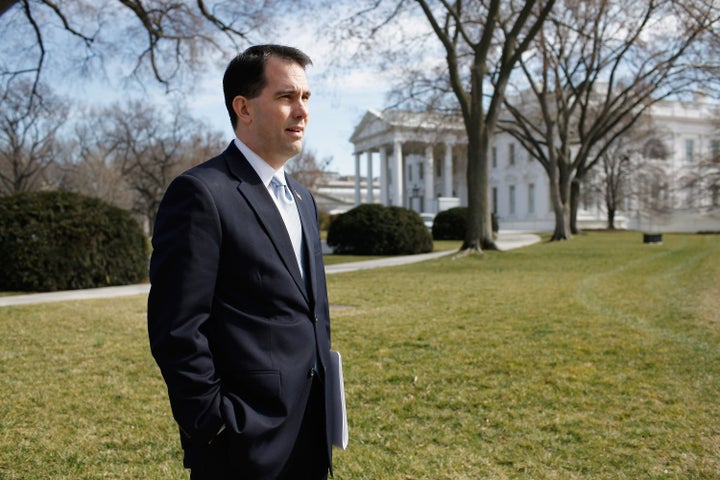 * Could be third U.S. governor recalled from office
* Pushed law to weaken public employee unions
MILWAUKEE, April 28 (Reuters) - At the National Rifle Association convention in St. Louis earlier this month, a top official rattled off a Who's Who of Republican politicians speaking to the group including Mitt Romney, Rick Santorum and Scott Walker.
The loudest applause was for Wisconsin governor Walker, who faces a special election in June that could make him only the third U.S. governor recalled from office.
Walker is a celebrity among conservatives wherever he goes thanks to his decision to take on public sector unions in his state, which has earned him the enmity of Democrats and organized labor.
Shortly after taking office last year, Walker defied tens of thousands of protesters to push through the legislature a measure to reduce the powers of public sector unions - forcing members to pay more for health insurance and pensions, and capping wage increases. Further enraging organized labor was a provision requiring them to vote every year to recertify unions.
Determined to fight back, Walker's opponents gathered nearly one million signatures to recall him.
With his job on the line at a June 5 statewide vote, Walker has seized on his fame to take at least three trips out of state for fundraising since the recall election was officially announced at the end of March, according to groups he visited.
He went to Oklahoma for the Council of Public Affairs Citizenship Award dinner, to St. Louis for the NRA convention, and to the Illinois state capital of Springfield for a Chamber of Commerce event.
Among the co-sponsors of the Oklahoma event were the billionaire Koch brothers, who use their fortune from energy and trading company Koch Industries for conservative causes including attacking unions in several states.
Early next week, New Jersey Governor Chris Christie, another Republican governor known for confronting unions, will fly to Wisconsin to speak at two fundraisers for Walker.
"I love what he is doing. He is taking on the public sector unions, which ... have grown way too powerful in Illinois, Wisconsin and elsewhere," said former candidate for lieutenant governor of Illinois Don Tracy, who wrote a $1,000 check to Walker during an Illinois event on April 17.

At almost every stop on his tour, Walker is picketed by liberal activists and union members.
"They want to take me out before anybody else across America dares to take them on," Walker said of the unions in his speech to the NRA on April 13. "That's why we need your help."
In a one-month period through Jan. 17, Walker raised $4.6 million, according to figures reported to the state's election board. His campaign is required to file a finance report by Monday that will detail contributions from Jan. 18 to April 23.
Mike McCabe, director of the Wisconsin Democracy Campaign which tracks campaign financing, expects about $60 million will be spent by both sides during the recall election campaign of just over two months.
"It's absolutely unprecedented," McCabe said.
The latest finance report filed by the Walker campaign said 61 percent of contributions came from out-of-state sources from early December 2011 through mid-January.
"To see a candidate reach 10 percent from out of state was highly unusual and very noticeable," McCabe said. "The kind of numbers that we have seen have no basis of comparison."
Among his big donors are Texas homebuilder Bob Perry, who gave $490,000, and Stanley Herzog, chief executive of Herzog Contracting Corp in Missouri, who gave $250,000.
David Koch of the Koch brothers contributed $1 million to the Republican Governors Association on Feb. 1, according to IRS documents. The association recently launched two attack ads in Wisconsin against Walker's Democratic opponents.
Wisconsin's unusual system means the vote on June 5 will not be whether to recall Walker but a choice between the governor and a Democratic opponent, who will be chosen on May 8.
Walker is likely to face a rematch with Milwaukee Mayor Tom Barrett, whom he beat by five percentage points in 2010. Polls show Barrett winning the Democratic primary over the former executive of the state's liberal bastion of Dane County, Kathleen Falk, who has more union support.
All polls show a tight race between Walker and either Democrat, with almost no undecided voters.
While Falk criticized Walker's out-of-state fundraising, saying "no amount of money can buy back the trust" of voters, she also held an out-of-state fundraiser in Washington, D.C.
Barrett has received outside help from Chicago Mayor Rahm Emanuel, a Democrat who attended a fundraiser in Milwaukee.
It is unclear where Walker's political aspirations will take him after the recall. If Walker is booted from office, Joe Heim, professor of political science at the University of Wisconsin, La Crosse, said he expects him to hit the conservative speaking circuit.
"I would imagine he would get pretty good speaker fees," Heim said. "He would be viewed as a martyr."

Popular in the Community