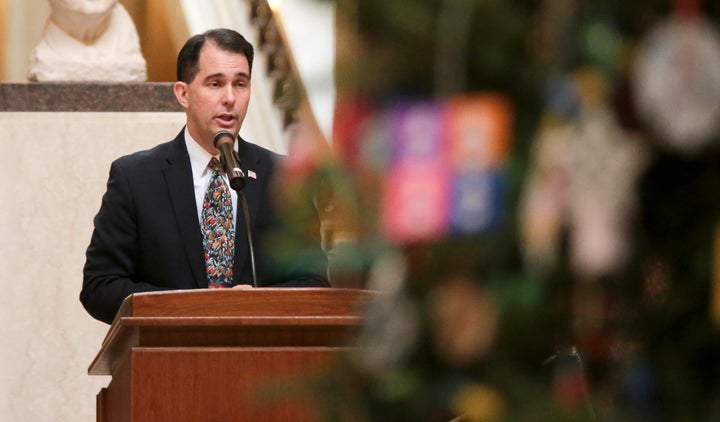 Wisconsin Gov. Scott Walker (R) made his first public comments on legislation that would take power away from the incoming Democratic governor and attorney general, indicating that he's likely to sign the measures.
"Let's set the record straight — the new governor will still have some of the strongest powers of any governor in the nation if these bills become law," Walker wrote in a Facebook post Tuesday. "He will have the power to veto legislation and he will have some of the broadest line-item veto authority of any governor in the nation."
Walker said the new governor, Tony Evers, will also still be able to appoint members of his Cabinet and "various other state government posts," pardon felons and write administrative rules.
"None of these things will change regardless of what I do with the bills passed in the state Legislature last week," Walker added.
His comments were in response to criticism that Democrats ― and even some  Republicans ― have directed against the measures, which were pushed through by the GOP-controlled state Legislature in its lame-duck session, just weeks after Walker and the GOP attorney general lost their re-election bids to Democrats.
SB 884, the most controversial measure that Republicans passed (just one GOP legislator voted against it), would limit the duties of the attorney general by taking away his power to name a solicitor general to represent the state in major lawsuits. Legislators would instead get to hire their own outside lawyers to represent the state. The bill would also give lawmakers, rather than the attorney general, the power to decide how to spend settlement money. 
The bill would restrict early voting ― which is generally known to increase voter turnout and help Democrats ― prevent Evers from banning guns in the state Capitol without the Legislature's approval and give lawmakers increased control over a beleaguered state economic development agency.
On Sunday, Evers told NBC's "Meet the Press" that he talked with Walker a few days ago and was "not particularly encouraged" that Walker would listen to him and veto the bills.
In his statement Tuesday, Walker said he is looking at whether the bills will improve transparency, increase accountability, affirm stability and protect taxpayers.
Walker also gave a speech on Tuesday, saying there was "hype and hysteria" and a significant amount of "misinformation" about the proposals.
Walker steadily amassed power during his eight-year tenure. The lame-duck bills would move some of that power back to the Legislature, which will remain in the hands of Republicans. 
This piece has been updated with Walker's speech. 
Calling all HuffPost superfans!
Sign up for membership to become a founding member and help shape HuffPost's next chapter