WASHINGTON -- Hanukkah is a holiday that commemorates the burning of oil. Republicans naturally love it. But in his haste to celebrate the festival of lights, Wisconsin Gov. Scott Walker (R) got a little farmisht.
In an undated letter posted by the Capital Times Wednesday, Walker wrote to a constituent that he would be happy to display a menorah at the Milwaukee County Courthouse. At the time, he was serving as county executive. But what stands out most is his closing line. From the letter:
Thank you for you letter regarding the Menorah Display. Yes we would be happy to display the Menorah celebrating "The Eight Days of Chanukah" here at the Courthouse. [...]

Thank you again and Molotov.
As of press time, "Molotov" was not a part of the Jewish lexicon. A Molotov cocktail is an improvised handheld explosive used the world over by protesters and grenade-deprived soldiers. The Molotov cocktail was reportedly named for former Soviet Defense Minister Vyacheslav Molotov by Finnish defense fighters during the 1939 Soviet invasion of Finland.
It is not believed that Walker intended to bestow -- much less throw -- molotov cocktails on the letter's intended recipient.
The phrase that Walker was presumably searching for is "Mazel Tov," but that's more traditionally used to congratulate someone at a wedding or bar mitzvah, for example. Many goyim may not know that a better way to greet someone during Hanukkah would be to say "Chag Sameach," which translates roughly to "Happy Holiday."
Walker's office did not immediately return a request for comment. The Huffington Post also reached out to, but did not hear back from, Franklyn Gimbel, the Milwaukee attorney who requested the menorah.
The letter surfaced in a batch of documents from the John Doe corruption investigation related to Walker's time as Milwaukee county executive. It's not clear whether the letter was ever actually sent.
Walker is not alone among Republican governors who have made game, if awkward, attempts to honor the holiday in recent memory. In 2010, Texas Gov. Rick Perry (R) observed the first night of the holiday with a lively round of singing and dancing alongside a group of Chabad rabbis. Video of the revelry, which featured a visibly stiff and uncomfortable Perry holding hands with the rabbis and circling a menorah in the Texas State Capitol, went viral.
Walker, like other potential 2016 presidential candidates, has been reaching out to Jewish Republican donors, speaking at the Republican Jewish Coalition in March. In his speech there, he criticized President Barack Obama for being weak on foreign policy and stated that "Israel should have an ally in the United States."
Walker also said at the event that even though he isn't Jewish, he decorates his home during the holiday season with Christmas lights and a "menorah candle."
Gimbel said he didn't remember whether he had read Walker's whole letter, but if he had seen the "Molotov" error, he likely would have called the governor to correct him. He added that Walker should maybe think about hiring some Jewish staffers if he runs for president, because right now, "[h]is staff is white Christian."
Want more updates from Amanda? Sign up for her newsletter, Piping Hot Truth.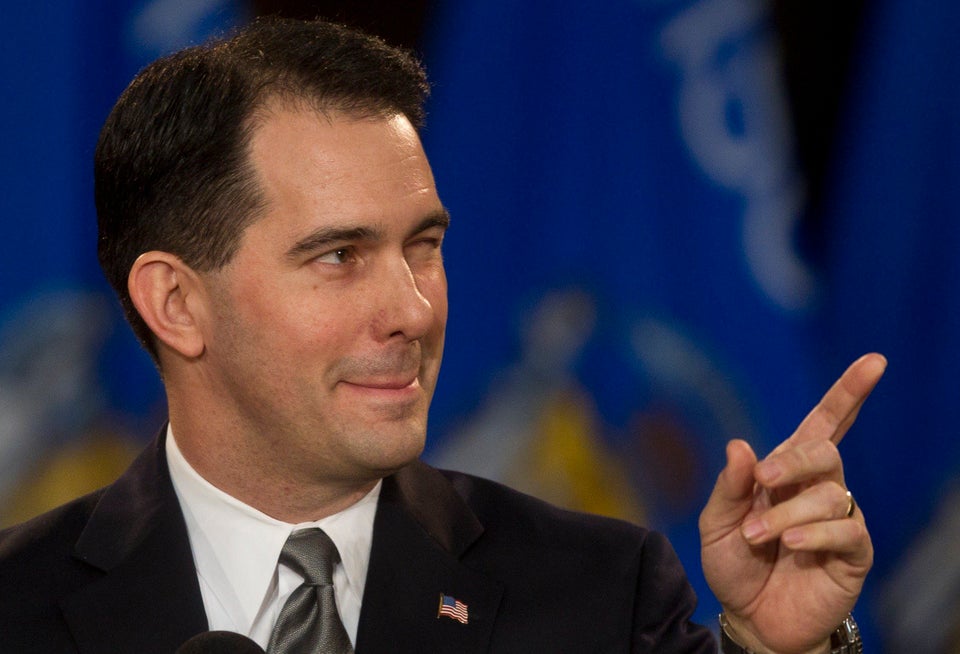 Scott Walker Pointing Fingers
Popular in the Community