I'm a Canadian who permanently moved to the U.S. in 2013. Los Angeles, to be specific. Got me a green card n' everything, which after legal and processing fees -- plus enough paperwork to make a filing clerk crouch into the fetal position -- ran me about $10,000. The whole process took nearly two years to complete, which by U.S. immigration standards is pretty darn good. Needless to say, I'm thrilled to be here. America is badass.
Many prominent Canadians have moved to the United States over the years: everyone from Justin Bieber (apologies) to Neil Young (you're welcome) to that pair of hunky Ryans (Messrs. Gosling and Reynolds). Oh, and presidential hopeful(ish) Ted Cruz, who for some impossible reason was born in Calgary, Alberta.
Which brings us to another presidential hopeful(ish): Scott Walker. The Wisconsin Governor recently raised eyebrows on NBC's Meet the Press by one-upping rival Donald Trump's plan to build a wall across the U.S/Mexico border. How? By suggesting a similar wall be constructed up north, thereby turning America into the world's largest gated community. Here's Scott in his own words:
"Some people have asked us about that in New Hampshire. They raised some very legitimate concerns, including some law enforcement folks that brought that up to me at one of our town hall meetings about a week and a half ago. So that is a legitimate issue for us to look at."
We're talking 3,987 miles of wall. Actually, 5,525 miles if you include Alaska. Projected cost: 18.3 trillion-gajillion dollars. (Figures may be off by a couple hundred thousand.) All because of a few folks at a town hall meeting in New Hampshire. Which raises the question: why is New Hampshire -- arguably one of the most Canadian-like places in the U.S. -- so afraid of its Canadian neighbors? Is it the fact they spell 'neighbors' as 'neighbours'? A negligible offence at best, we can all agree.
More likely, they may be concerned about Islamic terrorists swooping down from the north and laying waste to their New Hampshirian way of life. Which to date has occurred a harrowing, nerve-wracking zero times.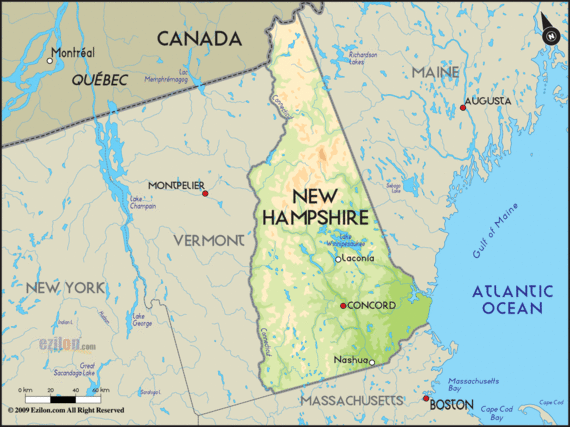 As you can see from the above map, New Hampshire's largest borders run along Vermont, Massachusetts, and Maine. And yes, a wee sliver at the top is shared with Canada. The Province of Quebec, to be exact. Here's a bit of Quebec history: for decades, young New Hampshirites (New Hampshirians?) have flocked to the French Canadian province, because in addition to its robust cities and natural beauty, the legal drinking age is -- wait for it -- 18. Oh, and the bars are open until 4 a.m. Yes, Quebec is indeed the perfect storm.
18 is also the legal U.S. voting age. Which raises another question for Mr. Walker: with the New Hampshire Republican primary carrying so much weight, do you really want to alienate the state's young voters? Because pledging to drop a giant wall in front of their only access to anything resembling a nightlife ain't gonna earn you any favors. (Or 'favours,' as Canadians spell it.) Free advice: given you're polling at a mere 6.3 percent in the Granite State, some hefty course correction on this issue may be in order. And fast. Whether they cover a tiny fraction of New England or the entire U.S./Canada border, walls work both ways. And increasing the likelihood of New Hampshirites (New Hampshironians?) being denied entry into Canada is only going to create a bigger wall between you and the White House. Just sayin'.
New idea: 4 a.m. last call for New Hampshire. Think about it, Scott -- I've got your back, buddy.
Popular in the Community