Scott Wolf has been in the TV game for a while now. He played the beloved Bailey Salinger on the '90s classic "Party of Five"; he starred as Dr. Jake Hartman on "Everwood" in the mid-2000s; and he appeared in shows like "The Nine," "V" and "Perception." 
But lately, Wolf has been making a splash as Dr. Scott Clemmens on NBC's "The Night Shift," which just kicked off its fourth season. The series follows a group of doctors from the Army who work the night shift together at a hospital in San Antonio. Clemmens, who is not ex-military, tries to find his place among the "family" of medics, while trying to work alongside his ex-girlfriend, Dr. Jordan Alexander (Jill Flint). 
Wolf says the best part of his job is getting to shine a light on real-life surgeons who save lives every day, as well as having the opportunity to cover topics that are affecting our world daily. 
"On the surface, because it's a hospital show, there are all these crazy medical conditions or injuries or things that are just really interesting to learn about. But this show does take on bigger, emotional issues ― and really complicated ones," Wolf told HuffPost during a Build Series interview Wednesday. "Last year, we did a story about a potentially racially biased police shooting. So there's kind of sometimes this torn-from-the-headlines stuff that is, you know, I suppose delicate and controversial. There's this story [in Thursday night's episode] with this young girl who had an abortion and her mom doesn't know about it."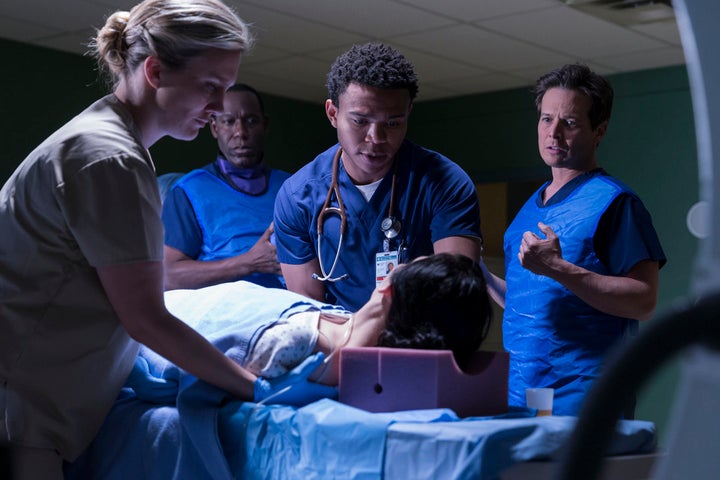 The actor says it's "meaningful" to be on a show that doesn't shy away from discussing these issues on screen, especially in the current age we're living in. From the beginning, Wolf knew "The Night Shift" would give a voice to veterans who are dealing with their personal experiences each and every day, and that made him proud to be involved.   
"... A lot of these doctors [on the show] are ex-military and they served as army medics in Iraq or Afghanistan. So the show has a huge undercurrent of that military theme and we tell a ton of stories, especially this season," Wolf explained. "The hospital ends up partnering with the local VA, and they're overtaxed and there's such a burden upon them and they need the help getting that work done. And Episode 7 is an episode that's entirely devoted to the military. All of the guest actors ― everyone other than the core cast ― are all military, are all veterans. That's an incredibly important issue ― it feels silly to even call it an issue, it's an important thing ― to be taking proper care of the people who have served. So to be on a show that takes that seriously and tells stories, not just the glorified versions but the ways in which it's incredibly challenging and the work that has to get done, I'm really proud of that, too."
"The Night Shift" airs Thursdays at 10 p.m. ET on NBC. Watch Scott Wolf's full Build Series interview below.  
Calling all HuffPost superfans!
Sign up for membership to become a founding member and help shape HuffPost's next chapter
BEFORE YOU GO
PHOTO GALLERY
Social Justice Organizations