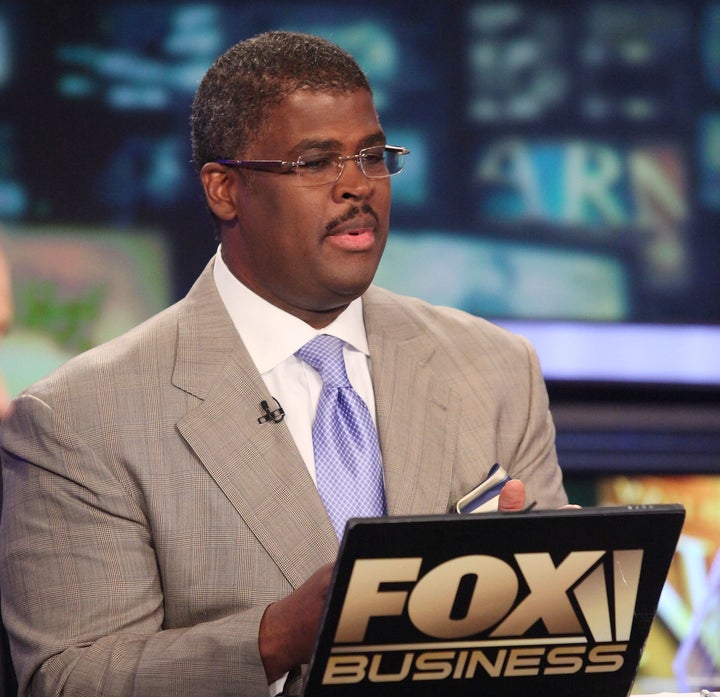 Conservative analyst Scottie Nell Hughes has accused Charles Payne, a Fox Business host, of sexual harassment, multiple sources tell HuffPost. The Los Angeles Times was the first to report that an analyst who used to appear on the network had accused Payne of sexual harassment, but the paper did not name the accuser. The network has suspended Payne pending further investigation, according to a source familiar with the matter.
Fox Business Network recently announced that it had renewed Payne's contract.
In a statement to HuffPost, a spokesperson for the Fox Business Network said, "We take issues of this nature extremely seriously and have a zero tolerance policy for any professional misconduct. This matter is being thoroughly investigated and we are taking all of the appropriate steps to reach a resolution in a timely manner."
The spokesman declined to comment further.
For this story, HuffPost spoke to over 10 sources inside and outside the network who spoke on the condition of anonymity because they weren't authorized to speak about network business.
Hughes has told several sources that she feels that Payne, the network and Bill Shine ― then co-president of Fox News and Fox Business ― retaliated against her after they learned of the relationship, which would be the basis for her sexual harassment claim.
The law firm Paul Weiss, which Fox News parent company 21st Century Fox hired last year to investigate former Fox News host Gretchen Carlson's claim that she was sexually harassed by former network chairman Roger Ailes, has been charged with leading an internal investigation into Hughes' sexual harassment claim.
In a statement to the National Enquirer on Wednesday, Payne said he'd had an "affair" with a then-unnamed analyst. "I would like to extend an apology to my family and friends for having been involved in a romantic affair that ended two years ago," he said.
Payne's lawyer, Neal Korval, did not respond to multiple requests for comment from HuffPost, but told the Los Angeles Times that his client "categorically denies" having committed any acts of sexual harassment.
In a text message, Hughes referred HuffPost to her manager Michael Sanchez, who did not respond to a request for comment.
Hughes gained notoriety last year as a fervent Donald Trump supporter and CNN analyst. The network did not renew her contract after the election, in part because of her tendency to make on-air gaffes, such as calling molotov cocktails "mazel tov cocktails." Hughes recently joined the pro-Trump PAC The Committee To Defend The President as a national spokesman.
Hughes started appearing on the Fox Business network in 2013, and according to three sources, kept an apartment near the network's Sixth Avenue headquarters in New York. Her husband and two children remained at their home in Nashville while she worked to gain a contract with the network as a paid commentator.
Payne and Hughes' affair was widely known within the confines of the Fox Business world but a well-kept secret otherwise. Payne and Hughes, according to multiple sources who worked at the network at the time, made little effort to hide their affair. On a company trip in May 2015 to Las Vegas, where Payne was hosting his Fox Business show, "Making Money With Charles Payne," at the annual Money Show conference, they appeared to be sharing a room and had disappeared at one point for hours, leaving their colleagues behind. Payne's wife did not join him on that trip.
Hughes also attended a birthday party for Payne at his home in late 2015. Their interaction at that party, according to four sources that worked at the network at the time, led Payne's wife to feel uncomfortable enough to contact her husband's boss and ally, Shine.
Shine then pulled Hughes off the air, according to multiple sources. Hughes has not appeared on Fox News or Fox Business since then, which has confounded some media insiders because her passionate support of Trump would make her a natural fit for the pro-Trump cable network.
Shine was forced out in May by the Murdoch family, who controls 21st Century Fox, after Fox News fired host Bill O'Reilly following an explosive New York Times report detailing multiple sexual harassment lawsuits that O'Reilly and the network had settled.
Popular in the Community