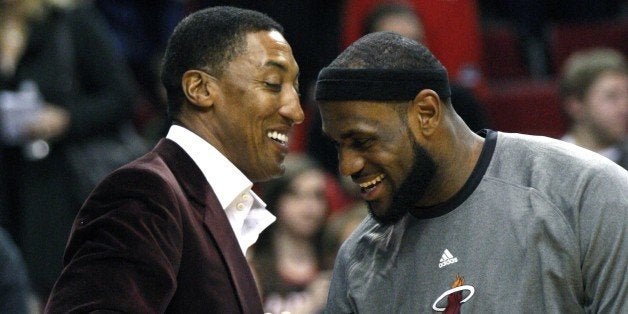 Chicago Bulls Hall of Famer Scottie Pippen, however, doesn't see Magic or Michael in LeBron's game. And thinks someone else should be added to that conversation.
LeBron was also at the Nike Basketball Academy, observing, mentoring and playing with top high school and college basketball prospects. (He even snuck in some beachfront yoga with the campers.)
"They want to compare him to the greatest, whether it be Michael Jordan or Magic Johnson, but he's more closer to myself," Pippen said. "It's natural for folks to say that, but if you look at how he plays the game and how I played the game, you'll see more similarities with us."
Physically, Pippen's assertion is spot-on. Not that Pippen, 50, was the athlete that LeBron is now (nobody is), but both NBA stars are 6 feet 8 inches and small forwards by trade.

Pippen was always a threat to throw down a huge dunk while running the floor.
Like Pippen did, especially when Jordan left the Bulls to play baseball, LeBron often plays an unusual "point forward" role for his team, combining the best qualities of two positions: the unselfish passing and leadership of point guards with the inside-out versatility of forwards. Stylistically, Pippen and LeBron share similar tasks and execution.

Getting in LeBron's way is a bad idea.
"I'm no slouch, but when comparing LeBron's game, I'm usually left out," Pippen said.
So why does Pippen get left out of the conversation? Status. In the revised version of NBA history we follow, Pippen was always No. 2. He can't shake that tag. Players of LeBron's star power or near it -- the 1 percent of the NBA's alpha dogs -- don't get compared to second-best options. That's why Pippen's closest popular comparison to current NBA stars is actually Golden State Warriors small forward Andre Iguodala, the 2015 Finals MVP who closely guarded LeBron one-on-one for much of the series.
Perhaps, so Pippen doesn't feel left out of the conversation next time, his Hall of Fame bust should read "LeBron James Before LeBron James: The Greatest Chicago Bull Ever." Now that's a unique distinction for the NBA's GOAT second option.
Calling all HuffPost superfans!
Sign up for membership to become a founding member and help shape HuffPost's next chapter
BEFORE YOU GO
PHOTO GALLERY
LeBron James on the Cleveland Cavaliers