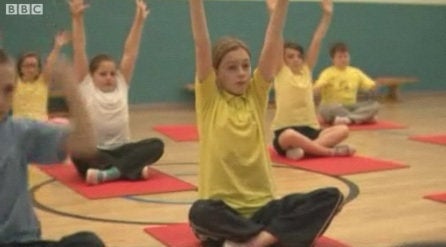 One of Ed's most rewarding experiences was teaching yoga and chanting to schoolchildren in India. They just loved it and would giggle continuously as smiles covered their young faces from ear to ear.
Now, a recent BBC report shows Scottish children in a run-down and deprived area of Glasgow, not just practicing yoga and chanting at school but also really enjoying it. Yoga is being taught in 15 different schools there, and appears to be increasing concentration in lessons (especially math!) as it generates greater ease and relaxation among the students.
For those who know and practice yoga this will come as no surprise. What could be more invaluable to children as the yoga postures or asanas make the spine more flexible, stretch the body, oxygenate the blood and brain, improve circulation and benefit to the whole body, mind and spirit!
However, most yoga practitioners are doing it because they know yoga is good for them, and not because a parent or teacher is telling them they have to do it! That these children are enjoying the movements, sitting still and chanting Om (to calm the mind), and even doing it at home on their own, is a great example of how receptive children can be to anything that makes them feel good.
It is also heartening to see these schools are embracing yoga in this way, given that are in a largely Protestant and Catholic country, proving that hatha yoga (the physical movement versus the philosophical) is free of religious connotations and is simply a wonderful tool for greater awareness, peace and good health.
Google yoga and Christianity and you will unfortunately uncover hundreds of websites dedicated to proving that yoga is anti-Christian, a tool of the Devil, voodoo, spiritually dangerous, that it worships the sun-god as well as other deities. Although yoga may have its roots in Hinduism, it is an entirely separate system and the benefits of hatha yoga go far beyond religious connotations. People in all religions get stressed! A practitioner can easily do their own meditation or prayer at the end of a hatha yoga class, as some Christian practitioners do.
Do you do yoga? Do you know children who love to do yoga? Do comment below. You can receive notice of our blogs every Tuesday by checking Become a Fan at the top.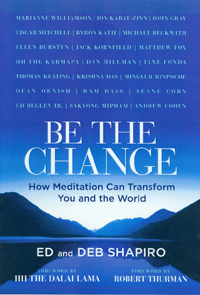 ****
See our Friday weekly blogs on Oprah.com
Ed and Deb Shapiro's book, BE THE CHANGE, How Meditation Can Transform You And The World, forewords by the Dalai Lama and Robert Thurman, with contributors Marianne Williamson, astronaut Edgar Mitchell, Jane Fonda, and others.
Our 3 meditation CD's: Metta--Loving kindness and Forgiveness; Samadhi-Breath Awareness and Insight; and Yoga Nidra-Inner Conscious Relaxation, are available from: www.EdandDebShapiro.com
Popular in the Community