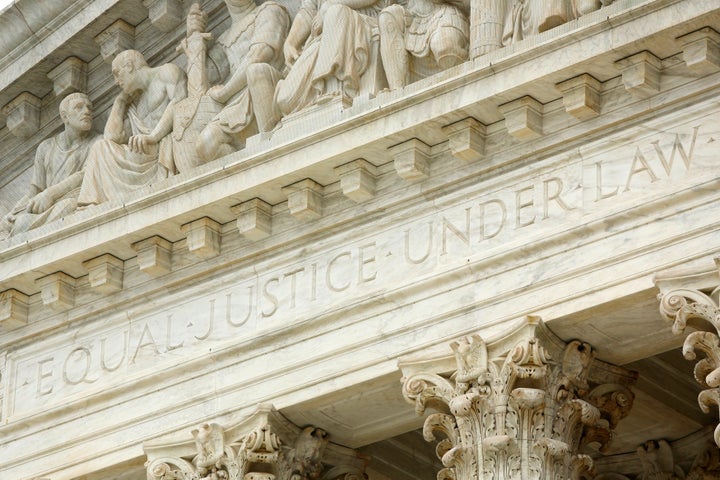 Last week's Supreme Court split decision on the Deferred Action of Childhood Arrivals leaves already overburdened undocumented students with more questions than answers. Frequently, cost presents a huge barrier to access, but SCOTUS' ruling has only made this untenable situation worse.
Imagine having completed your K-12 education in the United States, then realizing you're not eligible to apply for most scholarships or receive financial aid and student loans. This is the unfortunate reality for many high-achieving, academically inclined undocumented students with dreams, drive, and aspirations. Due to our broken immigration and higher education systems, these students are met with inadequate policies that marginalize their will to pursue economic security that comes with a postsecondary education.
The DACA plan, an immigration executive order issued by President Obama in 2012, provided qualified undocumented students with a work permit and Social Security Card to legally hold employment in the United States. Like citizens, these students pay state, local, and federal taxes out of their paychecks and they file taxes annually to show proof of income. With last week's ruling, this short-term fix is no longer an option for undocumented students who are already barred from receiving any financial assistance from the state and federal budgets they help fund. Too often, people mistake undocumented students as non-taxpayers trying to access taxpayer funds. In reality, this is not the case. According to the Institute on Taxation and Economic Policy, in 2012, undocumented immigrants paid $11.84 billion in state and local taxes in the United States. For students who struggle with accessing  financial aid and student loans, some states take it a step further by charging them out-of-state or international tuition rates to attend all public colleges and universities.
In spite of federal barriers to financial aid for undocumented students, some states are actually stepping up. In July of 2014, the Florida legislature passed House Bill 851, allowing all Florida high school graduates to receive in-state tuition at public colleges and universities regardless of immigration status. Florida joined twenty other states that have legislation or university systems offering in-state tuition to the undocumented students in their state. In addition to having in-state tuition, California, Washington, New Mexico, and Texas are the only states to offer state financial aid to undocumented students. Conversely, Missouri, Indiana, Georgia, Arizona, Alabama, and South Carolina are the few states that have legislation charging undocumented students in their states out-of-state or international tuition rates at public colleges and universities.
Raising the level of education among workers increases their productivity and the more educated a state's workforce, the more attractive the state appears to businesses wanting to expand or relocate. Imposing barriers on an entire demographic of students through state legislation sends a message that policymakers do not value an educated workforce. In these states, charging undocumented students out-of-state and international tuition rates will not increase state revenue like it is believed to do, it will only discourage tens of thousands of undocumented students from pursuing postsecondary education and training. Consequently, millions of dollars in annual earning potential will be lost in state and federal revenue since these Americans will not be able to reach their full potential and add to our country's economic output.
According to College Board, 65,000 undocumented students graduate from high school each year. With so many restrictions, most of them will not be able to pursue postsecondary education or training. In Missouri, House Bill 3, which went into effect in 2014, added language to the higher education budget bill to state that anyone with undocumented status must be charged nothing less than the international tuition rate to attend all public colleges and universities. This meant seeing tuition rates double and in some cases triple for DACA and undocumented students who were already attending colleges and universities in the state and those with hopes of doing so. Already with no financial assistance, and having tuition rates skyrocket, many students were forced to transfer or dropout of college due to House Bill 3 in Missouri and similar legislation in other states.
There are some inadequate discrepancies in state and federal policies that make it difficult for undocumented students to pursue postsecondary education. This system is extremely unjust and highly discriminatory. Until these unfair policies are exposed for the toll they take on hard-working students, the fight for education, equality and economic prosperity for undocumented students will continue.
Raamish Saeed is a 2016 Cognosante Scholar at Young Invincibles. A native of St. Louis, Raamish was previously an Education Policy Intern for the Scholarship Foundation of St. Louis where he focused his efforts on policy research and advocated for college access among low-income and undocumented students in the State of Missouri. Raamish recently graduated with honors from St. Louis Community College, and served as the chapter president of Phi Theta Kappa International Honor Society while there. He is currently pursuing a BA in Urban Studies and Economics.
Calling all HuffPost superfans!
Sign up for membership to become a founding member and help shape HuffPost's next chapter