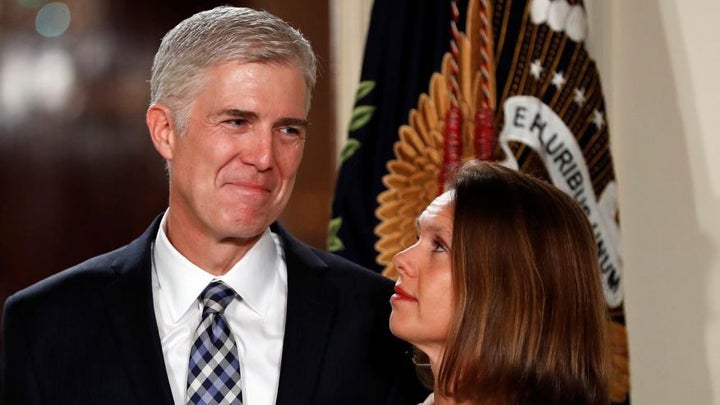 U.S. President Donald J. Trump on Tuesday made his announcement for Supreme Court pick replacing Justice Antonin Scalia: Judge Neil M. Gorsuch. The Denver-based federal appeals court judge, age 49, was described by Trump as "a man who our country really needs, and needs badly, to ensure the rule of law and the rule of justice."
Gorsuch, who was selected by then-President George W. Bush in 2006, has been described as a "defender of the 'Free Exercise Clause,' which says Congress shall make no law respecting an establishment of religion, or prohibiting the free exercise thereof."
"Judge Gorsuch has outstanding legal skills, a brilliant mind, tremendous discipline and has earned bipartisan support," Trump told Republican lawmakers at the White House. "It is an extraordinary resume — as good as it gets."
"As good as it gets" may not be enough to obtain support across the aisle, however, considering former President Barack Obama's Supreme Court selection of Judge Merrick Garland was ignored for nearly a year before the presidential torch was passed to Trump this past November.
Republican Majority Leader Mitch McConnell said he hoped members of the Senate would show him fair consideration, "just like the Senate treated the four first-term nominees of Presidents Clinton and Obama."
"In light of the unconstitutional actions of our new President in just his first week, the Senate owes the American people a thorough and unsparing examination of this nomination," said Vermont Senator Patrick Leahy in a statement. "I had hoped that President Trump would work in a bipartisan way to pick a mainstream nominee like Merrick Garland and bring the country together. Instead, he outsourced this process to far-right interest groups. This is no way to treat a co-equal branch of government, or to protect the independence of our Federal judiciary."
Leahy added, "Before Senate Republicans waged the unprecedented blockade of Chief Judge Garland's nomination to the Supreme Court last year, the Senate took seriously its constitutional duty to provide advice and consent on nominees to the highest court in the land. But Republicans abdicated the Senate's constitutional role by choosing politically-charged obstruction, so that a president who lost the popular vote could nominate extreme candidates to the Supreme Court."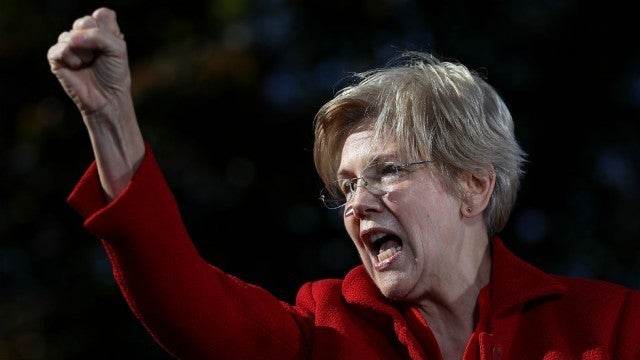 Democrats refused to attend the nomination ceremony in the East Room Tuesday night shortly after 8 p.m. ET, opting instead to rally outside the U.S. Supreme Court.
"I only hope that both Democrats and Republicans can come together for once, for the good of the country," Trump said.
"President Trump had the chance to select a consensus nominee to the Supreme Court. To the surprise of absolutely nobody, he failed that test," Massachusetts Senator Elizabeth Warren said. "Instead, he carried out his public promise to select a nominee from a list drawn up by far right activist groups that were financed by big business interests."
New York Senator Chuck Schumer said, "Now, more than ever, we need a Supreme Court justice who is independent, eschews ideology, who will preserve our democracy, protect fundamental rights and will stand up to a president who has already shown a willingness to bend the Constitution."
During the announcement, Gorsuch was joined in the East Room by his college sweetheart wife Mary Louise.
"I will do all my powers permit to be a faithful servant of the Constitution and laws of this great country," he said. "It is the role of judges to apply, not alter, the work of the people's representatives. A judge who likes every outcome he reaches is very likely a bad judge, stretching for results he prefers rather than those the law demands."
Pro-life Gorsuch voted on the side of Hobby Lobby regarding religious exemption and the right to refuse female employees contraception coverage. He also "argued for an exemption from the contraception mandate in President Obama's signature health care legislation, the Affordable Care Act, due to religious beliefs," wrote ABC News. 
On the subject of the Religious Freedom Restoration Act, Gorsuch wrote that it "doesn't just apply to protect popular religious beliefs: it does perhaps its most important work in protecting unpopular religious beliefs, vindicating this nation's long-held aspiration to serve as a refuge of religious tolerance."
Gorsuch's full Hobby Lobby opinion can be read here.
Less is known regarding Gorsuch's objectives on matters of abortion or LGBT rights, however, speculation does exist.
In a joint statement, Tennessee marriage equality plaintiffs Valeria Tanco and Sophy Jesty, Ijpe DeKoe and Thomas Kostura, and Johno Espejo and Matthew Mansell said, "We are the plaintiffs who brought the legal challenge to Tennessee's laws that denied recognition to marriages of same-sex couples. Winning basic legal protections for our families required an exhausting years-long battle in the courts. We were proud and humbled when the U.S. Supreme Court heard our case in 2015 and overturned those laws, establishing the freedom to marry for all same-sex couples nationwide."
The three couples said, "Because of the Supreme Court's decision that the Constitution guarantees our marriages equal treatment under the law, we (and for some of us, our children) now have the same security, stability, and legal protection as other families. Words cannot fully express the peace of mind that comes from knowing that the law now treats our families just the same as any other family."
The couples explained their reasoning for sounding alarm at Gorsuch's selection to be added to the U.S. Supreme Court bench.
"Now, less than two years after we won the freedom to marry, that victory is under attack," their statement continued. "We are deeply concerned that the President's choice to replace Justice Scalia on the Supreme Court would vote to overturn the Court's marriage equality decision and many other important victories the LGBT community has won before the Court. For that reason, we are asking the Senate not to confirm any candidate who does not voice clear and unequivocal support for the equality of LGBT people and same-sex couples, including the Court's decision in our case that the Constitution guarantees same-sex couples the same freedom to marry as other couples and the same essential benefits and protections that come with marriage."
As the New York Times notes, if confirmed, Gorsuch would be the only Protestant seated among five Catholics and three Jewish jurists. Gorsuch has previously referred to Scalia as "a lion of the law."
REAL LIFE. REAL NEWS. REAL VOICES.
Help us tell more of the stories that matter from voices that too often remain unheard.
BEFORE YOU GO