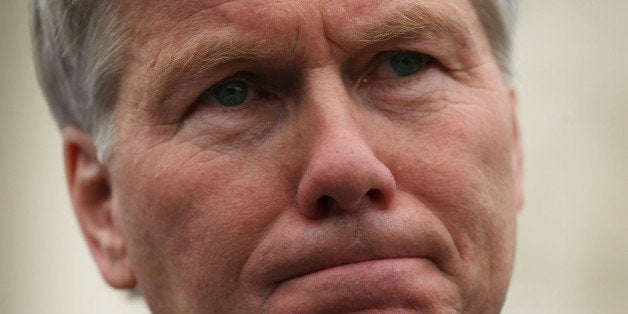 There are Supermen (and Superwomen) among us. They work for the Department of Justice, and they have the unenviable job of prosecuting corrupt politicians. They must speak truth to power on a daily basis, trying to keep elected officials on the right side of the law, and the Supreme Court just threw Kryptonite at them in the long awaited decision in McDonnell v. USA.
When Bob McDonnell was the governor of Virginia he and the First Lady of Virginia Maureen McDonnell accepted $175,000 in gifts and loans from businessman Jonnie Williams, a supplement -- or some might say snake oil -- salesman. Mr. Williams wanted Virginia's premier public universities like UVA and MCV to test his supplement derived from tobacco in the hopes that one day it would gain FDA approval.
A jury in Richmond, Virginia convicted both McDonnells of bribery and other crimes. The Fourth Circuit (no coddler of criminals) upheld the conviction. Mr. McDonnell who was facing jail time, appealed to the Supreme Court. The Supreme Court just reversed the Fourth Circuit. The Court said that bribery must be an exchange of a thing of value for "an official act." The Supreme Court then went on to explain that "an official act" was too broadly defined by the government lawyers prosecuting the McDonnells.
To explain, there clearly were things of value given and loaned to the McDonnells (including a Rolex watch for him and $20,000 in designer clothes for her). But Governor McDonnell merely set up a few key meetings for Mr. Williams. The Supreme Court held "[s]etting up a meeting, talking to another official, or organizing an event -- without more -- does not fit that definition of 'official act.'" At least in the eyes of the unanimous Supreme Court, setting up meetings for a constituent, even a constituent who is paying for the Governor's daughter's wedding, is not an "official act." And therefore without a true quid pro quo, there is no bribery.
As Chief Justice Roberts wrote dismissively, "But our concern is not with tawdry tales of Ferraris, Rolexes, & ball gowns." The Supreme Court has defined down corruption into a smaller and smaller nub. This will make prosecuting bribery all the harder for brilliant Superman prosecutor Preet Bharara who has spent the last few years doing the yeoman's work of cleaning up the fetid cesspool which is the New York Legislature in Albany.
And given the low opinion of the public of politicians who seem all too willing to bend over backwards for the richest person in the room, this case broadcasts entirely the wrong message to both elected officials and the businessmen, businesswomen and their lobbyists trying to woo them into action.
The McDonnell case follows a recent pattern of defining down corruption in campaign finance cases as well. As I explain in my book Corporate Citizen?, privately financed elections, invite self-interested spending by the wealthy, including corporate interests, to try to sway elected official who are reliant on them to get into office. Recall that Mr. Williams offered soon to be elected Governor a flight on his private jet while McDonnell was campaigning.
By contrast, the Robert Supreme Court Citizens United and McCutcheon could not recognize greater access to elected officials by big campaign donors as "corruption." Rather in those campaign finance cases, the Roberts Supreme Court only considers quid pro quo exchanges (literally this for that -- like campaign money for a particular vote) as true "corruption." And in the McDonnell case, penned by Chief Justice Roberts, even quid pro quo has been defined incredibly narrowly.
While we do not want prosecutors to criminalize politics, we also do not want the Supreme Court to give wider and wider berth for corrupt politicians to get away with using their positions of power to enrich themselves. And let it be clear, while they were Governor and First Lady of Virginia, the McDonnells were enriching themselves. And I predict that this is what the Supreme Court just did.
The McDonnell case will make it harder for people like Superman prosecutor Patrick Fitzgerald, who are looking out for the integrity of the system, and the good of the voter, to do their jobs. Patrick Fitzgerald, if you don't remember, was the prosecutor who did the noble thing for the people of Illinois of putting Governor Rod Blagojevich in jail.
Support HuffPost
The Stakes Have Never Been Higher
Popular in the Community