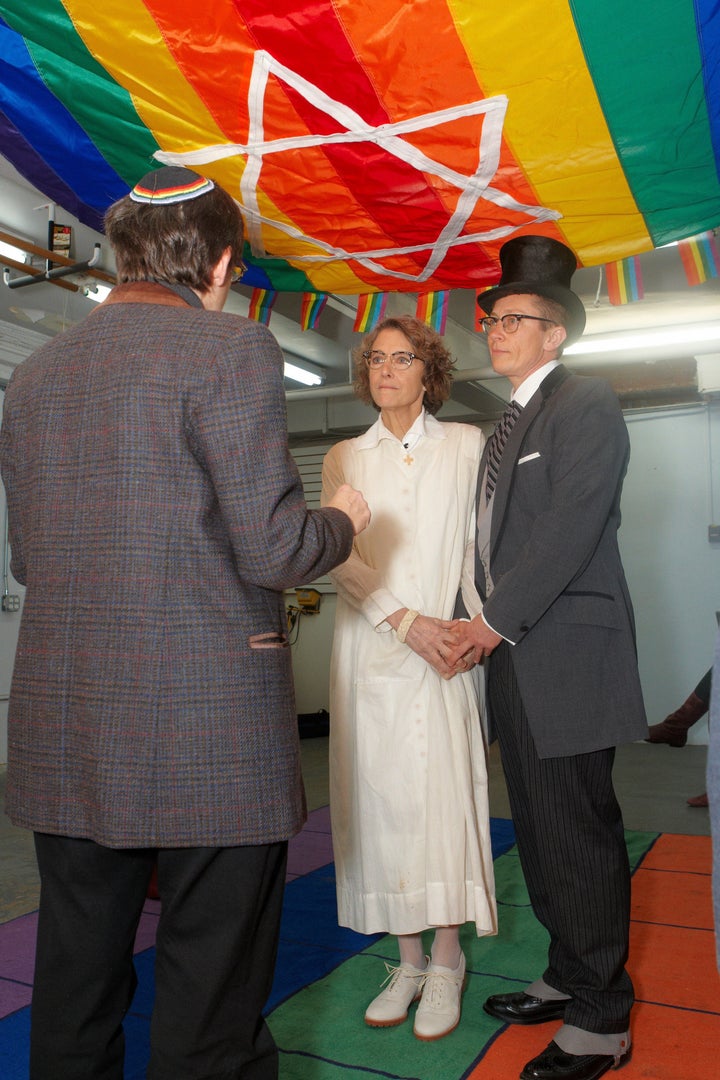 NEW YORK -- The bride wore a sheer, white cotton sheath over a long-sleeved white dress that was once a Victorian nurse's outfit; the groom, a vintage morning suit with a beaver top hat and grey spats.
At 11 a.m. Thursday, Scout, who legally goes by only one name, and Liz Margolies made it official in an old fur vault in Chelsea that will soon be renovated to become a new sanctuary for a gay, lesbian, bisexual and transgender Jewish congregation. If their wedding attire seemed especially costumey, it was intended. Although only three guests were in attendance, the couple knew that many others were following their story.
Scout, a transgender man, proposed to Margolies, 59, who identifies as a lesbian, at a White House reception in honor of LGBT Pride Month in June. Living long-distance for now, both are lifelong lesbian, gay, bisexual and transgender activists; Scout, 46, currently serves as the director of the Network for LGBT Health Equity at the Fenway Institute, while Margolies is the executive director of the National LGBT Cancer Network. A video of the proposal shows the crowd cheering as the couple embraces.
But after the video went viral, responses from conservative circles were considerably less warm. Conservative talk show host Laura Ingraham tweeted "oh no." The American Family Association's Bryan Fisher mockingly chimed in with, "Woman who thinks she's a man proposes to a woman who thinks she's a woman at a White House reception." Anonymous comments across the Internet were much worse; one particularly chilling comment (since removed) read: "They should be rounded up and killed."
Those comments served as a reminder to the couple that although America has changed a lot in the last 40 years -- the White House event was just one example -- there are still pockets of the United States where it is not only illegal for gays and lesbians to marry, it is also impossible for them to enjoy the sense of security Scout and Margolies have found as adults.
In response, they both made videos that brought them even more attention. "For the people who titled the post, 'She-Man Proposes To Girlfriend,' we just want to note that I am actually not a superhero," Scout says in his video segment.
In truth, both Scout and Margolies had mixed feelings about the institution of marriage. "As a second-wave feminist, I cannot shake my own view of it as a repressive institution," Margolies said the night before the ceremony.
She called the fact that marriage equality has become the central symbol of the fight for gay rights, "a drain on our resources." "It feels like aiming for the movable middle rather than trying to make profound changes. You can still be fired for being LGBT, and that seems more important. Scout and I share a belief that we need civil rights first."
They didn't invite their friends, their family, or the four children they have between them to their wedding; Margolies said her friends responded to their wedding plans with scorn and disbelief. But in the days after the public proposal, the couple realized the symbolic power their marriage could offer to young people.

Scout thought their marriage could inspire the LGBT youth who'd followed the story of their proposal, then were disheartened by the frightening backlash. So he and Margolies chose their witnesses carefully.
Melissa Harris-Perry, the MSNBC host, whom they met at the White House reception, signed the marriage contract, as did James Clementi, the gay older brother of Tyler Clementi, the gay college student who committed suicide after learning his roommate videotaped him kissing a man. In lieu of gifts, the couple requested donations to the Tyler Clementi Foundation, and the TPOCC, the Transgender People of Color Coalition.
And then there was the morning suit. "It's just awful that people are wearing tuxedos during the daytime to get married these days," Scout said, taking a jab at proponents of traditional marriage. "That's the real problem that's tearing the institution of marriage apart."
At the wedding, Scout and Margolies stood underneath a rainbow-colored chuppah, and exchanged rings and vows before a lesbian rabbi.
"I promise that I know who you are and despite all protestations to the contrary, I am here by choice," Margolies said during the ceremony.
Scout, who attempted suicide many times as a teenager and was committed to a mental institution at 18, began by recalling his youth. "By the time I came out as a teenager, I had long been taught that those like myself were broken," he said. "I could not have been led more astray."
Then came the actual vows: "I, Scout, for the life that courses through my veins and the love that resides in my heart, do vow to take you, Lisbeth Ann Margolies, as my chosen one."
Then the rabbi produced a cloth filled with vintage forties Christmas lights, and Scout crushed them under his vintage heel.
"That was the most beautiful thing that I've ever seen in my life," Clementi proclaimed, lifting a paper cup of scotch.
Harris-Perry, who talked about her own deep ambivalence toward the institution of marriage, said, "What we draw from you is that sense of, we're going to keep wandering out into the unknown of the world and doing it alone and believing that love is stronger than hate."
After the ceremony, over cinnamon-dusted yucca chips and wasabi-infused guacamole at an Asian-Mexican fusion restaurant in Chelsea, the conversation turned to their plans for later.
"Are you guys getting a hotel room tonight?" asked Clemente.
"We kicked Liz's son out of the house," said Scout. "The hotel won't help with our favorite ritual: hot buttered popcorn."
Before You Go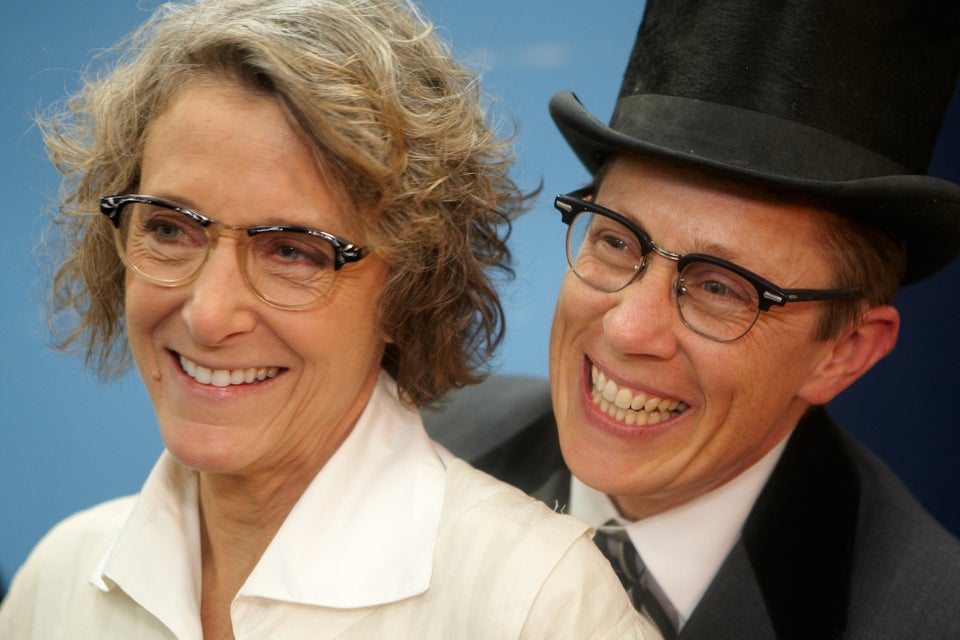 Scout And Liz Margolies' Wedding
Popular in the Community