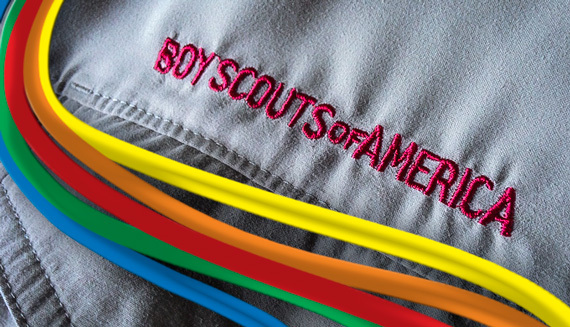 Many parents of young boys face a dilemma.
Their sons are excited to join Cub Scouts. Boys hear about the fun things scouts do, like pinewood derby races and shooting bows and arrows, and beg their parents to sign them up.
Their parents know one particularly painful truth about scouting: Gay scouts and gay adults cannot become scout leaders. Many parents refuse to support such an organization. Case closed.
There seems to be no middle ground here.
I understand this dilemma. I've wrestled with the decision, and heard the arguments on both sides. My brother is gay. I support gay rights.
I'd like to share my decision process, with the hope that it helps you come to your decision.

Let's start with the hardest part of this situation: If you're gay, you cannot become a scout leader. It pains me to even type those words.
But here's what you might not know: Scout parents all over the world disagree with this policy, and are actively pushing for its elimination. In the last couple of years, the scout policy that excluded gay boys from joining cub scouts was ended after a huge grass roots campaign. This change was long overdue. But you might not know that packs and troops all over the world were already ignoring this policy and allowing gay boys into their groups, because it was the right thing to do.
Will the Boy Scouts of America ever change their policy that excludes gay leaders? I'm confident they will. Robert Gates, the current president of Boy Scouts of America, said if he had been president last year when the decision was made, he would have allowed gay leaders into scouting. This policy will not stand much longer.
What's so great about Cub Scouts? Isn't it just a group of kids learning how to tie knots and wear uniforms? No, it's not.
Our local cub scout pack did some amazing things last year. They learned about compassion and empathy by experiencing first hand how it feels to be hard of hearing (earplugs inserted), sight deprived (wearing jelly covered goggles), and more. They participated in One Voice, a huge program in Santa Monica that helps feed needy families by bringing together thousands of volunteers on a December night to package meals for thousands of families. They held dinosaur eggs in their hands, and learned about archaeology from an archaeologist.
Where else do boys get to do so many things, in such a positive way, with their parents? There are many opportunities out there for boys, but relatively few that provide such a well-rounded, positive, and generally non-competitive atmosphere on a regular basis throughout the year.
Full confession: I am a cub scout pack leader.
I lead the pack meetings. I decide how to implement the monthly themes into a fun, informative, and enjoyable meeting. I invite leaders from our community to be guest speakers, and the boys eat it up.
Some parents are single moms, who relish having a place where their sons can spend time with supportive and encouraging leaders, both male and female.
If you're still not sure how scouting can positively influence youth, bring up scouting when you're with a group of older men. They'll regale you with wonderful stories about when some of them were in scouting, and how it still affects their lives and decisions today.
I also write letters to scout management, imploring them to change age old policies that are way overdue for changing. I encourage other parents to do the same. I work to improve scouting from the inside.
It's hard to love every aspect of an organization. Ever been to Walmart? They were voted one of the world's worst companies because of their extremely low wages and poor working conditions. Do you use any Proctor & Gamble products? They've repeatedly failed to remove carcinogenic ingredients in their products. The list goes on and on. We all do our best with the choices available.
Childhood passes quickly. To see my son having so much fun and learning at the same time is invaluable. And while he grows up in an organization that helps make him a better person, just as Neil Armstrong, Steven Spielberg, Bill Clinton, Bill Gates, John F. Kennedy, Martin Luther King, Jr., Hank Aaron, and many others did, I help the scouting organization grow up by writing letters, speaking to its leadership, and spreading word about the good that comes from it.
Come visit a scout meeting in your area to see first hand the impact it's having on kids. Get active in your son's activities there. Get active in ridding the organization of a ridiculous policy. Make a difference -- now, and for the future.
Photo illustration by Rick Penn-Kraus