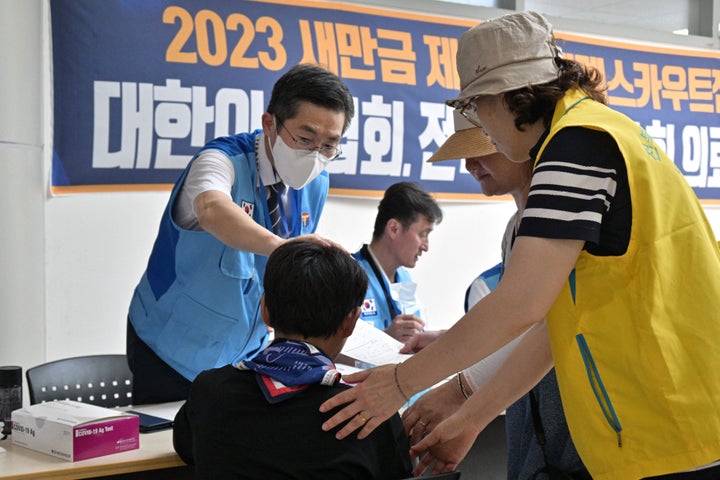 SEOUL, South Korea (AP) — South Korea will evacuate tens of thousands of scouts by bus from a coastal jamboree site as Tropical Storm Khanun looms, officials said Monday.
The vehicles beginning Tuesday morning will move 36,000 scouts — mostly teenagers — from the World Scout Jamboree in the southwestern county of Buan, according to Kim Sung-ho, a vice minister at South Korea's Ministry of the Interior and Safety.
He said most of the scouts, who come from 158 countries, will be accommodated at venues in the capital city, Seoul, and the nearby metropolitan area. Officials were trying to secure spaces at government training centers and education facilities as well as hotels. Kim said it would take six hours or more to evacuate the scouts from the campsite, which organizers said will no longer be used for any event after they leave.
The announcement came after The World Organization of the Scout Movement said it urgently called on South Korea to quickly move the scouts from the storm's path and "provide all necessary resources and support for participants during their stay and until they return to their home countries."
South Korea's government did not immediately specify any venues where the scouts will be staying. David Venn, global director of communications for the World Organization of the Scout Movement, said it was still waiting for government officials to provide detailed plans.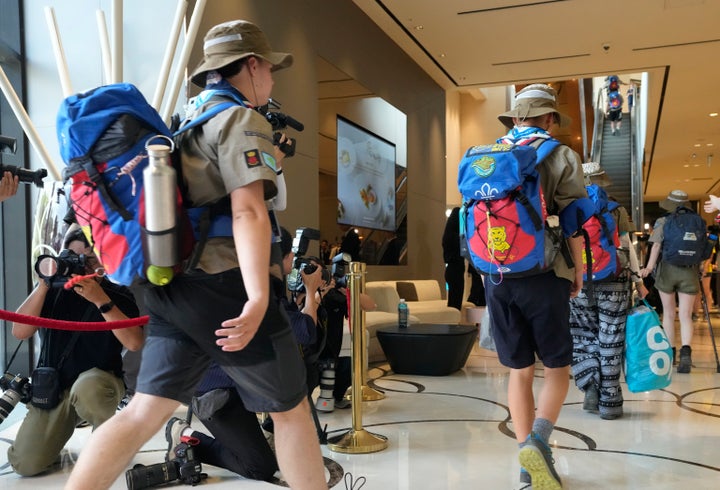 Khanun has taken an unusual, meandering path around Japan's southwestern islands for more than a week, dumping heavy rain, knocking out power to thousands of homes and disrupting flights and train services. On Monday afternoon, it had sustained winds of 108 kilometers (67 miles) per hour, with higher gusts, and was forecast to maintain that strength as it brushed Japan's main island of Kyushu this week, the Japan Meteorological Agency said.
South Korea's weather agency reported that Khanun was expected to make landfall in South Korea on Thursday morning, potentially packing winds as strong as 118 to 154 kilometers (73 to 95 miles) per hour. Large swaths of the country's south, including Buan, could be affected by the storm as early as Wednesday, the agency said.
The plans to evacuate the scouts were announced hours after President Yoon Suk Yeol's office said he called for "contingency" plans, including relocating them to hotels and other facilities in the greater capital area.
The agency said the storm was at about 160 kilometers (99 miles) east of Amami city on Japan's southern main island of Kyushu and moving gradually toward the north as of Monday afternoon. It warned residents in affected regions to watch out for mudslides, high winds and rough seas.
The storm has caused one death and 70 injuries on the southern Japanese island of Okinawa, according to the country's Fire and Disaster Management Agency. Due to the forecast of harsh weather in the region, West Japan Railway Co. said there was a possibility of suspending "Shinkansen" bullet train services from Wednesday night to Thursday morning.
Hundreds of participants had been treated for heat-related ailments since the jamboree started on Wednesday. Long before the event's start, critics raised concerns about bringing such large numbers of young people to a vast, treeless area lacking protection from the summer heat.
Kirvil Kaasa of the Norwegian Guide and Scout Association told Norway's news agency NTB that "the evacuation is taking place well before the (storm)."
"We are not taking any chances, and the health and safety of our Norwegian participants is the most important thing," she told NTB. Some 700 scouts from the Scandinavian country took part in the event and they were to be relocated to a U.S. military base, NTB said.
Kim Hyun-sook, South Korea's minister of gender equality and family, said officials are trying to arrange new cultural events and activities for the scouts before they leave, including a possible K-pop concert at a Seoul soccer stadium on Friday to go with the closing ceremony.
"We don't see it that way," Kim said when asked whether the scouts' departure from Buan should be seen as an early end for the jamboree. "We are creating new programs with regional governments away from the campsite, so it could be said jamboree is widening."
Organizers earlier on Monday were scurrying to come up with plans to evacuate the scouts ahead of the storm's arrival. Choi Chang-haeng, secretary-general of the jamboree's organizing committee, said organizers have secured more than 340 evacuation venues, including community centers and gyms, in regions near Buan.
About 40,000 scouts came to the jamboree, built on land reclaimed from the sea. About 4,500 were from the U.K., representing the largest national contingent, while about 1,000 were from the United States.
South Korea categorizes Khanun as a typhoon, defined as a tropical storm with winds stronger than 61 kilometers (38 miles) per hour. South Korea's weather agency expects Khanun to weaken to a storm within the next five days.
Associated Press writers Mari Yamaguchi in Tokyo and Jan M. Olsen in Copenhagen, Denmark, contributed to this report.
Related
Popular in the Community