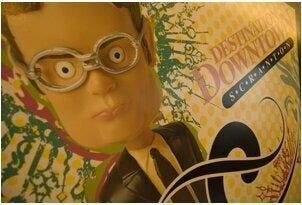 Last Saturday, Gerri Williams and Audrey Williams sat inside the food court at Steamtown mall escaping the rain that poured over the abandoned steam trains at the railroad yard in downtown Scranton, Pennsylvania. The Williams sisters -- who are in their fifties -- are Catholic but pro-choice and next week they will vote for Barack Obama over their Bishop's objections.
Just two Sundays ago, the homily in every Catholic church here moved from the parables of the Bible to a lesson in electoral politics. Bishop Joseph Martino, the top Roman Catholic Church official overseeing the diocese which includes Scranton and other cities in 11 counties in Northeastern Pennsylvania ordered all priests in the diocese to read a letter telling parishioners that voting for a pro-choice candidate would be like endorsing "homicide."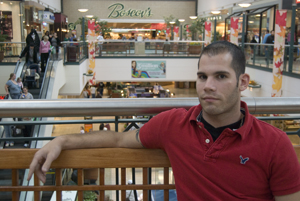 Greg Sparaney, 25, a finance manager for a car dealer
outside of Scranton took three pay cuts to keep
his job. He will be voting Obama.
"We're Roman Catholics but he was out of line," Gerri Williams said. "Nobody has the right to tell you who to vote for or about your body."
During this election cycle, Scranton, best known as "The Electric City" because it was the home of the first electrical streetcar, has turned into the new symbol of the blue-collar America. It represents a swing town in the state that has become the ultimate battleground for both presidential candidates. Its electorate is made up of 90 percent white voters of European descent, who are largely Catholic and who have tended to vote Democratic 2-to-1. The last Republican presidential candidate to win here was Ronald Reagan in 1984.
But the city's residents also lean to the conservative side on social issues, presenting a potential problem for the Democratic nominee.
And while many voters here will heed Bishop Martino's call during this election and will not vote for Obama based on his stance on abortion, others feel that the economy and financial crisis will be foremost in everyone's minds when they reach the ballots.
"People will vote pocketbook before social issues," Chris Doherty, the town's mayor said. "People are concerned about pension funds, they can't make their mortgage payments, and they can't put away money for their children's college fund. Seven months ago it was an issue between two individuals, now I think the economy has changed the election in Scranton."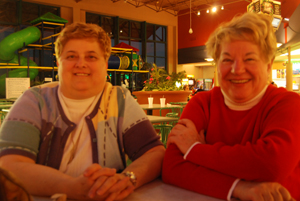 Gerri Williams and Audrey Williams will vote for
Obama against their Bishop's objections.
In the early 20th century the coal industry brought Scranton one of the highest per capita incomes in the U.S., Doherty said. But with the arrival of the automobile, oil took over as the most important industry and people started moving out. The mass exodus affected the economy of a town that deteriorated over the years.
In the past decade, Scranton has seen a resurgence, Doherty says. The French multimillion dollar pharmaceutical Sanofi Pasteur, moved a subsidiary to the city five years ago creating about 150 jobs. After a $400 million investment, downtown has cleaned up and has given way to development. A new Radisson Hotel was built in the grounds of old tracks, 22 recreational parks have opened, and many other jobs have been filled by Scrantonians who lived in larger cities and are lured by cheaper price homes and its proximity to cities like New York and Philadelphia. The city has even turned hip as the home of the NBC show "The Office."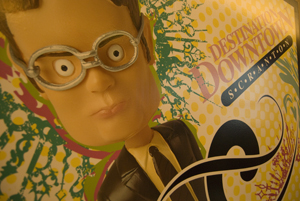 A poster in Scranton's Steamtown Mall of Dwight Schrute,
the fictional character of NBC's the office.
The show is set in Scranton.
But the per capita income of $16,000 is still below the national average and the unemployment rate of six percent is higher than the national average, according to the last Census.
Greg Sparaney, a 25-year-old finance manager for Northeast Auto Credit car dealer took three pay cuts to avoid being laid off from the company before he was demoted to a position as a service writer two months ago. He will be voting for Obama. "I took so many pay cuts that I lost my job so it does come down to the economy," Scraney said. " I think as far as values, Obama has more values that John McCain, because even though [McCain] was a POW he is not in touch with Joe the plumber. His wife makes million of dollars, he owns seven homes; he has no touch with the middle class whatsoever."
To Joe O'Brien, a Scranton lawyer and former secretary of the Democratic Party, Obama will win the county but not by the large margins predicted. "The biggest issue that will move Republicans to vote will be abortion," O'Brien said. "But you also see white protestant families that feel different than Catholics and are voting Democratic."
Two blocks from the mall walking through a street of boarded businesses is Whistles Sports Bar. At 3 p.m. on Saturday three men sat on stools drinking beer and watching college football highlights on TV.
One of them is Tony Poseno, owner of Phoenix Cuts and Bishop Martino's personal stylist. He said he respects the Bishop and called him one of the most intelligent men he has met but argued that Martino should have refrained from his comments based on a separation of church and state.
"About 80 percent in this town are Catholic but they're still voting for Obama," Poseno said. "The state is very conservative but everybody pays attention to politics and the issue here like anywhere else is a town that needs jobs. The economy is going to win it out. Just because we are Catholics doesn't mean we are going to stay with our church."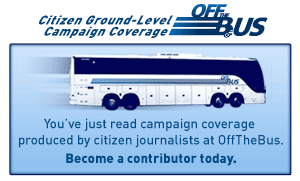 Popular in the Community