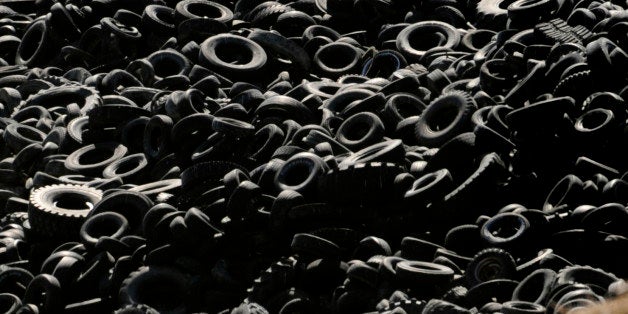 The fire burned for nine months, billowing toxic black smoke thousands of feet above its Appalachian valley source and across five states. It would take 20 years and $12 million to clean up the remains of the tire heap.
At the time of the 1983 Rhinehart, Virginia, tire fire, about 90 percent of America's discarded tires went to landfills. There, they would take up massive amounts of space, occasionally ignite, and collect water that created fertile breeding grounds for disease-transmitting mosquitoes. Today, in part because of actions sparked by the Virginia disaster and many smaller tire fires, more than 90 percent of the nation's approximately 230 million tires scrapped each year are put to use -- burned as fuel, incorporated into asphalt roads and, increasingly, shredded into components of products such as synthetic turf sports fields and children's playgrounds.
Industry leaders tout this as a win-win for businesses and the planet. But others say we've simply swapped one bad set of environmental health risks for another. And these critics highlight moves by industry and government to promote lucrative landfill diversions, such as ground-up tires -- so-called crumb rubber -- despite acknowledging hazards.
Meanwhile, the old tires keep coming.
In 2007, a committee of state, academic, industry and U.S. Environmental Protection Agency representatives published action plans to "promote increased use of ground rubber made from scrap tires" in playgrounds, sports fields and colored mulch, among other products. The toxicity, volatility, leachability and flammability of the tire products were noted in the document, as was a need to "identify and mobilize champions" to "enhance market growth" in the face of these "barriers."
"How do you turn a hazardous material into something you can sell the public on? I would say they've done an ingenious job," said Nancy Alderman, president of the nonprofit Environment and Human Health Inc., who has advocated against the use of crumb rubber where children play.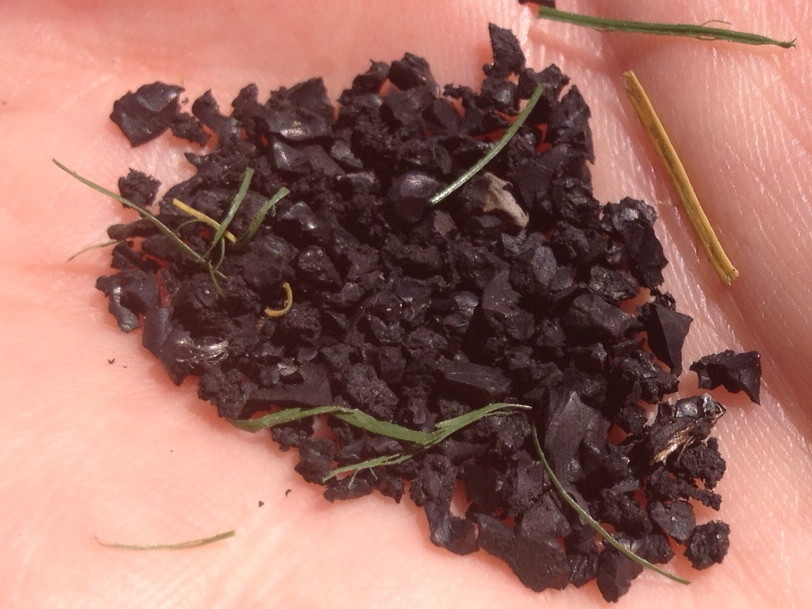 Crumb rubber contains carcinogens, advocates warn. (Lynne Peeples)
"On the face of it, recycling material that is otherwise going to waste piles sounds good," said Linda Chalker-Scott, an associate professor of urban horticulture at Washington State University Extension. In fact, she is among proponents for the use of scrap tires in energy production and rubberized asphalt.
But as Chalker-Scott wrote in an academic fact sheet, set for publication soon, that grinding up old tires can put their toxic components -- including polyaromatic hydrocarbons, heavy metals and carbon black -- in close contact with people, pets and the environment.
Chalker-Scott's expertise is in rubber mulch, a bark look-alike made from recycled tires and popular in yards and children's playgrounds. "Some of what leaches out of the rubber as it decomposes can be pretty toxic," she said.
The same worries are spreading among athletes, coaches and parents. In May, a college soccer coach in Seattle sparked a national conversation with her suspicions concerning a number of current and former soccer goalkeepers who had developed rare cancers. They had all played on artificial turf fields infilled with recycled rubber tire crumbs.
The new-generation synthetic fields began popping up in the 1990s. Nearly 10,000 of them can now be found at schools, parks and professional stadiums, each providing a home for about 40,000 scrap tires. While initially pricey, the turf generally holds up better to weather and wear than natural grass.
Public health experts have given some credence to rising concerns over possible health risks, including cancers, although they underscore the need for more study before any definitive links can be made.
"The research is not solid yet one way or another," said Chalker-Scott. "But that's the whole problem -- it hasn't really been studied."
Susan Buchanan, associate director of Great Lakes Center for Children's Environmental Health and an assistant professor of public health at the University of Illinois at Chicago, shared her worry about the particular vulnerability of young children exposed to the loose little black bits on fields and playgrounds. She also noted the dearth of data.
"I think the EPA promoted this in good faith," said Buchanan. "But they did not have adequate data on the safety of exposure in children. The data are still inadequate."
In the wake of the recent alarm, some schools and municipalities have canceled plans to install crumb rubber turf. Lawyers, such as Connecticut's Ed Jazlowiecki, who called crumb rubber "the next asbestos," are collecting names for class-action lawsuits. And citizen-advocates are pushing their local governments to change policies.
Carolyn Dennis, a health advocate in Kentucky, is calling for her state to stop issuing grants for schools and municipalities to use crumb rubber. A Lexington news station recently told the story of one former local soccer player who has twice battled lymphoma. The athlete's twin sister, who chose not to play competitive soccer growing up, never developed cancer.
"Something has got to change," said Dennis.

Dick Brown, spokesman for the Kentucky Division of Waste Management, noted in an email to HuffPost that he is reviewing the crumb rubber issue. "The division has not asked for applications to apply for the next round of funding," he said.
Industry representatives emphasize that the emerging cancer stories, while tragic, remain anecdotal. They also point to research they say supports the safety of crumb rubber. Among their highlighted studies is one published by the EPA in 2009.
An EPA spokeswoman said in an email to The Huffington Post that the agency's research was "very limited in scope" and was "intended to determine a testing method to study tire crumb, not to determine the potential health risks."
"The agency believes that more testing needs to be done, but, currently, the decision to use tire crumb remains a state and local decision," added Rachel Deitz, the EPA spokeswoman. Deitz said the EPA no longer has an initiative to reduce tires in landfills.
Recycled tires are one of five options recommended by the U.S. Consumer Product Safety Commission as a shock-absorbing playground material "to reduce the severity of injury to children when they fall," said Scott Wolfson, a spokesman for the commission.
"The CPSC is always interested in new research or more data to be brought to our attention regarding any sort of risk of exposure or chronic hazard to children," added Wolfson. "We're trying to address an acute hazard for children but always cognizant of the role we play to try to address chronic hazards to children."
Some destinations for scrap tires remain less controversial, including energy production with low-emission technologies, and rubberized asphalt. From 800 to 2,000 old tires can be incorporated into one lane-mile of roadway, said Dan Zielinski, a spokesman for the Rubber Manufacturers Association. In addition to fewer tires in landfills, he added, drivers get a durable, quieter road that requires less maintenance than standard asphalt.
Zielinski also emphasized how individuals can help reduce the number of scrap tires: "Look for a high-mileage tire, keep up with wheel alignments and rotations, and maintain proper air pressure to keep them on the road as long as possible."
Generating fewer scrap tires also means fewer will be exported, which remains the fate of some 250 million tons of U.S. tires every year. Some of those tires put in additional mileage abroad, but all eventually become scrapped.
Evans Afriyie-Gyawu, environmental health and toxicology researcher at Georgia Southern University, has begun investigating a practice he has so far confirmed in at least six countries, including Ghana: The burning of scrap tires to singe meat. His preliminary data suggests the cooked meat is contaminated with toxic chemicals. But perhaps even more concerning to him are the massive plumes of toxic smoke that he has seen meat processing plant workers and children inhaling.
"This is a huge problem," said Afriyie-Gyawu. "It doesn't sit well with me at all."
Popular in the Community