Paramount Pictures unveiled the first official trailer for the slasher sequel "Scream VI" on Thursday, delighting fans of the nearly 30-year-old horror franchise.
The trailer features Ghostface ― or at least a Ghostface ― ditching his signature hunting knife for a shotgun, as well as what appears to be a shocking shrine to all the killers who have donned the mask before. The implication is that the survivors of past movies are dealing with a new kind of killer this time.
"There's never been one like me, Gale," the latest Ghostface murderer tells Gale Weathers, played by franchise alum Courteney Cox, while threatening her over the phone in the trailer. "I'm something different."
Set in New York, "Scream VI" sees the survivors of the previous film's events try to "leave Woodsboro behind and start a fresh chapter," the movie's synopsis reads.
A somewhat bloodier alternate-cut trailer, with even more adult language, was also released Thursday on Twitter.
The film, a follow-up to 2022's "Scream" (aka "Scream 5"), sees the return of the survivors from that movie: Tara Carpenter (Jenna Ortega), Sam Carpenter (Melissa Barrera), Mindy Meeks-Martin (Jasmin Savoy Brown) and Chad Meeks-Martin (Mason Gooding).
Cox reprises her role as Gale Weathers, while Hayden Panettiere is back as fan favorite Kirby Reed from "Scream 4."
Jack Champion, Henry Czerny, Liana Liberato, Devyn Nekoda, Tony Revolori, Josh Segarra and Samara Weaving also star in the film.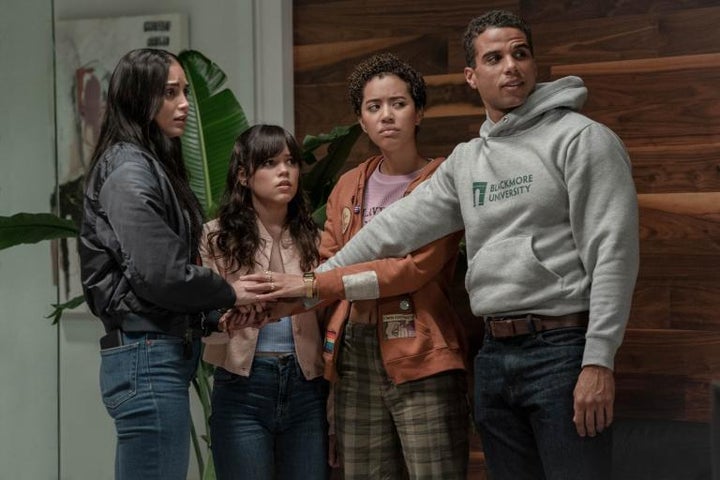 Noticeably missing from the trailer is former franchise lead Neve Campbell, who played Sidney Prescott in previous installments. She departed from the horror film in June over a salary dispute.
"Sadly, I won't be making the next Scream film," Campbell told Variety at the time. "As a woman, I have had to work extremely hard in my career to establish my value, especially when it comes to Scream. I felt the offer that was presented to me did not equate to the value I have brought to the franchise."
Speaking to People in August about her decision to forgo reprising her role, Campbell argued that her salary wouldn't be an issue if she were a leading man.
"I honestly don't believe that if I were a man and had done five installments of a huge blockbuster franchise over 25 years, that the number that I was offered would be the number that would be offered to a man," she said.
Directed by Matt Bettinelli-Olpin and Tyler Gillett (who also helmed the 2022 "Scream," taking over from the late Wes Craven), "Scream VI" is set to hit theaters on March 10.
Popular in the Community