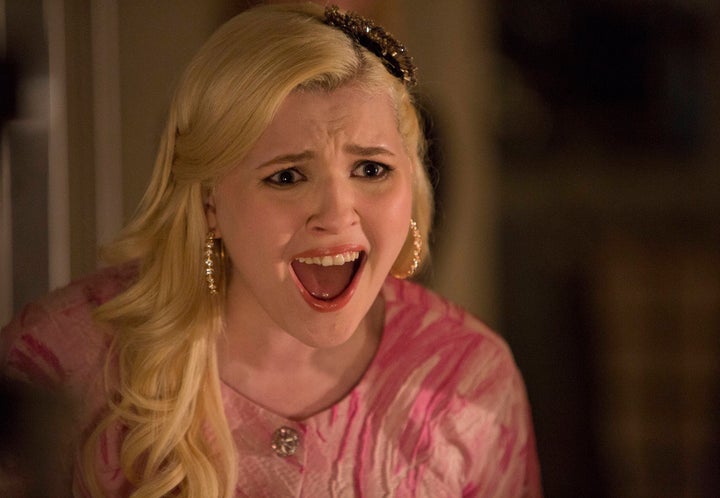 Warning: Mild "Scream Queens" spoilers below.
Something keeps us coming back to "Scream Queens," be it the camp, the occasionally sharp dialogue or maybe just Billie Lourd's amazing delivery. It's the kind of hyper, all-over-the-place bloodbath that checks off both the "silly" and "crime-y" requirements for bingeable TV. After six episodes, many questions have emerged: Who can we trust? Who's actually dead? And who the heck is the Red Devil?!
But let's consider a less frequently asked question: Who is Chanel No. 5's mom?
Chanel No. 5, played by Abigail Breslin, is one of queen bee Chanel Oberlin's minions and has to endure regular verbal jabs from her Kappa president no matter what she does. Up until now, she's been a mysterious presence: why did she come to Kappa in the first place? Why on earth does she stay?
There has to be something more than No. 5's insecurity -- she's expressed her fear that she'll never find the right guy a few times, for example -- to keep her in a house where sorority sisters are being picked off one by one. She was given ample chance to exit in Episode 5 and even survived after coming face to face with the Red Devil in Episode 6. (Her beau, Roger, wasn't so lucky.) Ryan Murphy and crew must be keeping her around for a reason.
That same week, Chanel No. 5 reveals an interesting clue about her parentage. "I mean, the only reason I'm in this house is because I'm a legacy," she says in a private moment with Chanel No. 3. Hmm... that means her mom, or another close family member, must have been in the sorority, too.
Now let's jump back to the pilot episode.
Remember the trio of girls who ditched the pledge who had just given birth in a bathtub because TLC's "Waterfalls" was playing downstairs? Focus, in particular, on the super-insensitive Kappa in a peplum dress, whose only response to the dying girl was, "Holy crap! Who told you you could have a baby here tonight?" Doesn't her face shape, blond hair and sharp, frenetic delivery remind you of a certain Chanel living in present-day Kappa house -- one whose mom possibly attended the same sorority she's in?
Plus, this all happened in the mid-'90s, meaning it's plausible for Peplum Dress to have graduated (or dropped out, according to the former Kappa who Grace and Pete visited in "Haunted House") and had a kid in time for her daughter to be college-aged. Admittedly, it's pretty flimsy evidence -- lookalike actors could just be an accident -- but we couldn't help but notice the similarity.
This could add some depth to Chanel No. 5's character. Perhaps she's keeping an eye out for her possible mom, who was part of the bathtub death coverup? Maybe she's the Red Devil, trying to find the now grown bathtub baby to silence her once and for all?!
This weekend, Ryan Murphy revealed that even the cast don't know exactly how the season will end, meaning we'll just have to stay tuned. Regardless of whether or not this theory pans out, we'll keep watching the show -- and wondering about No. 5's secrets. We'll figure you out, girl.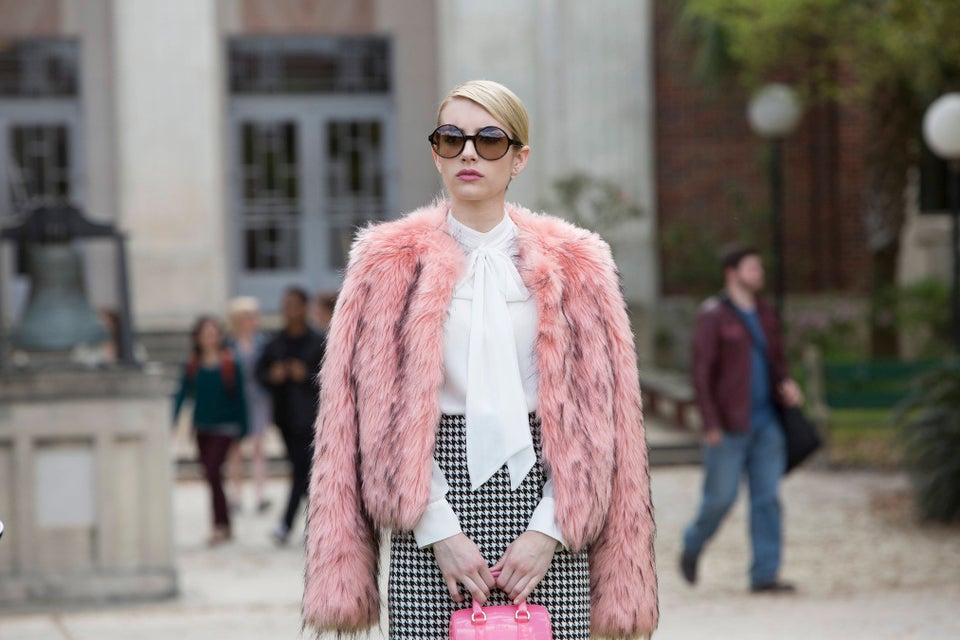 Scream Queens Halloween
Support HuffPost
The Stakes Have Never Been Higher
Popular in the Community