A mystery some 3,000 years in the making may have just been solved.
While many Egyptian mummies look serene, one mummy has baffled scientists for the pained expression on his face.
"The gruesome mummy of Unknown Man E, also known as the 'Screaming Mummy,' has long puzzled scholars," Egyptologist and former antiquities minister Zahi Hawass told Al-Ahram Weekly.
Now scholars believe they finally know why the mummy looks so anguished: There's at least some chance he was, in fact, screaming at the time of his death.
Hawass said DNA tests have confirmed a leading theory that the mummy was likely Prince Pentewere. He was sentenced to die and likely hanged for his role in the assassination of his father, Ramses III, who ruled in the 12th century BC.
The screaming mummy was unusual for more than just the agonized look on his face.
"We found this mummy covered in sheepskin," Hawass told National Geographic in 2008. "In the mind of the ancient Egyptian… to cover with sheepskin means he was not clean, he did something [bad] in his life."
The mummy also had no grave marker, which according to custom at the time, would deny him a role in the afterlife. His hands and feet were bound and he wasn't given a traditional mummification process.
"He was not even mummified, but was merely left to dry in natron and then had some resin poured into his open mouth," Al-Ahram Weekly reported.
Yet the mummy was found buried with other members of the royal family.
"Two forces were acting on this mummy: one to get rid of him and the other to try and preserve him," Bob Brier, an archaeologist at Long Island University who has examined the body, told The Sun. "For some reason, there was an attempt to make sure that he didn't have an afterlife, and in another attempt, somebody cared about him and tried to override that."
The mummy was recently put on display at the Egyptian Museum in Cairo as part of a special temporary exhibition showcasing parts of the collection that haven't been seen before. At least 20,000 visitors visited the screaming mummy when it went on display for a little more than a week, causing the museum to extend the exhibition, Egypt Independent reported.
Before You Go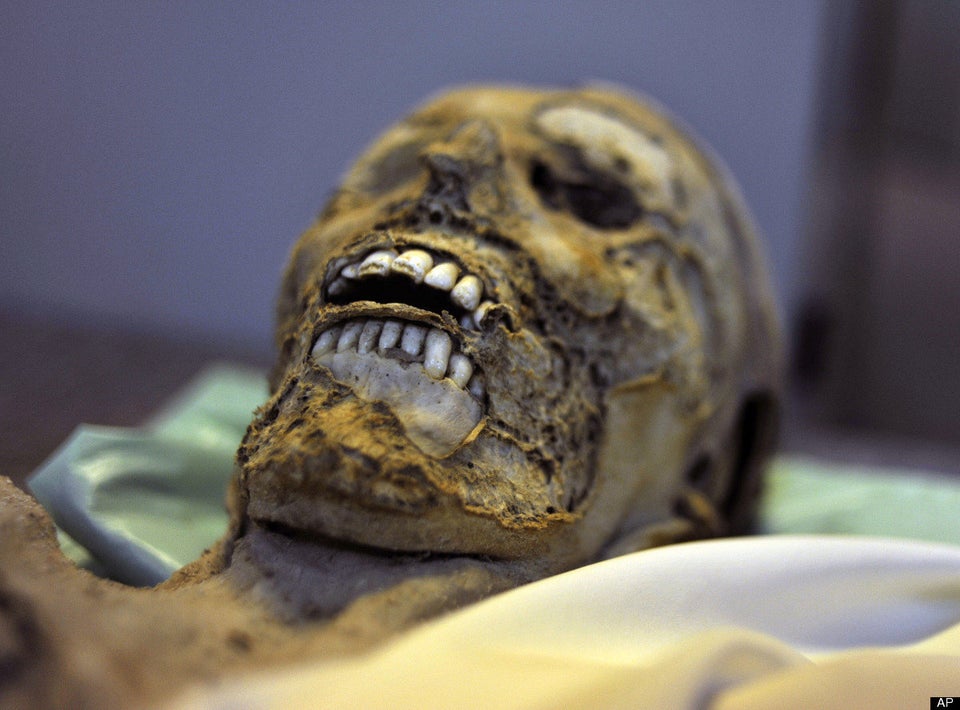 Mummy Discoveries
Popular in the Community