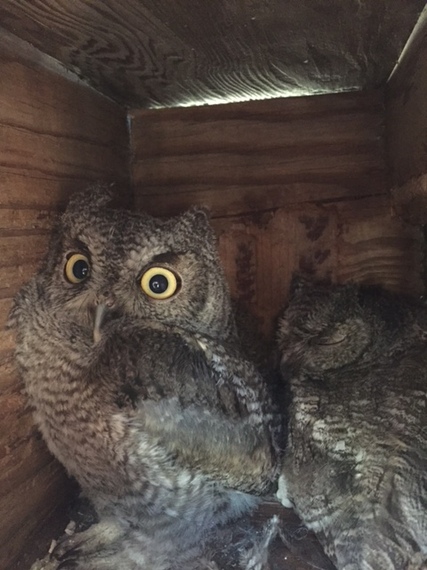 Like most of us who work at the thousands of local humane organizations around the nation, I often take my work home with me. Unlike most professionals however, when humane workers take our work home with us it usually means taking home someone. And that's always someone who needs our attention and care. Meet my most recent "work."
The Screech Owls in this photo are babies. About the size of a tennis ball, each was found separately, somehow out of the nest and away from parental care while still too young to survive on their own. Brought to the Peninsula Humane Society & SPCA, they were first placed in incubators and fed by hand for weeks to get their weight and strength back to normal. Next transferred to a recovery cage, it was soon time to get them into an aviary where they could exercise those wings and get ready for freedom. (PHS/SPCA accepts all animals, not than just orphaned dogs and cats. In fact this year, we're well on track for rehabilitating and then returning to the wild close to 1,500 injured and orphaned San Francisco Bay Area native wildlife from several surrounding counties).
A great deal of that hands-on rehab is performed by hundreds of dedicated volunteers, my wife Carolyn among them. With the urging then of my very special volunteer and following plans provided by our professional wildlife staff, we've constructed a spacious enclosure in our backyard. With a few species-specific adjustments (such as the owl box in this picture), this can house squirrels, songbirds and now small birds of prey.
These three had been home with us for several weeks, flying around the enclosure at night, clacking and hooting at us if we disturb them too much during the day (taking a photo, for example), hunting bugs and defrosted frozen mice, upchucking the undigested parts in neatly packed pellets for the morning clean-up. Until last night, that is.
Last night was release time. Celebrating the extraordinary opportunity this has been, Carolyn and I raised a glass of wine as the sun set on our postage-stamp sized suburban nature preserve. With just moonlight left, first one and then a few minutes later the other two Screeches popped out of their box to perch on the two now propped open doors of the enclosure: called a "soft release", they will hopefully hang around the 'hood, helping to keep the gopher and spider population under control, and ideally bless us with more owlets next Spring.
We did not get to see them leave: we suspect they waited for their audience to depart before they took that dramatic step. I'd climbed a ladder earlier in the evening to leave a meal atop the aviary and most of that was gone this morning, so the only evidence of their successful return to nature is the lack of evidence. Despite our worrying about them, that will just have to do.
Carolyn and I have had the great fortune to stand next to a Green Sea Turtle as she lay her eggs under a full moon on a beach in Costa Rica, to watch the sky turn white and unbelievably loud with clouds of cockatoos in southeastern Australia, to sit for hours just a few feet from a lioness nursing and playing with her babies on the Serengeti. Those amazing moments are no more or less awe inspiring than those spent with the wild animals here, now quite literally, in our own backyard.
REAL LIFE. REAL NEWS. REAL VOICES.
Help us tell more of the stories that matter from voices that too often remain unheard.