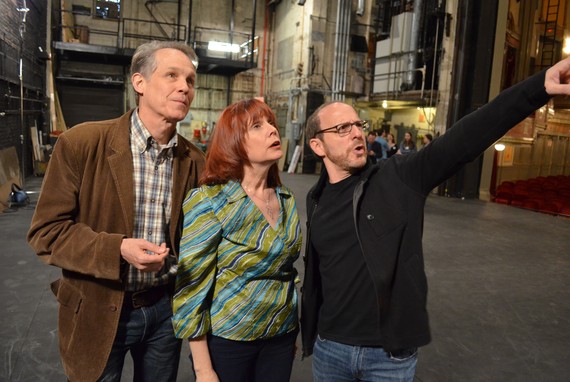 Lonny Price, Ann Morrison and Jim Walton
on the stage of the Alvin (now Neil Simon) Theatre
Photo: "Best Worst Thing That Could Have Happened"
"Best thing that ever could have happened," Stephen Sondheim has his characters sing in the first act finale of the 1981 musical Merrily We Roll Along. Only not really; the protagonist's wife has justly filed for divorce, the hero has lost custody of his beloved son, and things look dismally black. "Best thing that ever could have happened," sing the friends of Frank, trying to get him to move on with life and career. Although the musical, itself, moved backwards.
That reverse storytelling, which was at the heart of the material--it was devised by Kaufman & Hart for their 1934 play of the same title--was also at the heart of the original production's troubles. A mere flop, it wasn't; it was a posterchild for Broadway catastrophes, coming from the heralded Sondheim/Prince team who since 1970 had turned out Company, Follies, A Little Night Music and Sweeney Todd.
Merrily proved to be resilient. The score, from the first, bordered on the outstanding; but Sondheim and Furth continued to work on the show post-debacle, and the present, "final" version makes for a rousing evening. This has been the case, especially, in the 2002 production at Kennedy Center, starring Michael Hayden and Raúl Esparza; and the 2012 City Center Encores! version, starring Colin Donnell and a pre-Hamilton Lin-Manuel Miranda.
But that was later; in 1981, Merrily was blasted, lambasted and withdrawn after a mere 16 performances (plus 44 previews, during which the show was frantically doctored in the face of abysmal word-of-mouth). While this is a mere hiccup in the mind of the majority of today's audience--anyone who actually saw the original production would have to be around forty-five or so, unless they took you when you were six--the Merrily shellacking has haunted many of the bright-eyed young members of the original cast (who ranged in age from twenty-five to sixteen).
That's where "Best Worst Thing That Ever Could Have Happened" comes in. Lonny Price has made a name for himself over the last fifteen years as a director of concert hall versions of Broadway musicals (including Sweeney Todd, Company, Candide and Passion, winning two Emmys in the process). At twenty-one, though, he originated the co-starring role of Charley Kringas in Merrily. A teenaged office boy at producer/director Hal Prince's office, he ingratiated his way into the role. (Price notes that he invested his Bar Mitzvah money in Pacific Overtures, which says something about the lad.) He was very good as Charley, giving what was arguably the most accomplished and memorable performance in the original production. His breakdown-in-song, while delivering "Franklin Shepard, Inc.", was riveting.
Price has long thought of doing some kind of Merrily project. Many of the original cast members seem to have an enduring, almost familial relationship with the show and each other. (Twenty-one of the twenty-seven actors were making their Broadway debut; fourteen of them never reached Broadway again.) While the show suffered an ignominious fate, many seem to consider it the highlight of their professional life, while in an odd but understandable way the show seems to haunt them.
The director and his associates have been struggling through this project for almost nine years, although you wouldn't know it by the warmly exuberant but bittersweet documentary. Price was fortunate to locate a trove of material filmed in 1981 for a documentary which never got made; this includes film of auditions, rehearsals, actual performances and more. (ABC, which owns the footage, long reported that it had been destroyed; Price went ahead anyway, and was thrilled when cartons full or reels turned up late in the process.)
Price tracks down a great many of the Merrily people, including ensemble members who apparently gave up dreams of a show business career after the show closed. He concentrates on a handful of actors, whose stories are spotted through the film (the final part of which shows us where they are today, and how the Merrily experience has stayed with them). These include the show's leading lady Ann Morrison, who played the frustrated and alcoholic Mary Flynn (which Kaufman & Hart patterned after Dorothy Parker); and a delightfully outspoken Terry Finn, who played Gussie, the producer's wife who destroys Frank's marriage.
We also spend a good deal of time with Jason Alexander, who played producer Joe Josephson (who complains that "there's not a tune you can hum"). He had the most severe career arc of all involved; while he basically has musical theatre in his toes, he achieved super-stardom as George Costanza in "Seinfeld." Price's interviews with him are continually interrupted by people barging in for photos. Alexander doesn't complain about the success and money, but he seems to wonder where the Jason Alexander of Merrily disappeared to.
The director makes an unusual and brave choice in dealing with his costar, Franklin Shepard. As was highly-publicized at the time, actor James Weissenbach was fired during previews and replaced by Jim Walton. Price features both in his documentary, giving them more or less equal time. (While the official record books show Walton as the creator of the role, Weissenbach was Frank through rehearsals and early previews--which made him part of the Merrily family longer than Walton.) The present day Weissenbach, as it happens, seems to be one of the best-adjusted of the group.
Price also gives a significant amount of screen time to Abby Pogrebin, who played a small ensemble role (Evelyn) in the musical. This doesn't make much sense, story-wise; but Pogrebin, who quickly realized that life upon the wicked stage was not for her and became a respected journalist, speaks well and is the best and most charming storyteller of the lot. (Among her books is the Kindle Single "Showstopper," a wise, knowing and herewith recommended first-person account of the original Merrily.) Other ensemble performers chime in on multiple occasions, including Tony Award-winner Tonya Pinkins. Three who have gone on to significant careers are curiously overlooked altogether: Liz Callaway, David Loud and Giancarlo Esposito. The latter, at least, is prominently visible in onstage and backstage clips.
Prime among the participants, naturally enough, are the Messrs. Prince and Sondheim. They appear in both the 1981 footage and in recent interviews, and explain that they have long felt guilty about letting the "kids" down with the show's dire failure.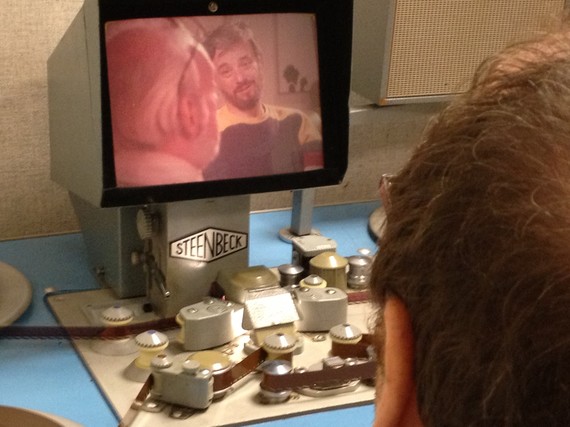 1981 documentary footage of Stephen Sondheim
(with the back of Hal Prince's head)
Photo: "Best Worst Thing That Could Have Happened"
While the film is loaded with interviews, the story inevitably shows Merrily through Price's eyes. Price is a naturally modest fellow, and this was not the intention; in a post-screening interview, he admitted that he finally realized that having played Charley Kringas--the show's symbol of integrity--the film needed him at its center.
The result, even with all the turmoil, is touching, sweet and altogether exuberant. There have been other backstage documentaries over the years, but "Best Worst" might well be the best. (It belongs on the same top shelf with D. A. Pennebaker's "Original Cast Album: Company".) The major difference here is built into the concept: interviews are likely to be more honest, direct, personal and emotional when the person doing the interview is part of the family. For Prince and Sondheim, Price is someone they've known since he was a teenager (and someone whom they have worked with aside from Merrily). For the actors, he's like a sibling; they went through the incredible highs of Merrily--Sondheim & Prince were musical theatre gods at the time, with Sweeney Todd the latest masterpiece--and the heartbreaking lows together. There are more than a few tears in evidence on screen, and likely to be some in the audience watching the movie.
"Dreams don't die, so keep an eye on your dreams" says the master, who quickly adds that dreams will explode and you should never look back. So this is the best worst thing that could have happened.
All right, now you know.
.
Best Worst Thing That Could Have Happened opens November 18 in New York and November 25 in Los Angeles
Calling all HuffPost superfans!
Sign up for membership to become a founding member and help shape HuffPost's next chapter