If you are looking for film comedy to get through the holiday season--and many readers are no doubt looking for aid in combatting the current gloom--you can find grand relief with newly-restored releases of some old favorites.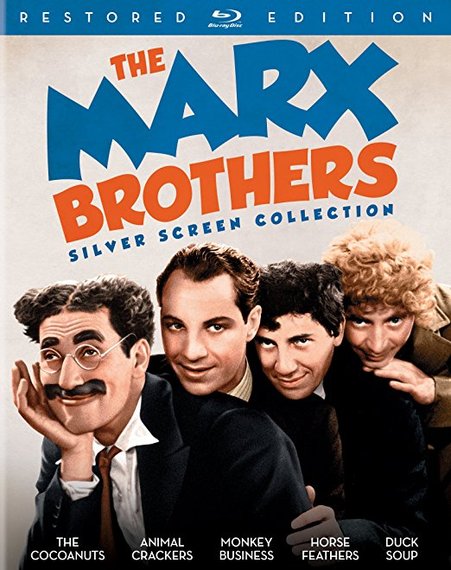 The Four Marx Brothers--as they were called, and credited--brought a new anarchic flavor of comedy to the cinema. Not so new, exactly; when the talking picture era began, the boys had been plying their trade in vaudeville since 1912. They took Broadway by storm in 1924 with I'll Say She Is, a ragtag musical comedy that made them instant idols of the intelligentsia. So much so that Harpo became a card-carrying member of the loquacious Algonquin Round Table set. (Groucho was a sometimes visitor, but it was his gentle brother who was embraced by Woollcott, Benchley and the rest.)
The Algonquin connection brought the boys to the table with playwright George S. Kaufman, who took them to his producer Sam H. Harris and the latter's partner in the Music Box Theatre, Irving Berlin. Thus came The Cocoanuts in 1925; not a typical Irving Berlin musical comedy, as the Marxes didn't exactly fit the format, but no matter. This was followed in 1928 by another Kaufman musical (with songwriters Bert Kalmar and Harry Ruby in place of Berlin), Animal Crackers.
When the boys went to the movies, they did so by filming The Cocoanuts at the Paramount Studios in Astoria while they were playing Animal Crackers on Broadway at night. If their first two films look like boxy stage plays, that's because they were. But that's also what make these so exciting; they give us the brothers in vehicles, and roles, that they had created and played on stage. These two films are also our youngest glimpse of the boys; Harpo and Chico were already in their forties, and Groucho nearly so. In terms of that era, they were well into middle age; we can only imagine what they had been like when they were young and fresh. (There was also a fourth brother in this period, first Gummo and--starting in 1918--Zeppo.)
The films of the Marx Brothers have always been separated into two batches: the first five, from Paramount, and the later work at M-G-M. Their two best movies came as they made the change; "Duck Soup" (1933) was the final Paramount title, while "A Night at the Opera" (1935) came under their new deal at M-G-M.
Universal has now transferred to Blu-ray what they call "The Marx Brothers Silver Screen Collection," which encompasses the five Paramount films: "The Cocoanuts" (1929), "Animal Crackers" (1930), "Monkey Business" (1931), "Horse Feathers" (1932) and "Duck Soup." The first two, which are understandably the most primitively filmed, benefit the most from the transfer; they are clearly more watchable than the prints we're used to. ("Animal Crackers" has been expanded with footage that hasn't been seen since the film was edited to meet production code standards in 1936.) "Duck Soup," the only acknowledged classic of the group, could have used a little more restorative care.
The three-disc set includes commentaries from Bill Marx (son of Harpo) and assorted cinema historians; "The Marx Brothers: Hollywood's Kings of Chaos," a new documentary; a few Marxian interviews from the Today Show; and the brief but informative booklet "The Marx Brothers: From Vaudeville to Hollywood" by Robert S. Bader. All this, plus Captain Spaulding, Rufus T. Firefly, and Mrs. Rittenhouse too.
.
Universal has simultaneously released "The Gregory Peck Centennial Collection," which is a grand title for a collection of a mere two films; but what films they are. "To Kill a Mockingbird" is not a comedy, which is the subject of this column; but it is a well-nigh perfect and iconic film, always good for another viewing. "Cape Fear," Peck's other 1962 vehicle, is a nifty thriller, with Peck & family menaced by an excellently menacing Robert Mitchum. Both are combined in this two-disc Blu-ray (plus Digital HD), accompanied by what seem to be the extras from their recent individual releases. Additionally, there is a mini-envelope from the "Universal Archive" including 5" x 7" reductions of the two movie posters; four photo cards (including one of Peck on the set with Harper Lee, author of the "Mockingbird" novel); plus a note from Cecilia Peck, daughter of the star.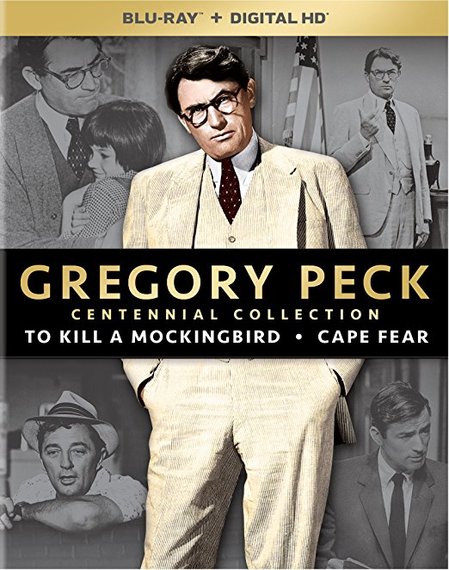 .
The folks at Criterion have given us two superb comedies, one justly celebrated ("Dr. Strangelove or: How I learned to Stop Worrying and Love the Bomb") and one somewhat less acclaimed than it deserves ("The In-Laws"). Stanley Kubrick's 1964 fantastic Cold War satire is one of a kind, perhaps (although I must add that it is curious to watch it in tandem with "Duck Soup"). Strangelove is Peter Sellers, who doubles in two other roles; George C. Scott also stars, as General Buck Turgidson. They are a pair to watch, and surrounded by a stellar group of character actors: Slim Pickens, Keenan Wynn, Sterling Hayden, Peter Bull and a young James Earl Jones.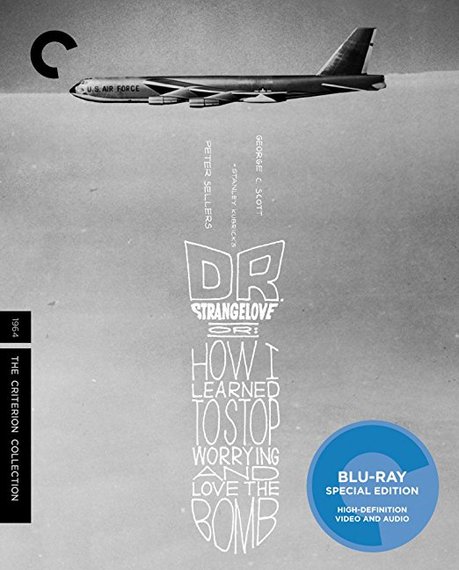 Special features are numerous, some held over from prior releases and some new for this edition. In place of the excellent booklet Criterion is used to supplying, there is a folder marked "Top Secret." This includes a "top secret" article by David Bromwich, and a facsimile Playboy (with the title "Strangelove,") consisting of a 1994 "and then I wrote" piece by co-screenwriter Terry Southern and featuring Playboy-style pinups. (There's one of a girl body-down on the couch, her derriere covered by a copy of Foreign Affairs.) The cleverest bonus I recall seeing is a tiny (1.5" x 2") red "Holy Bible & Russian Phrases."
Kubrick's satire is far-fetched and ridiculous, of course; although just now, as we prepare for a new administration, some of these characters appear uncomfortably close to confirmation.
.
And then, there's "The In-Laws." Readers who burst out laughing at the mention of the word "serpentine" needn't read further. The rest of you should rush to see this 1979 Peter Falk-Alan Arkin comedy, directed by Arthur Hiller from a sterling screenplay by Andrew Bergman. (Bergman was one of the several screenwriters of Mel Brooks' "Blazing Saddles," which was based on an original story by Bergman. Before Brooks' involvement, it was intended to be directed by Arkin, with James Earl Jones in the lead. Not incidentally, Arkin was executive producer of "The In-Laws.")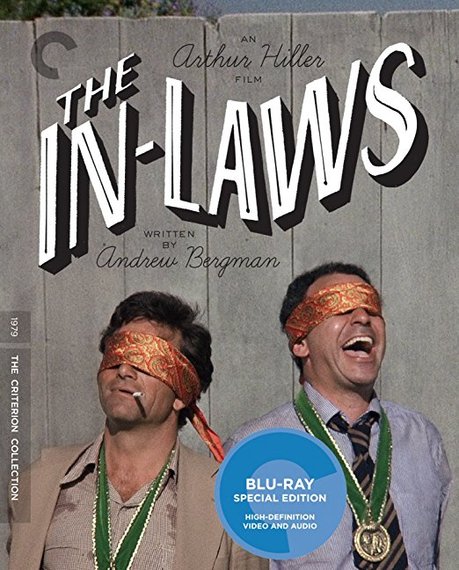 Father-of-the-bride Sheldon Kornpett (Arkin), a New York dentist, is somewhat put off by father-of-the-groom Vince Ricardo (Falk), a shady businessman. The misgivings play out when Falk reveals himself to be a rogue CIA agent and embroils Arkin in international intrigue with the wackiest banana republic dictator you're likely to meet (Richard Libertini). This leaves them facing a banana republic firing squad, leaving the audience in stitches. (Key word: "serpentine.") The adventure ends, as pre-ordained, in a happy wedding but not before buckets of tears of laughter. Nancy Dussault and Arlene Golonka play the wives of Arkin and Falk, with Penny Peyser and Michael Lembeck as the affianced children.
The special features from Criterion include the 2003 commentary by Hiller, Falk, Arkin and Bergman; a new interview with Arkin; and "In Support of The In-Laws," a new program featuring Dussault along with Ed Begley, Jr. and David Paymer (who played small roles in the film). The booklet includes an essay by Stephen Winer and a recollection of the making of the film from Hiller's 2011 unpublished memoir.
Falk and Arkin make the funniest odd couple since--well, since "The Odd Couple." Serpentine!
Calling all HuffPost superfans!
Sign up for membership to become a founding member and help shape HuffPost's next chapter