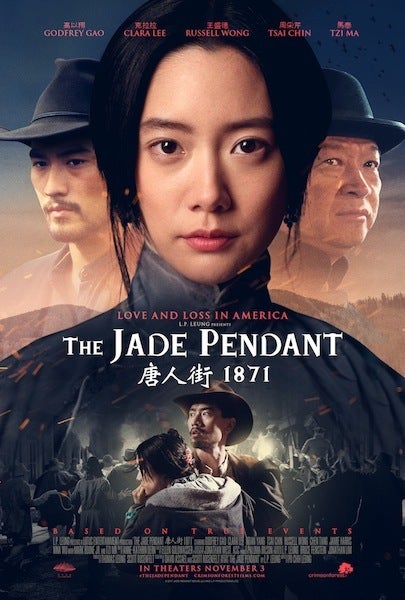 An interview with L.P. Leung about his movie The Jade Pendant, set in 1871 Los Angeles, starring South Korean actress Clara Lee, Taiwanese actor Godfrey Gao, American actors Russell Wong, Tsai Chin and Tzi Ma, directed by Hong Kong director Po-Chih Leong. The Jade Pendant plays at AMC Atlantic Times Square 14 in Los Angeles, and 4Star Theatre in San Francisco, and AMC Empire 25 in New York City until November 19th.
What inspired you to write a Western that centers on Chinese Americans? Can you talk about how and why it took 50 years for this movie to get made?
I was a history major in college. In 1962, I took a class in "History of the American West." In the textbook, there were a few lines about the Los Angeles Chinatown Massacre with no details. I thought I would do a term paper on the subject, but my research from the libraries yielded little information to allow me to do the term paper. But the thought of finding more about the massacre never left my mind.
I attended USC Graduate School of Business in accounting and became a CPA. I did not receive a job offer from any of the "Big Eight" CPA firms even though I had excellent grades in my accounting classes. Fortunately, Paramount Picture's accounting department offered me a job as a production cost accountant. That was what generated my interest in the idea of making movies.
I did more research on the background of the Massacre event but found no contemporary writing by Chinese or Americans. So, I used my creative license to write a four-page story treatment and took it to an independent producer, A. C. Lyles, whom I got to know in the Paramount lot. I wanted to work with his regular writer to do a screenplay and to make it into a film. A. C. Lyles told me that the American audience was not ready for this kind of story.
What did A.C. Lyles mean when he said the American audience is not ready for this kind of story?
I think A. C. Lyles (he passed away recently) believed non-Chinese Americans would not accept a Chinese American story where the hero is not a white male.
Do you think this is still true today?
This may still be true today as the "whitewashing" of Asian-Americans continues in Hollywood. (A.C. specialized in making B-cowboy-Westerns for the Japanese market using stars at the end of their careers.)
So, I put the film idea in the back of my mind. It became the top item on my bucket list.
50 years later, after retiring from my CPA practice, I volunteered to work on a Chinese Historical Society of Southern California project series "Portraits of Pride" for six years and they produced two books about the world-impacting contributions of Chinese Americans in the fields of medicine, engineering, etc. Writing many articles in the book revived my interest in writing the LA Chinatown Massacre story. I published the book "The Jade Pendant" in 2013; it was written in short and descriptive chapters. It was adapted into a screenplay in 2014, and I presented (or shopped) the script to several theatrical agents including the powerful CAA for consideration. CAA did not respond after a personal presentation. Another agent said they look for bigger budget projects. I guess the big boys in Hollywood still believe an American dramatic story of Chinese Americans with a predominant Asian cast is still not acceptable unless it is a kung-fu movie. We couldn't even get in the back door of the major studios.
I was introduced to Independent Producer Thomas Leong in 2015. He liked the story and agreed to work on making the project. The making of the film was a miracle as almost everything fell into place to make it possible without the support of a major studio and a big time producer.
In "Jade Pendant" it is the female lead who's the martial arts expert and does the protecting while the male lead is a chef that makes the best meals. Are you deliberately writing against expected gender norms, or do you find these characteristics to be true in Chinese American or Chinese cultures?
I wanted [Peony, the heroine of the movie] to control her own destiny against great odds, be strong and fight for happiness and still retain her feminine qualities. There is no male versus female message here.
Many international artists participated in the making of this film. How was the team assembled?
The production team is professional. The casting is nothing short of a miracle. We have experienced veterans as well as up and coming talented young actors. The timing was perfect for getting them together. I had nothing to do with assembling the group.
Were there particular values of yours—as a Chinese American who made a life in Southern California, or as a Hong Kong emigre—that you wanted to impart through "Jade Pendant?"
The Jade Pendant is a tragic love story during a period of time when Chinese Americans were despised and excluded from white society. The Massacre is a byproduct of this time period that American history has suppressed. I wanted to present an entertaining film but also expose the truth about the struggles and discrimination that Chinese Americans faced.
How was it decided that Mandarin rather than Cantonese would be the main language used in the movie?
I believe this is a one-of-a-kind hybrid language Chinese-American film made in America. Chinese and English were used where appropriate.
The correct Chinese dialect in that time period was Sze-yup (a Cantonese dialect). Nowadays, few here in the U.S. as well as China understand and use that dialect. We chose Mandarin over Hong Kong Cantonese because Mandarin is the official Chinese language and simplifies the transition when the film is released in China.
Why are the English and Chinese titles different?
The straight translation of "The Jade Pendant" title to Chinese did not seem attractive; we tried several alternatives but settled on "Chinatown 1871."
What are you most proud of in this process?
Being independently produced, this film is free from the dictation of major studios to meet their special criteria. There is no whitewashing of Asian actors. It allowed us to complete the shooting in six weeks. From the start of negotiations with producers to the actual completion of the shooting, it took less than a year. This is almost unheard of in Hollywood.
Any highlights or challenges you'd like to share?
The most important aspect in the making of this film was how well the cast and the crews got along. I saw no infighting or yelling at each other. I could feel the cooperating spirit during the few weeks I was at the Utah location. Many professionals, including the set builder, wanted to read my book to get into a deeper understanding of the historical background. It shows in the final product.
[SPOILER ALERT:] Here is an interesting episode. On the night of shooting the scene where Peony was killed, several people on the set told me that they could not watch the shooting because they didn't want Peony to die. That's how connected they were on set with the story.
"The Jade Pendant" received the Golden Angel Award for being the best film by an Independent Producer from the Chinese American Film Festival in Hollywood on November 1, 2017.
Were there surprising reactions from friends or family members?
The reactions from all my friends and families have been very positive after seeing the movie. Many said they teared up a few times. Some saw it more than two times. The Chinese newspaper coverages were great, but they concentrate on the Massacre instead of the tragic love story, good versus evil, friendship and sacrifice.
Comments from our non-Chinese friends were much less focused on the massacre and more on how well the storyline and photoplay, etc. went.
This interview was edited and condensed, and is cross-published in Alhambra Source.
Related
Popular in the Community