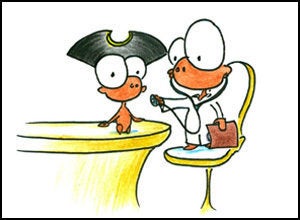 That adage that there's a writer in all of us? So true. And we would know. Scribd is the company that's made it dead simple for anyone to publish original written works to the web and build an instant readership.
Today, millions of people visit Scribd.com every day to publish, share and discover written works of all kinds. Among these millions are stay-at-home moms, college students, busy professionals -- all passionate artists and writers who've never been "discovered" but whose work probably outshines many others who have.
We're starting a regular feature on HuffPost that we're calling Scribd Editor's Pick, which will introduce you to some of the rising talent found on our site. I hope you find them as wonderful as we do!
With its universal tale of overcoming fears and venturing into the unknown, "The Brave Monkey Pirate" is a children's book that's a favorite among Hayes Roberts' thousands of (grownup) fans on Scribd.
The book takes a whimsical approach to the very real childhood fear of getting shots (Roberts wrote the book with the input of his kids!). However, what you'll notice immediately are the wonderfully delightful illustrations of the little monkey's journey to a faraway land. It makes you want to, quite literally, dive right in.
Read this book to your kids before their next doctor's visit or to yourself before a big presentation. The 5-year-old in you will be glad you did.
Calling all HuffPost superfans!
Sign up for membership to become a founding member and help shape HuffPost's next chapter